When you think of moving into your own place, you want to ensure you've got the best of everything – furniture, kitchen appliances, curtains, cutlery, and more. Having the right things is what can truly turn your house into a home that you happily spend your time in.
Refrigerators are a very big part of a home. Today, refrigerators are no longer a matter of comfort – they're a necessity if you want to enjoy your home. Have food left over that needs storing after a long day? Want to store your freshly prepped veggies in the fridge till it's time for you to cook them? Want to be able to come home and open a can of chilled beer? You're going to need a refrigerator to do this. Having a fridge at home will make a lot of things easier for you.
Fridges of different brands come with a variety of features and you need to make a decision about the one you want based on the features they offer that meet your demands. Two of the biggest names in the industry are Whirlpool and GE so it wouldn't be surprising if you were trying to figure out which one of the two you should pick. This guide on Whirlpool vs GE Refrigerators can help.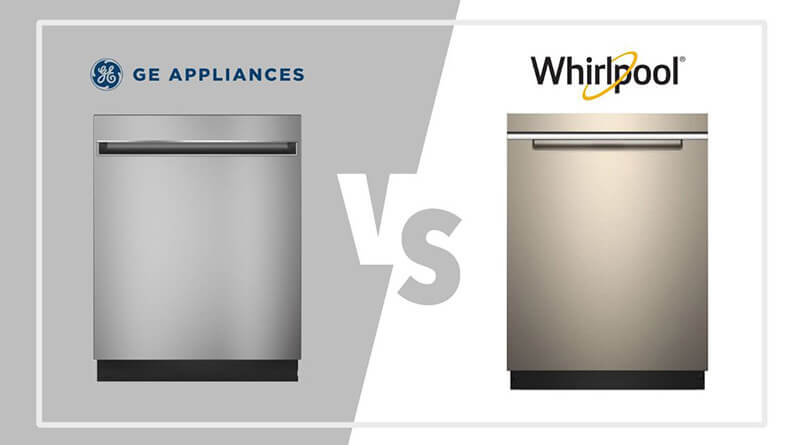 Whirlpool vs GE Refrigerators
Both Whirlpool and GE offer several model options that feature the latest technology by the brands to make it more convenient for customers. They do however differ on several aspects.
Both have been around for a long time and offer more than 100 models that customers can choose from. When it comes to door design, both Whirlpool and GE offer French door refrigerators, side by side refrigerators, top freezer refrigerators, and bottom freezer refrigerators.
Read more: Best Whirlpool Refrigerators
When comparing Whirlpool and GE Refrigerators, both brands offer refrigerators that have large standard and counter depths. You can choose a refrigerator size that perfectly fits into your kitchen. Standard depth models of Whirlpool have a depth of 30 to 34 inches and a large storage space. For Whirlpool refrigerators, a 70 inches family size one that is 36 inches wide has counter depth of 21 to 23 cu. ft. capacity and full depth of 27-29 cu. ft. GE refrigerators' standard depth is slightly smaller but counter and full depth are about the same for a 36 inches wide GE refrigerator.
Read also: https://en.wikipedia.org/wiki/Whirlpool_Corporation.
Whirlpool has a black and white colour option and its stainless steel version comes in sleek black and traditional grey. There are 8 colour options for GE refrigerators – white, matte black, black, matte white, slate, black stainless steel, black slate, and stainless steel. GE refrigerators are also available in the form of 3 series:
The normal GE series
GE Profile series
Cafe series
The GE Profile series features curved handles and a much sleeker design while the Café series are equipped with larger controls, sturdier designs, and robust door handles meant for restaurant functionality.
Unless you're choosing a refrigerator from the Café series, you're going to typically get more storage space in a Whirlpool refrigerator with its pantry inspired layout. More space however, can be created in GE refrigerators with their multi-level drawers, adjustable door bins, glass freezer shelves, and more.
Any good refrigerator needs to offer temperature control and both brands do a good job of that. GE refrigerators have a Turbo Cool and Turbo Freeze feature along with humidity controlled drawers that you can use to control the fridge's internal environment. With Whirlpool, you have the option to control the humidity, temperature, air flow, as well as filtration. There is a Freeze-Shied option to lower freezer burn, an adaptive defrost, an Accu-Chill feature that can cool water quickly, as well as total coverage cooling so that a uniform temperature is maintained throughout the fridge. The FreshFlow air filter in Whirlpool models can make your produce 25% fresher.
Both refrigerators have the option of LED interior lighting and some models even offer Wi-Fi connectivity that allows you to have better control over refrigerator functioning.
Read also: Best Garage Refrigerators Review
Dual ice makers are also available on models from both the brands when comparing Whirlpool and GE Refrigerators, but Whirlpool offers several other features such as the automated measured fill system, exterior ice maker, and interior water dispenser.
There are also several customizable spill proof shelving options that Whirlpool offers in addition to the features offered by GE. Whether it's classic deli drawers, an in-door can caddy, or adjustable gallon door bins, you'll be able to store what you want in your fridge at home.
Now, let's compare some specific models.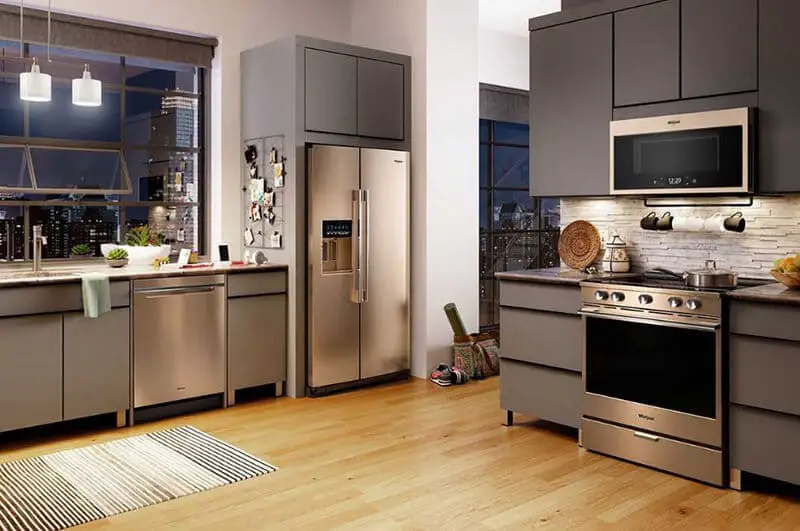 Side by Side: Whirlpool WRS325SDHZ by Frigidaire FFSS2615TS
Storage
The 36 inch side by side Whirlpool offers 25 cu. ft of storage capacity while the total capacity of Frigidaire is 25.5 cu. ft. The Whirlpool model freezer capacity is 9.11 cu. ft. while that of Frigidaire is 9 cu. ft. Excluding the handles, Frigidaire has a depth of 31.75 inches while Whirlpool's depth is 31.63 inches. Height till the top of the door hinge is 69.625 inches on Frigidaire and 69.25 inches on Whirlpool.
Features
This Whirlpool model comes packed with features worth boasting about. A special deli drawer, can caddy, frameless glass shelves, and adjustable galloon door bins increase ease of usability. There is also an ice and water dispenser in the exterior of the fridge with dual pad dispenser and a water filtration system.
Frigidaire is also packed with features such as a deli drawer galloon door bins, a PureSource 3 Ice and Water filtration system, adjustable interior storage, and LCD controls.
Layout
Both models have smooth stainless steel, swing door fridge type. While there is a compact in fridge freezer on the Whirlpool model, Frigidaire has a side door freezer.
Reliability
Both are reliable models from 2 of the top appliance manufacturers and customer reviews seem to highlight the same thing. Some reviews however, do talk about the loud noise from the models while some customers say that the Frigidaire ice maker is quite slow.
Worth
Both models are affordable and you can check the latest prices from the manufacturer directly. They offer affordability without compromising on features.  
Winner: Frigidaire
When it comes to Whirlpool vs GE Refrigerators, Frigidaire has got the edge for capacity.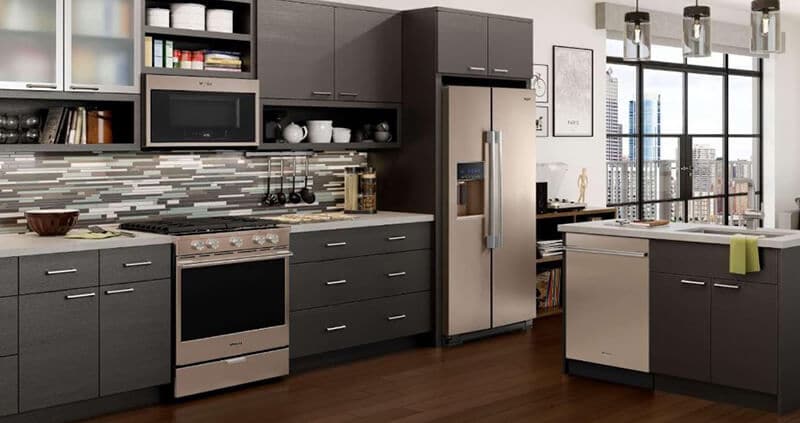 French Door: Whirlpool WRX735SDHZ by Frigidaire FFHB2750TS
Storage
Whirlpool's storage capacity is 25 cu. ft. and Frigidaire has storage capacity of 26.8 cu. ft. Fresh food capacity on Frigidaire is 18.1 cu. ft. and freezer capacity is 8.71 cu. ft. Whirlpool has an extended refrigerator drawer with 4 doors but there are 3 doors on the Frigidaire model.
Features
Tap touch controls, LED interior lighting, spill-proof glass shelves, adaptive defrost, and measured fill are just some of the features offered on the Whirlpool model. Frigidaire has an 8 option LED display for easy controlling and comes with Energy Saver Plus Technology that will be a more eco-friendly option and save you a lot on utility bills.
Layout
A stainless steel finish is available on both models but Whirlpool's finish is fingerproof resistant.
Reliability
While both are highly reliable, the Whirlpool model's ice maker has been reported to break down easily but the issues with Frigidaire are more to do with its delivery.
Worth
The model most suited for you will depend on your needs but if you're looking for great value for money, Frigidaire is the better pick here.
Read also: Top 22 Best Refrigerators Brand 2021