A Better Way To Cook For A Healthier Lifestyle – Don't Cook, Steam Them
We are living life on the go. Hectic weekdays, busier weekends fuel our lifestyle. We push ourselves to the limits, are more often eating out of the box, and usually do not get time to exercise. No wonder we are always feeling tired and exhausted. However, merely changing the way we eat can be transformative.
Having a wholesome salad or a bowl of steamed vegetables can easily fulfill the dietary needs of an average person and can be extremely satisfying on the taste buds. A healthy and nutritious lifestyle starts with a simple change of habit. It can, over time, lead to benefits better than dietary supplements and new-age inventions.
Why steam vegetables and not boil them
Upgrade your daily meal plan by cobbling together some vegetables and steaming them. Why steamed and not boiled? Unlike boiling, where the vegetables are cooked in water, most of the nutrients are lost in the process. Steaming is of the most basic methods of cooking, where the vegetables retain the vitamins in the process and you get to salivate on the best of what your food has to offer. You can also avoid using oil while steaming and cut down on fat and excess calories in the process. What's best is you don't even need a steamer to steam your vegetables and can do it with the basic utensils available anytime in the kitchen. 
Whenever you are preparing vegetables as a side dish, a snack or a meal, boiling erodes the nutritional value eventually. It is better to steam so that the nutrients remain locked in the vegetables and you can make the most of your dishes. Steamed veggies are cooked briefly, wherein the steam cooks the veggies, and they are spared from being submerged in the boiling water. The goal of steaming is to cook the vegetables to a point where they no longer remain raw but still preserve nutrition and flavors. 
How to steam vegetables without a steamer 
There's no need to worry if you do not have a dedicated veggie steamer in your kitchen. Simple hacks can turn your everyday utensils into becoming steamer ready. All you need is a lidded pot, a colander/strainer or aluminum foil, stovetop (gas or electrical) or microwave to easily steam your vegetables. 
Method 1: How to steam vegetables without a steamer using Colander and a Pot
Pick a pot that can fit in the colander inside. The colander should not fall to the bottom in order to keep it from touching the water or for the water from seeping into the pores. Put 1/2 inch (1.3 cm) of water in the pot and put the colander or strainer inside. 
Pour over the cleaned and chopped vegetables onto the colander. Do not overstuff the colander in order to keep the vegetables from steaming properly. Experiment to find out if all the vegetables steam alike. Usually, no two vegetable steam proportionately. Broccoli and peas do not steam well together. At the same heating or steaming, broccoli might end up under streamed and peas over steamed. 
Cover the pot and start to heat. Bring the water to boil and let it simmer. Once the water starts boiling, lower the temperature so that water does not evaporate completely. Covering the pot will keep the steam from escaping. If the cover of the pots starts to rattle, open it slightly so that there is ventilation for the steam. 
You can also use aluminum foil to cover the pot in case you are not using the lid. You can check for crispiness and tenderness of your vegetables after 5 minutes. Do not overdo the steaming if some vegetables have softened and others are still hard. Go for moderate steaming so that no vegetables end up over steamed.
Take the cover of the pot by adequately protecting your hands, preferably oven mitts. Transfer the contents to the veggie bowl and serve it crisp. 
Method 2: How to steam vegetables without a steamer using Heat Proof Plate and Aluminum Foil
Pick a pot with a thick bottom and a tight lid. A lid that is secure allows the moisture to build inside the pot while the thick bottom lets the heat spread evenly. Pour 1/2 inch (1.3 cm) of water in the pot. The water so measured should be adequate. The water should not dry out for the time duration of steaming and should not be so much that it submerges the vegetables.
Make three equal-sized aluminum balls out of the foil so that they can be used as a stand for heat-proof plate inside the pot. Pour the water and put these boils in the manner so that they are able to hold the plate. The plate should not slant and should not be big enough to completely block the bottom part of the pot. The steam should be able to adequately pass from the bottom to the top. 
Cover the pot and bring the water to boiling. The steam will build up in the pot inside. Make sure to layer your vegetable starting from hard to soft on the heat-proof plate. You can put your potato at the bottom, broccoli in the middle and peas at the top. 
Steam your vegetables for over 5 minutes and check them for tenderness. Once you get used to it, you will be able to perfect the timings. Use the spoon or tongs to check the tenderness and take them out of the pot.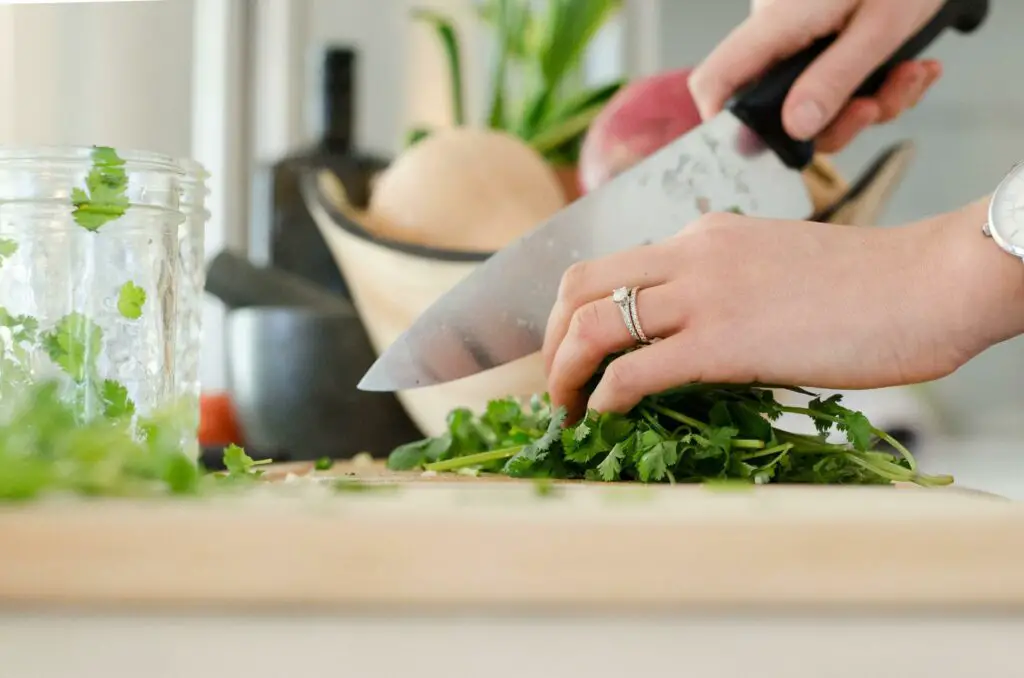 Method 3: How to steam vegetables without a steamer using a Microwave
Pick a microwave-safe container that has a cover. Most of the containers have a "microwave-safe" label at the bottom or have a symbol resembling a microwave with wavy sign. Make sure to not any other container for your own safety.
Put your vegetables in the container. The amount of water you can add to your container would depend on the quantity of vegetables. Add 15 ml to the container and experiment adding more according to your own needs. You do not need to put any water while steaming leafy vegetables.
Cover the container with the lid partially closed so that the steam can evaporate a bit and in order to avoid the lid from popping up in the middle of microwaving. You do not want to cook your vegetables and a popped-out cover would prevent the vegetables from steaming properly. 
Make sure to steam for 2-5 minutes. The time would always vary upon the quantity and type of vegetables being steamed. The best way to find would be to check for the tenderness of the vegetables would be by taking them out and prodding them with a spoon or fork. 
If you want to steam the vegetables some more, you can microwave them with one-minute intervals till they are ready to your satisfaction. You can transfer the contents to another bowl in case there is water left at the bottom of the container and serve them. 
Best vegetable steamers or equivalents available in the market
In case you do not want to go through the trouble of trying our hacks, you can go for a basic vegetable steamer. You can also try a multipurpose pot and steamer, a steamer basket (Can be used with any closed lid cooking pot) and a digital multi cooker. These are a multiplicity of options available for a wide variety of uses and can be explored online or offline. Here are some products you can explore if you are looking for a vegetable steamer. 
An incredibly compact, one-size-fits-all, extra large capacity, dishwasher safe and durable steamer solution that can fit into a variety of pots and pans. The Joseph Joseph Bloom Steamer is a work of art that can fit into pan sizes starting with 7 inches and can fold into a compact ball for effortless storage. Suitable for use with non-stick and stainless steel pots, this steamer is a minimalist innovation that comes with self adjusting sides, heat resident silicone feet and silicon side fins. Equipped with an easy-lift fork hook to help handle hot preparations, and removability when in need of steaming large portions, the Bloom basket adapts to the needs of the kitchen.
The Bloom Stainless Steel Basket is simply a great addition to any kitchen. It does away with the need for owning a stand alone steamer or a need to explore pot or pan to fit its size. It comes with heat-resistant silicone feet and fins that do away from the trouble of corrosion. While you are steaming large proportions or going for bite sized cooking needs, this one will take high heat and any quantity without any fuss. 
A multipurpose stainless steel Saucepot with a stackable steamer for multiple cooking needs. It comes with sturdy proportions, a thick aluminum core for even heating, durable heavy-duty construction and a mirror finish. This classic kitchen essential can work as a soup pot, lobster pot, and for veggies and corn on the cob. 
This award-winning cookware can be used without a steamer insert for daily cooking. This versatile 3-quart Saucepot, 2-quart steamer comes with a durable aluminum core, built to resist corrosion and discoloring. It comes with thick rolled rims for comfortable handling. The pot in 4-1/2 inches deep, roomy enough for daily or party needs. It comes with the safety of a tight-fitting domed lid. Use it over stovetop or oven (Handles stay cool on stovetop and oven safe to 350°F.) 
The pot and steamer are dish-washer safe from end-to-end and come with a lifetime warranty against any defects. It is easy to clean and a reliable space saver with its unique built construction. Extremely alluring, highly versatile and immensely durable, Farberware Classic Stack 'N' Steam Stainless Steel Saucepot and Steamer is a great addition to the varied needs of your kitchen. 
With retractable, removable, extendable and lockable handling options, OXO Good Grips Steamer is one the most innovative products that can fit perfectly into any pot or pan size. Fold it flat, transport the preparations, cover the food, the steamer can easily be used for multiple needs. Remove the handle to manage bigger proportions, elevate it 1-3/4" feet with heavy feet to keep your food above boiling water. You can lock it for safe filling or transportation and this small accessory becomes the best utensil you ever had. 
Built sturdy with stainless steel construction, a durable handle, a fork-lift hook, detachable for multipurpose cooking, the steamer fits pots 8" in diameter and up. It is dishwasher safe, comes with a telescopic handle that can retract to fit inside pots while steaming. It has a great design and functionality that can be used for bigger and smaller preparations. It is easy to handle in difficult situations and provides an extremely reliable grip at every time. Made of the highest grade construction, OXO Good Grips Steamer is a perfect fix when you do not want to invest in a standalone veggie steamer. 
With endless possibilities, pre-programmable settings and intuitive controls, Hamilton multipurpose rice cooker and steamer make cooking look effortless. Built to last stainless steel construction, removable/rinsable baskets, stacked for cooking different types of food all the same time, the multi-cooker does it all. The non-stick inner pot can be cleaned easily, is removable and is dishwasher safe. It comes with a large 4.5-quart capacity that can make rice, slow cook, sauté, sear, steam, prepare cereal and vegetables.
From making complete dinner in a single cook cycle to pre-programmed settings for different foods, this multi-cooker is a must-have for the changing lifestyles of growing families. Steam your veggies, simmer your soup, sear your meat or simply make quinoa or daily cereal taste delicious with Hamilton Beach Digital Multi Cooker. As easy as it ever gets, once you get used to using the digital settings, you can turn the most difficult of tasks taken care by this space-saving wonder. Explore the many advantages of going digital, even if you a novice at cooking with the digital multi-cooker. With over 100 years of innovation, thoughtful design and consumer insights, you cannot go wrong with Hamilton Beach appliances. 
High grade, heavy duty and extremely versatile, Norpro large vegetable steamer does make life more easy. With stainless steel construction, detachable silicon coated center post, three prong base and two ring size handles, the steamer takes a departure from the wide available design formats available in the market. Apart from being compact to store and easy to use, it expands from 7″/18cm to 11"/28cm to evenly fit into a varied pot sizes. The detachable center holder turns out to be a great idea for steaming extra food and easy scooping. The side circular loops make lifting easy, effortless and feel so essential. 
The silicon handle and three prongs base protections are quite utilitarian. Apart from providing stability, the prongs protect the pots from scratches. While you are not using the center handles, you can depend upon the side rings for handling purposes. Without the center handle as an obstruction, the space opens up to steam even full-length cobs of corn which feel difficult in other steamers. Using side handles also supports the basket's shape and keep the petals from popping out. All in all it is a fresh innovative design that can be very appealing to a number of people who are looking for vegetable streamers.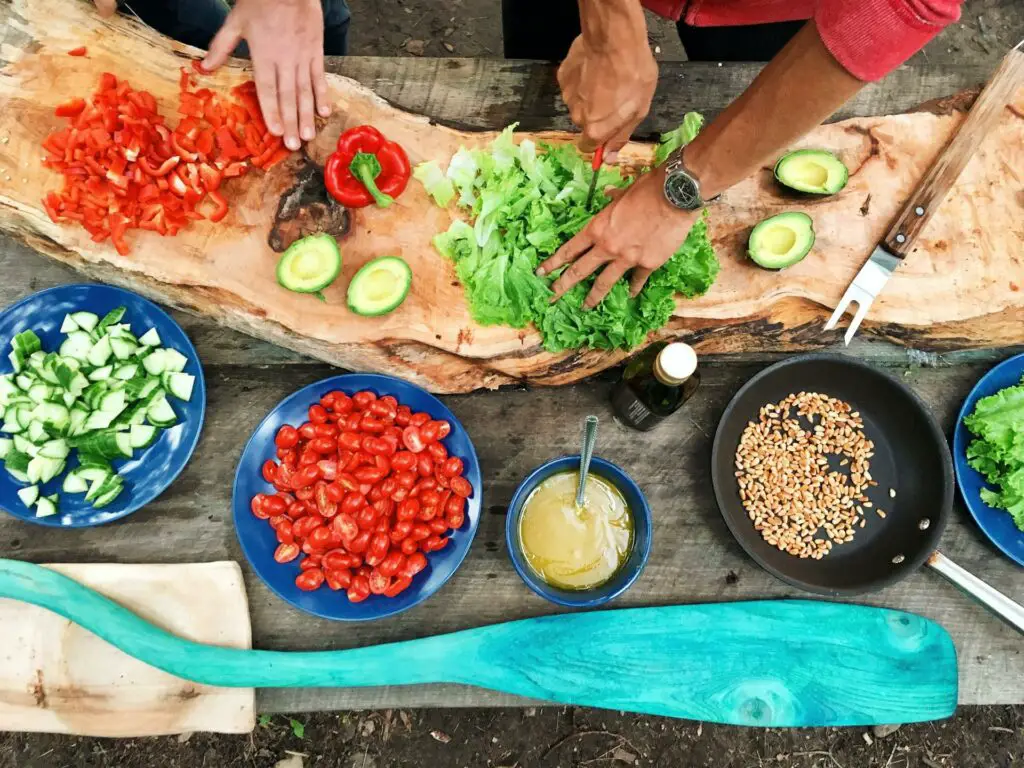 Spoilt for choice
So, now you know how to steam vegetables without a steamer and with numerous other options available in the market. Regardless of what you chose, there is no better way to tart taking care of your health than to go for natural ways of preparing your food. The farm fresh vegetables are full of fiber, vitamins, antioxidants and minerals needed for a healthy lifestyle. That is all you need to add to your daily diet and feel the difference. Steaming your vegetable is easy, effortless and simply an authentic way to let nature help sustain your being. Fill your plate with the greens and see your health transform overtime. Every healthy serving will consciously lift your spirit and elevate your mood.