Finding the right fit is probably one of the most important considerations when shopping for a new refrigerator. Getting the right-sized appliance makes a great deal of difference to your kitchen layout as well as aesthetics.
Getting a narrow refrigerator, especially one that is 30-inch wide, can pose a bit of a challenge. Most refrigerators have a width of 36 inches to fit into modern cabinet configurations. The options for 30-inch wide refrigerators are, frankly, quite limited. It is quite common to find French door refrigerators and bottom-freezer ones more easily available in the 30-inch dimension.
Are you looking for the best 30-inch refrigerators in the market? Then keep on reading. At DadongNY, we have put together a list of the best ones available currently in the market.
Counter-Depth Vs. Total Depth
Counter-depth refrigerators give a custom look and seamless design and look more like a built-in model installed by professionals. The refrigerator doors don't jut out awkwardly and these refrigerators are ideal for condos and small apartments, or narrow galley kitchens.
Unlike standard-depth refrigerators, counter-depth ones have a shallow built, which means that you have less storage space. Counter-depth refrigerators measure nearly 24 inches, excluding the door. If you include the door, the total depth comes to around 27 inches.
In contrast, a standard-depth refrigerator is 30 inches deep without the door and around 35 inches with the door.
Models Vs. Brands
Nowadays, refrigerator brands offer different models, which means that you no longer need to compromise on design or functionality due to size constraints. You can even find a lot of variation in the door set up. Brands keep aesthetics and style in mind, along with accessibility.
Most modern kitchen designs have a kitchen island. If you have one such kitchen, then you may want to opt for a refrigerator with door grills. You would also need to make sure that there is enough space between the island and the fridge so that you can open the doors easily.
Read more: Best Refrigerators Brands 2021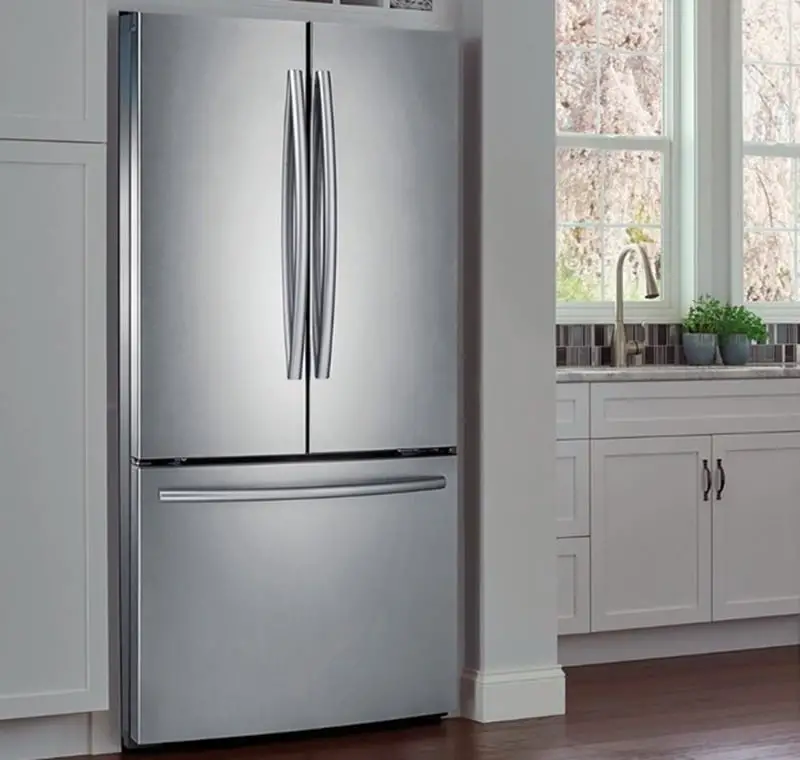 Top Rated 30 Inch Fridge Brands
1. Frigidaire Gallery FGHI1864QF
If you have a home run by kids, then the Frigidaire Gallery FGHI1864QF is perfect for your kitchen. It offers six removable door bins that can be rearranged and customized to meet the unique needs of your household. Other features include spill-safe glass shelves, a deli drawer, two humidity-controlled produce crispers, a sliding wire freezer basket, a pre-installed ice maker, and a tilt-out wire rack on the refrigerator door.
The Frigidaire Gallery has been designed to withstand high temperatures. So, if you are looking for a food storage unit for your garage, this refrigerator is a great choice.
One unique feature of this refrigerator is its SpaceWise Organization System. There are over 100 ways to customize your fridge with the custom-flex door and store-more drawer. You can also use the store-more drawer to store juice boxes and snacks like yogurt, making it easier for your kids to grab and go.
The Custom-Flex Door comes with 6 different bins and accessories so you can customize your door. It includes the 12 ounces can dispenser, mini bin, dairy bin, and a large, medium, and a small bin.
It is made of smudge-proof stainless steel that resists fingerprints and can be cleaned easily.
The Frigidaire Gallery is our favorite pick among the best 30-inch refrigerators available in the market. It has a depth of 29 inches, which is great for a refrigerator this size, and it is quite inexpensive too.
Frigidaire FGHI1864QF 30" Top-Freezer Refrigerator, Stainless
Over 100 Ways to Organize: Our SpaceWise(R) Organization System offers 100 ways to organize with the Custom-Flex Door and the Store-More Drawer.
Custom-Flex Door : Customize your own door with a variety of door bins and accessories that can be personalized to fit your lifestyle. Need another accessory to customize your refrigerator? Additional door bins and accessories are available for purchase w
2. Amana ABB1924BRM
Keep food at its freshest with the 29-inch Amana bottom-freezer refrigerator. With a capacity of 18.5 cu. ft., glide-out wire lower freezer basket, and gallon door storage bins, this refrigerator is adequate for all your groceries.
The gallon door storage bins are large enough to hold milk jugs and juice cartons, and the glide-out wire lower freezer basket comes with a Quick Split Organizer to organize your frozen treats. Even when fully loaded with your frozen meals and desserts, the drawer opens and closes smoothly.
The humidity-controlled garden fresh crisper bins are great for storing your fruits and vegetables and keeping them fresher for longer. It also comes with a Deli Drawer to store meats and cheeses for your favorite sandwich.
3. Samsung RF220NCTASR
If you are looking for a sleek refrigerator with ample interior storage space, then this Samsung French door refrigerator is an ideal choice. This compact yet stunning refrigerator offers 22 cu. ft. of space, good enough to fit up to 22 bags of groceries. Plus, its stunning design will complement any kitchen layout and décor.
You get greater flexibility with this 30-inch wide fridge as it can easily fit in smaller, narrower spaces. Two humidity-controlled crispers ensure that your fruits and vegetables are organized and accessible, while the ice maker in the freezer ensures that you never run out of ice cubes.
Spill-proof glass shelves make cleaning easier, and the pull-out upper freezer drawer automatically slides open for your convenience. The CoolTight door prevents cool air from escaping, and metal cooling technology ensures temperature remains consistent, helping your fruits and vegetables remain fresher for longer. Surround air flow ensures proper air circulation maintaining optimal temperatures for even cooling throughout the fridge. Gallon door bins provide more shelf space inside the refrigerator.
The refrigerator also has bright LED lighting that makes it easier to view and organize your food items. You can even fit oversized food items in the wide-open pantry, which are very difficult to adjust in regular refrigerators.
It may be small, but the Samsung 30-inch French door refrigerator does not compromise on style, space, or performance.
4. Liebherr CS1660
Liebherr is a market leader in premium refrigeration. The Liebherr CS1660 blends in beautifully with any kitchen environment. This refrigerator is perfect for condos, small space urban homes, galley kitchens, or any home that may or may not have space constraints.
Liebherr's 30-inch refrigerator offers freestanding styling with the benefits of cabinet-depth design. It is not just compact but also offers state-of-the-art cooling technology and excellent design features. The refrigerator does not just have stainless steel in the front but all around, which means that you can place it anywhere you like.
It comes with dual variable-speed compressors that help preserve foods better and are more energy-efficient, quieter, and longer-lasting. The FrostSafe System prevents cold air from escaping when the refrigerator door is open, and the VarioSpace System offers more flexible storage in the freezer.
Liebherr is the only refrigerator brand in North America that has achieved ENERGY STAR ratings in 100% of its indoor refrigeration and is compliant with all new standards introduced in April 2008.
5. Bosch B30BB830S
Have you ever opened your refrigerator only to be disgusted with a bad odor? The 30-inch Bosch single-door refrigerator helps prevent the transfer preventing your food from smelling bad, and keeping your produce fresher for longer.
It comes with dual evaporators that do not allow odor transfers and keeps your fridge smelling fresh.
When you open the refrigerator door, you allow warm air inside which can spoil the food inside. The Bosch SuperCool function quickly drops the temperature within the fridge to insulate the food items. This function automatically shuts off after six hours, preventing unnecessary consumption of power.
The MultiAirFlow system ensures proper air circulation for maintaining consistent temperatures throughout the inside, from the door bins to the back corners. The AirFresh filter absorbs even the toughest odors, keeping the air within your fridge and freezer fresh.
It also comes with bright LED lighting for a better view of the interiors.
6. Liebherr HCB1560
The 30-inch Liebherr HCB1560 is stylish and sleek and offers impressive performance features and design flexibility.
The smart DuoCooling system comes with separate but extremely efficient variable-speed compressors. It ensures that air is never exchanged between compartments, which guarantees that your food won't dry out and the freezer is always ice-free. The BioFresh system boost freshness up to three times longer and helps retain healthy nutrients, aroma, and a pleasing and appetizing appearance. You can adjust each drawer individually to provide ideal humidity for versatile storage solutions.
It offers a depth of 24 inches with a total capacity of 14 cu. ft., making it perfect for small families. LED light columns provide a better view of the interior of the fridge.
7. Sub-Zero IT30CIRH
The 30-inch wide Sub-Zero IT30CIRH refrigerator includes 10.6 cubic feet of refrigerator storage above 5.0 cubic feet of freezer space accessible via two soft-close drawers. It comes with dual refrigeration, which means that there are separate cooling systems for the refrigerator and freezer. It allows fresh food to stay fresher for longer, and frozen items to remain frost-free and prevent freezer burn.
It also comes with an automatic icemaker feature with a "max ice" setting. It provides increased on-demand production of purified ice by up to 30 percent for 24 hours. As a fully integrated refrigerator, it can be fitted with custom panels and handles for seamless installation with surrounding cabinetry.
The refrigerator also includes a host of features aimed at extending the life of fresh food. It also includes an air purification system and a patented door-seal system that efficiently locks in cold air. The crisper drawer maintains high humidity and a lower temperature providing the perfect conditions for storing fresh produce.
Its water filtration system is designed to reduce suspended particles, chemical pollutants, and germs when purifying water. Sub-Zero's refrigerators come with a built-in air purification system that scrubs the air of ethylene, mold, viruses, and bacteria every 20 minutes.
8. LG LFC22770ST
Are you looking for a spacious 30-inch refrigerator for your kitchen? Look no further. With a capacity of 22 cu. ft. the LG LFC22770ST offers plenty of space to meet all your food storage needs.
LG's Smart Cooling system maintains the best conditions within the fridge to help your food stay fresher for longer. It also comes with a linear compressor that handles temperature fluctuations efficiently preventing food from going bad. Strategically-placed vents throughout the refrigerator ensure that your food, no matter where you put it, is always surrounded by cool air keeping it fresh.
Opening the freezer is also quick and easy, thanks to the Smart Pull handle. The crispers are humidity-controlled, increasing the shelf life of your fresh produce.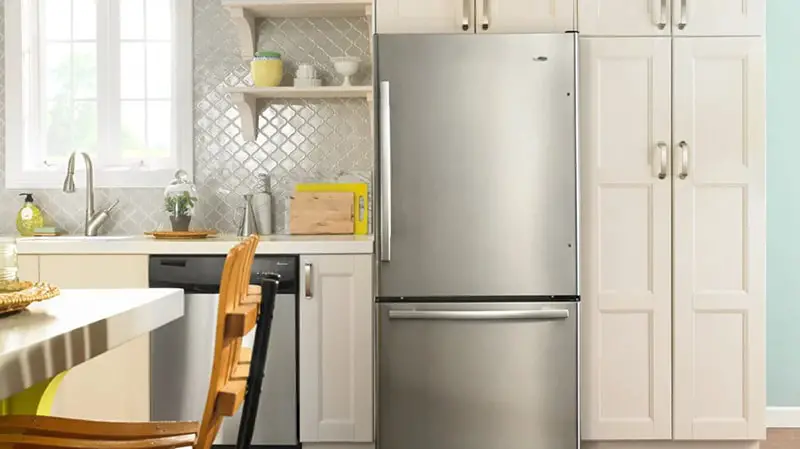 How To Pick The Best Fridge For You
Whether you live alone or with family, you just can't do without a refrigerator. However, choosing the right one is not a very easy task.
Here are a few things that you must consider to choose the right fridge for you:
Configuration:
Stylewise, you can choose between 4 options- top freezer, bottom freezer, side by side, and French door. Top freezers are possibly the most affordable among all four. Bottom-freezers are not very different from top-freezers except that the freezer compartment is at the bottom. Side-by-side refrigerators have two doors, one for the fridge and the other for the freezer, and typically the fridge section is bigger than the freezer. French door models combine the benefits of a bottom-freezer unit with the low-clearance doors of a side-by-side unit.
Dimensions:
Bigger need not always be better. You need to choose the dimensions of your refrigerator according to space in your kitchen. Ideally, one should have at least 4 to 6 cu. ft. of space per adult in the refrigerator with a bit of extra room. For a family of four, a refrigerator with a capacity of 20 cu. ft. or more is usually adequate.
However, you may be limited by the size of your kitchen. You need to know the exact height, width, and depth that you can work with before you start shopping for a new refrigerator.
Finishes:
A refrigerator is one of the many kitchen appliances that is used almost every day. Hence, the style and finish of your refrigerator can have a huge impact on the overall aesthetics of your kitchen. The most popular finish among consumers is stainless steel, mainly because it complements almost all kitchen décor and is quite easy to maintain.
Some newer models also come with the black stainless steel finish, which is smudge-proof and easier to clean. However, you can also choose from a variety of colors according to your kitchen décor.
Features:
Refrigerators, these days, come with a host of innovative features. You can also buy "smart" refrigerators that come with cutting-edge technology, but they tend to be quite expensive.  Regardless of the fridge you buy, you must ensure that it comes with all essential features.
Look at the eating habits of your family to know what features you should look for in a fridge. If you use a lot of fresh vegetables and fruits in your daily cooking, you may want to choose a fridge that comes with humidity-controlled crispers to keep your produce fresher for longer. If you store wine bottles in the fridge, you may want to choose one with adjustable shelves. If you consume a lot of non-vegetarian products, you may want to buy a fridge that has separate compartments for non-veg and dairy products.
Read also: Best Counter Depth Refrigerator Review In 2021
What Kind Of Refrigerator Should You Buy?
Refrigerators come in a variety of sizes and designs, but they all do an excellent job of keeping your food fresh. You should choose a refrigerator that matches your needs and kitchen design.
For keeping this guide easy, we focus on the three best-selling types of refrigerators:
French door: The standard size of a French door refrigerator is around 29 to 36 inches in width, 68 to 70 inches in height, and 29 to 34 inches in depth. The standard French door refrigerators have a bottom freezer along with two doors that swing open to reveal your fridge area. These refrigerators are generally considered high-end since they come packed with the most features.
Top-freezer: Most top-freezer refrigerators measure about 23 to 36 inches in width, 65 to 69 inches in height, and 24 to 33 inches in depth. They are usually the cheapest, most easily available, and fit into any kind of kitchen design.
Side-by-side: The average size of a side-by-side refrigerator is 32 to 39 inches in width, 65 to 71 inches in height, and 29 to 31 inches in depth. Usually, the freezer is positioned on the left side of such refrigerators and the fridge section on the right. These refrigerators give you easy access to both sides and most of them have similar features as French door refrigerators.
Bottom-freezer: Typically, bottom-freezer refrigerators are 29 to 32 inches in width, 67 to 70 inches in height, and 33 inches in depth. These refrigerators have a single-door fridge section on the top and a deeper freezer drawer at the bottom.
There are a few other styles of refrigerators that you can choose from, depending on the requirements and kitchen layout. Be sure to check out our fridge buying guide below to help you with the shopping process.
Read more: Best 30 Inch French Door Refrigerators (Reviews / Ratings / Prices)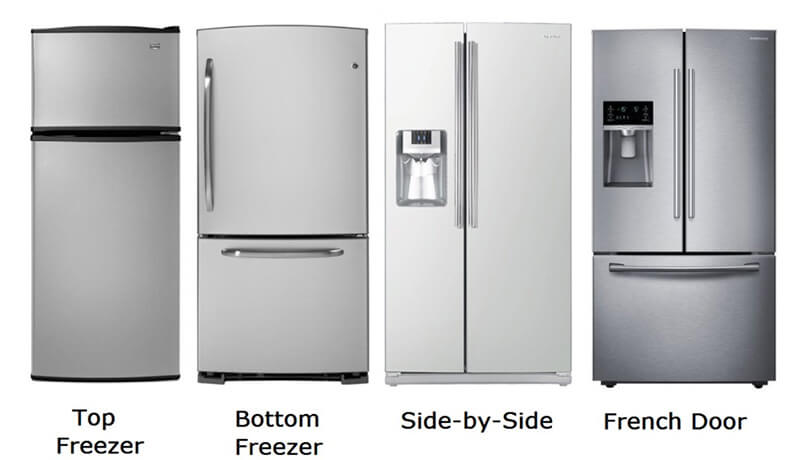 Refrigerators Buying Guide
Irrespective of the style of the refrigerator that you choose to buy, here are some common standards that all refrigerators should follow.
Sturdy Build Quality
A refrigerator is one of those kitchen appliances that is used nearly every day, several times a day. Hence, you need to buy a refrigerator that will put up with continuous use for many years. Before you bring one home make sure that you thoroughly check the quality of the fridge. Can you pull out the drawers easily or do they make a rattling sound? Do the doors feel hollow or hefty? Are the shelves properly laid out? Can the door bins withstand the weight of gallon-size jugs or merely ketchup bottles? Besides other features, the fridge you choose should have a sturdy build quality.
No Apparent Signs Of Design Defects Or Flaws
Whatever fridge you choose, make sure that it does not have any design defects or flaws. It may not be so apparent to the untrained eye. However, a simple Internet search can help you find out if there have been any consumer complaints about problems that crop up in the first year. Reading customer testimonials can also let you know if there were any issues in the compressor fans, cooling-system failures, control-board failures, or icemaker jams.
Simple Features
The more you spend, the more high-end features you can get. However, remember not to ignore the most basic and essential features when selecting a fridge. After all, they all do the same job, don't they? The refrigerator you choose must have basic features like an auto-defrosting freezer, adjustable shelves, crisper drawers, and plastic or glass shelves instead of cable in the refrigerator compartment.
Notable tips when buying a refrigerator
There is quite a variety to choose from, but each refrigerator style has its pros and cons. Figuring out what works best for you is the first step in making the right choice.
Top freezer
It is probably the most economical style and fits into nearly everyone's budget. The biggest downside is that you need to stoop to access the refrigerator section, which is probably the portion that is most-used in a household. Since vegetable and fruit crispers are right at the bottom, they are not very easy to open, close, or even clean.
Bottom freezer
Since the refrigerator section is on the top of such fridges, it offers better accessibility. It is especially great for people who suffer from back and neck pain and can't bend much. However, if your family eats a lot of frozen dinners, you will need to bend to pull it out from the freezer section at the bottom.
Side By Side
Most people with narrow kitchens opt for the side-by-side refrigerators as the narrow doors need less swing space. The capacity of the freezer compartment in such fridges is also considerably more than other variants. The downside is that in most of these fridges, it is not possible to fit wide items like pizza boxes or party trays. It is also less energy-efficient than other models.
Last update on 2023-01-14 / Affiliate links / Images from Amazon Product Advertising API