The best all purpose flour makes the best cakes and breads. But finding the top all purpose flour brands of 2021 can be a challenge, especially since there are so many brands in the running. You may need to try and test each all purpose flour brand to judge for yourself which is the best all purpose flour.
But let's face the facts. Neither do most people have the time nor is it the best financial investment to conduct this type of research. Instead, read up our review of these top all purpose flour brands of 2021 and make a choice from the winning pile.
Our list takes into consideration a variety of factors that make a particular brand of flour, the best all purpose flour available in the market. This detailed review has been done carefully after vetting each flour brand for:
Quality
Taste
Price
Availability
Ease of use in hard and soft water
Brand reputation & legacy
So, let's get started into this deep dive review.
How do AP Flours Differ?
All purpose flour is one of the four types of wheat flour. It differs significantly from the other types of wheat flour available today.
All purpose flour vs whole wheat flour
While all purpose flour is used to make light and soft baked or oil-cooked foods, wheat flour is ideal for heavier and denser foods. This is because while all purpose flour is made using only the endosperm portion of the wheat plant, whole wheat flour is made using all parts of the wheat plant.
All purpose flour vs cake flour vs bread flour
All purpose flour has a gluten content of approximately 12%. Cake flour has a much lower gluten content (7.5%-9%), while bread flour has a higher gluten content around 14%. This makes all purpose flour an ideal middle-of-the-road ingredient when baking or cooking, since the food won't be too hard or too soft and chewy.
All purpose flour vs self-rising flour
Self-rising flour is a type of all purpose flour which has salt or baking soda pre-added to it. Regular all purpose flour doesn't contain baking soda or salt.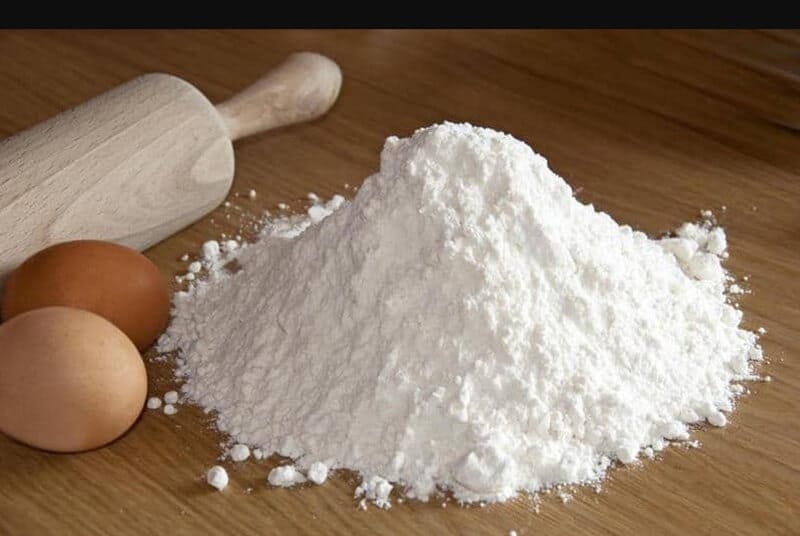 AP Flours by Protein Content
In the last section, we spoke about the gluten content of each type of wheat flour. Now, "gluten" refers to a group of wheat proteins. This gluten is formed when the proteins in the all purpose flour react with water.
The top all purpose flour brands of 2021 come with different gluten contents, depending on how much protein they have. The higher the quantity of protein in the flour, the higher is the gluten.
All purpose flour with higher protein is better for hard-textured foods such as breads and brownies. Medium protein all purpose flour is ideal for pizza bread, doughnuts etc. And low protein all purpose flour is great for soft tacos or chapatis.
High Protein: The 2 Best Unbleached AP Flour Below:
King Arthur Unbleached All Purpose Flour – This is one of the best all purpose flours because of its high 11.7% protein content.
Bob's Red Mill Unbleached White All-Purpose Flour – This all purpose flour brand has one of the highest protein content, at around 12%.
Moderate Protein
There are four of the best all purpose flour brands (representing 6 products)  in this list:
Both the unbleached all purpose flour and the bleached all purpose flour have a medium protein content of 10.5%.
Both the Pillsbury brands on our list are enriched with nutrients and flavour. Just as with Gold Medal, both bleached and unbleached all purpose flours have 10%-11% protein rate.
The unbleached variant of this all purpose flour brand is medium-protein with 9.5%-10.5% protein content.
The enriched and pre-sifted bleached all purpose flour from Martha White has a wide range of medium-level protein content, at : 9%-11.25%.
Low Protein
If you prefer an all purpose flour brand that has very low gluten content, consider buying the White Lily bleached all purpose flour. This product is enriched and pre-sifted, coming with a 7%-8.5% protein content.
What Should You Look For?
The all purpose flour you choose should be easy to mix into batter or dough. It should contain the correct protein content necessary to make the food you want. The texture should be smooth and soft, so the final baked good doesn't have a rough texture. The flour should be available in bags of various sizes, so it can fit the needs of all types of families. The packaging material too should be re-sealable or be easy to close, so the freshness of the flour can be maintained after the bag is opened.

Top-Rated All Purpose Flour Brands
[amazon bestseller="All Purpose Flour" items="6″ template="list"]
1. Arrowhead Mills
Perfect for crisp and light baked goodies, the all purpose flour from Arrowhead Mills makes for a great addition in your pantry. This is in fact one of the top all purpose flour brands of 2021, because it is a USDA Certified, organic, non-GMO and kosher product.
This flour is made from Sorghum wheat and is available in a 20oz bag. You also get gluten-free variants, which are ideal if you're watching your weight or have a gluten allergy. This all purpose flour has an earthy, nuttiness to it, which makes for very delicious bread and cakes.
[amazon box="B01N3LOHGE" template="horizontal"]
2. Hodgson Mill
One of the best all purpose flour brands and one that is renowned for its health benefits, Hodgson Mill offers completely organic and GMO-free products. Additionally, Hodgson Mill fall purpose flour contains no bromide as a preservative, making this brand safer and less-likely to lead to thyroid conditions.
It is made using a mixture of millet and flax seed, in addition to wheat. This enriches the flour with essential nutrients. Typically, the flour comes in packs of 12oz each and are available in both single units and packs of 6.
[amazon box="B0001GLG8I" template="horizontal"]
3. Gold Medal
Another brand making its way into our list of top all purpose flour brands of 2021, is Gold Medal. The bleached all purpose flour from Gold Medal is enriched with iron, niacin, Vitamins B1 & B2 and folic acid.
This all purpose flour comes in a resealable zip lock bag of varying sizes, starting at 10oz. The flavour is very mellow, making it perfect for all types of baked foods. The Gold Medal is one of the best all purpose flours because it is very soft and fine, not needing any excessive sifting.
[amazon box="B01IVMJX24″ template="horizontal"]
4. White Lily
The White Lily brand has been consistently ranked as one of the best all purpose flours for many years. The reason is simple – it's divine lightness, smooth texture and earthy taste.
Although White Lily is a bleached all purpose flour, it isn't chlorinated and this makes all the difference to its tase, texture and health. With just 9% of protein, White Lily all purpose flour is the perfect ingredient to make those cloud-like biscuits. The ascorbic acid increases loaf volume.
If you get to visit the Southern part of the United States (or you live there), you'll find that most bakeries and restaurants use the White Lily brand. The flour comes in 5 pound bags and just like the Gold Medal brand, it comes loaded with essential nutrients and vitamins such as Riboflavin, thiamin mononitrate, iron, niacin and folic acid.
[amazon box="B005QQ1L10″ template="horizontal"]
The Rest
While we have ranked the above four brands as the best all purpose flour in 2021, there were a few that almost made their way to our list of the top all purpose flour brands of 2021. Here they are:
Most of the all purpose flours in Bob's Red Mill line are gluten. It is made using a blend of flours that use garbanzo, sorghum, fava beans, potatoes and tapioca.
Heckers is a one of the best all purpose flours if you prefer unbleached flours. It offers a fluffy texture, which is perfect for cakes.
Another un-bromated and unbleached flour on this list of top all purpose flour brands of 2021, King Arthur all purpose flours are completely organic. King Arthur has all purpose flours in various protein levels, allowing you to expand your baking skills easily.
Pillsbury offers a nutrient and mineral rich flour option. This brand contains a mixture of hard and soft wheat that are available both bleached and unbleached, making it a highly versatile brand.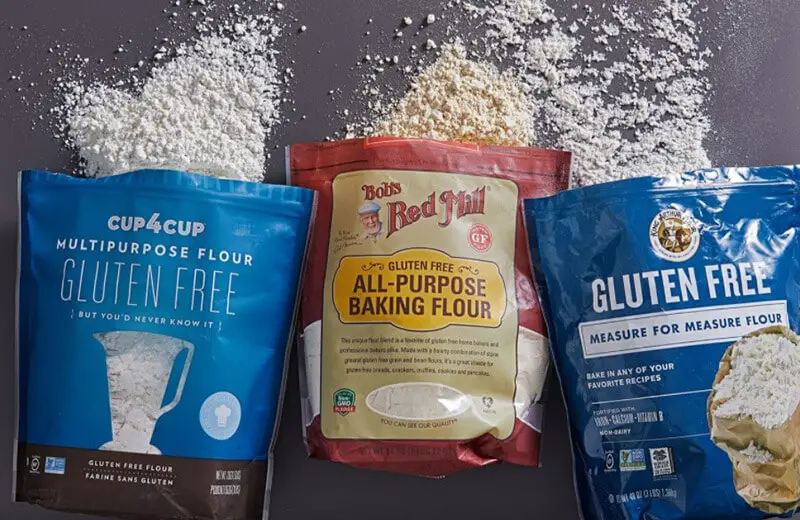 Recognizing Soft Flours and Hard Flours
Depending on how much protein and gluten all purpose flour has, we categorize them as hard or soft.
Hard flours are those which have a protein content over 12%. They make hard and elastic dough that can be used to make bread or dense cakes/pastries.
Soft flours are those that have a protein content under 11%. They make really soft and flaky dough that is perfect for scones, croissants, biscuits etc.
Many of the brands in our top all purpose flour brands of 2021 are soft flours and perfect to make melt-in-your-mouth baked goodies.
Read more: Top Best Oil For Baking 2021
Substitution
One of the most important uses of all purpose flour is that it acts as the perfect substitute for bread flour. Since the all purpose flours are available with different protein contents, we can find an all purpose flour brand perfect for bread baking too.
If in case you run out of all purpose flour, you can just replace it with any other type of flour you have. It doesn't necessarily have to be cake or bread flour. You can also use wheat substitutes, i.e. flour made from ingredients like almond, oat, rice, millet, coconut etc.
An equal portion of the amount you need to substitute needs to be added. So, if you need 1 cup of all purpose flour and have only enough for ½ cup, then substitute the ½ with any other flour.
Swapping Isn't Always Essential.
Swapping out flours when you don't have sufficient all purpose flour isn't always necessary. It's important to remember that when you mix salt or baking soda to your flour, the dough will automatically rise and increase in volume. You may not really need more flour and can make a sizeable batch of baked goodies with the all purpose flour you have.
Conclusion
The best thing about all purpose flour is that it is available everywhere – from mom & pop stores to online retailers. Each of the brands in our top all purpose flour brands of 2021 also have their own websites, where you can purchase your flour.
All purpose flour makes baking (and general cooking) supremely easy. It eliminates the need for you to find "special/select" ingredients that may be very hard to find. The all purpose flours in our list are excellent in quality and taste and budget-friendly. Try them when you're baking next and see how amazing they are yourself.
Read more:
Best Gluten-Free Flour Review 2021 ( Top 15)
Best Gluten-Free Flour For Baking Review 2021 ( Top 11)