Breakfast is the first meal of the day and you have to start your weight control with it. Most of the times in our breakfast, we prefer to have cereals. It fills up quickly and gives you instant energy for the day. However, not all cereals are healthy. If you are serious about weight loss, then you have to choose your breakfast cereal carefully. Otherwise, your effort of weight loss will fail at the beginning. After lots of research, we have selected some of the best cereals for weight loss. All of these cereals are very vitamin-rich and healthy for your body. These top cereal brands will make your breakfast tasty while reducing calorie consumption at the same time.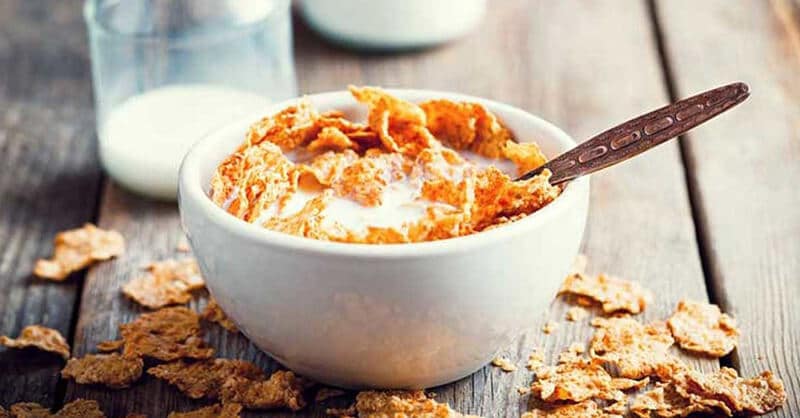 Three tips for choosing a cereal that will not mess with your weight loss efforts
1. Choose whole-grain cereals
When it comes to weight loss, whole grains deliver much better results than refined grains. Believe it or not, but the skin of whole grains contains lots of antioxidants. These antioxidants affect the metabolism rate and help the body decrease weight substantially. For this reason, the cereal has to have lots of whole grain in it. If you are choosing a cereal for weight loss, then check its ingredients before purchase. Just flip the box and read the ingredients on the back cover. Ingredients like brown rice, oatmeal, Greek yogurt, buckwheat, quinoa, and millet are good for weight loss.
2. Consuming more or 5 grams per serving of fiber
Compared to other breakfast dishes, cereal is always a better choice. The primary reason behind this is the high concentration of dietary fiber present in the cereal. The long chain of dietary fiber helps you stay full for a long period. As a result, you experience less hunger. On the other hand, your body also has to work hard to digest and dissolve these dietary fibers. This process enhances the metabolism rate. So, consumption of an ample amount of dietary fiber helps you become lean and slim. Always keep this information in your mind, before choosing the cereal for weight loss.
3. Consuming less or 5 grams of sugar per serving
You must be wondering that sugar is a glucose substance, but how it can increase body fat? The problem with sugar is that it reduces your metabolism rate. As a result, your body tries to accumulate fat instead of burning it. So, if you are serious about losing weight, then you have to make this sacrifice and remove sugar from your life. Instead, you can try honey. In our top cereal brands review, we have found that most heal-conscious cereal brands use less sugar. So, the consumer gets less than 5 grams of sugar per serving.
Read also: https://www.webmd.com/diet/ss/slideshow-best-diet-tips-ever.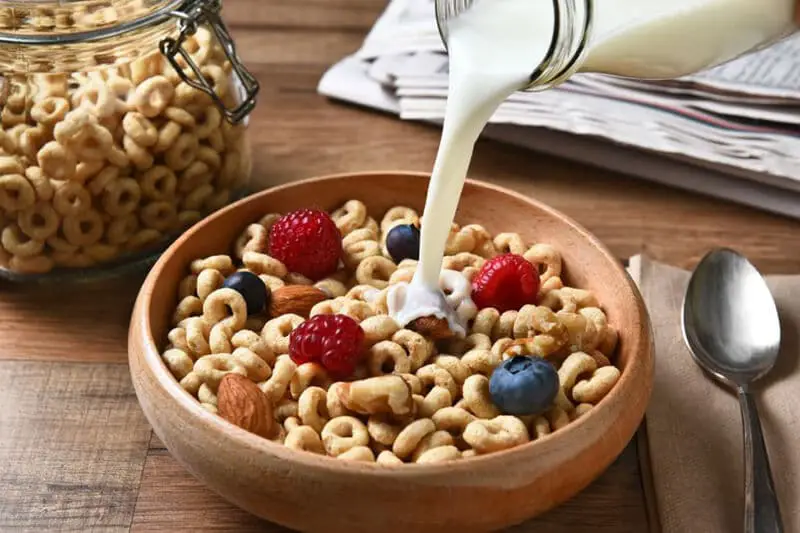 Top Rated C
ereals To Lose Weight
Currently, the market is filled with hundred types of cereals. All of them say that they are healthy. However, in reality, only a handful of them pass quality taste. If you want to find the best cereal for weight loss, then you should flip the box and check and compare the ingredients of every cereal. We have done this complicated task and make a list of healthy cereal, which can help you in the weight reduction process. Here are some of the best cereals for weight reduction that will make your morning breakfast energetic.
[amazon bestseller="Cereal For Weight Loss" items="6″ template="list"]
1. Kellogg's All-Bran
Kellogg's All-Bran is a wheat germ breakfast high in fiber and protein and low in sugar and calories. It will help cleanse your colon because of the high-fiber content. It's also fortified with essential nutrients such as iron, vitamins C and A, and antioxidants. If the serving size isn't sufficient for you, add a couple of slices of banana and a couple of sunflower seeds to create it fill and find a dose of healthy fats. This is the best cereal to eat for weight loss.
2. KiX
If you want a wholesome breakfast with lots of vitamin C and calcium then it should be your first choice. We have ranked it the best cereal for weight loss because of its properties. With every 48 grams of serving, you will get around 13 grams of whole grain corn. Another important ingredient of this cereal is corn burn and brown sugar syrup. Compared to granulated sugar, brown sugar incorporate lots of antioxidants. Therefore, it is a much better alternative for sweetness. You only get 160 calories from every 40 grams of serving.
3. Fiber One
Another low-calorie cereal, which can help you during your weight loss endeavor, is Fiber One. After reviewing its ingredients, we have incorporated it in our best cereal brands list. The whole grain wheat is enriched with dietary fiber. With every 40 grams of serving, you will get around 18 grams of dietary fiber. Another important element of this cereal is corn bran, which gives it's an organic taste. There is only 1% of total fat present in this cereal. 20% of zinc, 6%, of phosphorus, and multiple vitamins boost your immunity system at the same time.
4. Post-Shredded Wheat Spoon Size Wheat'n Bran
Some people are very health conscious and they do not prefer sodium or sugar in their breakfast, this cereal perfectly matches their demand. You won't find any sugar or salt in this cereal. It is 100 % organic. The main element of this cereal is whole grain wheat and wheat bran. Besides eating with milk, you can also make various breakfast dishes out of it. It contains only 2% of fat and 0% of cholesterol. It is a perfect cereal for those people who are suffering from high blood pressure along with obesity.
5. Erewhon Crispy Brown Rice
Whole grain wheat can be allergic to some people. For these types of people, the best choice is brown rice based cereals. In our top cereal brands review, we have picked Erewhon Crispy Brown Rice cereal for this reason. It is 100% salt and gluten-free cereal that never cause any type of allergy. This low-fat cereal only contains 1 gram of sugar for taste. From its 30 gram serving, you will get only 110 calories of energy. There are ample amounts of Iron present in this cereal. The cereal contains only 8% of carbohydrate and 2 grams of protein.
See more: Best Cereal For Diabetics Review 2021: Top 1 Quaker Life Breakfast Cereal
6. Kellogg's Bite Size Unfrosted Mini-Wheats
This cereal is another sugar-free cereal for weight loss. There is no sugar or artificial sweeteners in it, but you may still find it mildly sweet. This sweetness is 10% organic and come naturally from wheat starch. It is available in the bite-size biscuit form. The 59 grams of serving delivers around 230 nutritional calories. It tastes very delicious along with skimmed milk. You can also add apple slices, date, and chia seeds into it. These added fruits will sure make your breakfast more fun.
7. Nature's Path Organic Smart Bran
If you want the a cereal for weight loss that does not compromise on taste or health, then it could be the one. This crunchy cereal is made from wheat barn and oat. It is full of dietary fiber, which improves metabolism organically. Besides these two elements, the cereal also incorporates psyllium seed husk, organic cane sugar, barley malt extract, and sea salt. From its 40 grams serving, you won't get more than 110 calories. It will increase your fitness in the first morning. So that you can start your weight loss journey with a full charge.
8. Kashi GoLean
In this cereal, you will find the benefit of seven whole grains. These grains are buckwheat, hard red wheat, rye, brown rice, barley, oats, and triticale. The balanced mix of these grains increases the proportion of the dietary fiber in your breakfast. Taste-wise it is one of the best cereals. They have enhanced the flavor of the cereal with cane syrup, honey, and sesame seeds. From 58 grams of serving, you get only 200 calories of energy. It helps you stay lean and feet and support your weight loss efforts.
9. Quaker Instant Oatmeal Lower Sugar Maple & Brown Sugar
Believe it or not, but maple syrup contains less glucose. It is healthier than granulated sugar. We have found that the company is trying to include this health aspect in their cereal. This oatmeal based cereal has a charming taste. Along with the goodness of oatmeal, the company has included monk fruit extract in the cereal. This healthy cereal only generates around 120 calories out of 34 grams serving. It holds around 10% of dietary fiber and 4% of protein. It can be a good source of essential minerals like iron, calcium, and phosphorus.
10. Kashi 7 Whole Grain Nuggets
If you want a dairy-free cereal that fits your kosher diet, then this is it. This low-fat cereal contains the goodness of 7 whole grains. For the convenience of eating, it comes in nuggets form. The primary ingredients of this cereal are brown rice, rye, triticale, barley, hard red wheat, buckwheat, oats, and sesame seeds. We have considered this as one of the top cereal brands because it contains no added flavor. In this cereal, you get the best of natural flavors of the grains. This cereal incorporates lots of healthy minerals like iron, phosphorus, magnesium, and calcium. It makes you strong from the inside.
11. Post Bran Flakes
Post Bran Flakes are made from whole grain pasta, wheat bran, wheat flour. They're packed with calcium oxide, iron, vitamins B6, B1, B12, B2, D. The carbohydrates in this cereal provide you with the much-needed energy in the daytime and keep you complete for one. Add yogurt and fruits to create a skillet. You might even add cold milk, half a teaspoon of dark chocolate, and a couple of frozen berries and blitz it to choose to work or college.
12. Wheaties
Wheaties is the toasted wheat batter that helps purify fat and decrease your cholesterol levels. They are made and contain vitamins C, E, A, B12, B6, B2, D3, calcium carbonate, iron, and zinc. Add a banana piece of milk and a teaspoon of ground flax seeds to have a healthy and speedy breakfast.
13. Kellogg's Special K Red Berries
Kellogg's Special K is touted as one of the cereals to consume for dinner or breakfast and lunch if you're attempting to shed weight. The Red Berries taste does not cause you to feel like you're on a diet program and tastes. It's constructed from soluble wheat fiber, wheat, wheat bran, whole grain pasta, and sugar. Additionally, it's an excellent source of vitamins C, B1, B2, B12, and D3 and iron. Insert slices of an apple, a fig, and a pinch of cinnamon to have breakfast.
14. Kashi Go Peanut Butter Crunch
Many people find peanut butter taste irresistible. It is the perfect cereal for these types of people. The flavor of peanut butter in this cereal is 100% organic. The company does not use any artificial flavoring agent for this purpose. If you want the a cereal for weight loss with an organic peanut butter taste then give it a try. This crunchy cereal will meltdown in your mouth and it will take you to the peanut butter paradise every morning.
See also: Best Canned Soup Review 2021 (Top 19)
15. Nature's Path Love Crunch
The general myth that circulates in the world is that chocolate is bad for weight loss. However, the reality is that dark chocolate can drastically help you reduce body fat. This cereal has beautifully incorporated dark chocolate and healthy cereal together. For this reason, we have chosen it as the best cereal for weight loss. You will also find red berries in the cereal. These berries maximize the taste of the cereal in a good way. This cereal delivers only 200 calories of energy in each serving and helps you manage weight.
16. Fiber One Original Bran
In the list of healthy cereals, Fiber one ranks among the top. This company has multiple good bowls of cereal for weight loss. The Fiber One Original Bran cereal is one of the most effective cereals among them. This cereal is dietary fiber-rich and has a lot of added vitamins and minerals for an immunity boost. The whole-grain bran of this cereal keeps you full for a long time and reduces your hunger till lunchtime. For extra benefit, take this cereal with skimmed milk and add your favorite fruit slices for extra taste.
17. Special K Original
In the world of healthy cereal, Kellogg's is known as one of the top cereal brands. This healthy cereal not only helps you reduce weight faster, but the high Vitamin B concentration of this cereal nourishes your skin at the same time. Rice and wheat bran is the primary ingredient of this cereal. Your body can easily digest these elements and it gives you vital energy in the first morning. Another benefit of taking this cereal is its high level of antioxidant elements. It will rejuvenate your muscle growth from the inside and make you younger over the period.
18. Peanut Butter Puffins
This cereal is another top peanut butter indulgence you can have. This cereal is 100% organic and does not contain any GMO products. The company has also excluded artificial sweetener and flavor out of it. The low-fat concentration of this cereal is ideal for rapid weight loss. It is not only 100% vegan, but it is also prepared with kosher dietary principles. Besides breakfast, you can also use these puffins in other fun desserts. No matter what time you eat them, it is guaranteed that they will bring a smile on your face.
19. Original Cheerios
Cheerios is another popular brand in the breakfast cereal industry. You can try their cereal for weight loss. This cereal is made from whole grain oats and corn starch. This cereal is specially designed for those people who are suffering from cardiac problems due to extra weight. The low fat and calorie concentration increase metabolism rate and enhance fat burning process naturally. You would be surprised to know that it is made from 100% American sourced ingredients. The company has kept gluten and GMO products away from this cereal.
20. All-Bran Complete Wheat Flakes
There is no doubt that Kellogg's come tops among other best cereal brands. This brand offers some of the best healthy cereal choices for weight control. This cereal is one of the most popular whole wheat grain cereals. Each bowl of this cereal contains only 4 grams of protein, which helps you make a lean profile of your body. However, many people have reported mild allergic reactions to this cereal. So if you have any type of allergic reaction from whole wheat grains, then it would be a better choice to avoid this cereal. Instead, you can try another grain type of cereals for breakfast.
21. Ezekiel 4:9 Sprouted Whole Grain Cereal
You would be surprised to know that most grains double their nutritional properties at the time of sprouting. As a smart cereal maker, Ezekiel understood this fact and incorporated this phenomenon in their cereal. Before cereal production, they soak the grains in freshwater. Then they let the grains sprout naturally. After sprouting they toast the grains and make cereal out of them. These cereals are enriched with lots of antioxidants and very helpful for weight loss. A bowl of this cereal contains only 190 calories. It will make you full quickly and improve your muscle rejuvenation capacity. It is highly enriched with iron and folic acid. Anyone suffering from anomie will get lots of benefits from this cereal.
22. Cascadian Farm Lemon Blueberry Granola
We have found this cereal the tastiest among others. However, the reason behind this taste is 100% organic. The company does not add any artificial flavor to this cereal. The combination of lemon and blueberry make it very delectable. You will enjoy it spoonful with a big smile. The primary ingredient of this cereal is whole oat grains, honey, lemon extracts, and organic blueberry. One bowl of this cereal only produces 120 calories. It helps you manage your weight without making any sacrifices. Cereal like this proves that going on diet is not hard at all.
23. Grape-Nuts
Contrary to its name, the cereal does not contain any grapes or nuts. Instead, the company produces from whole grain wheat and whole-grain barley. This cereal has a history of over 100 years. From the earlier days, many Hollywood celebrities have chosen this cereal for weight management. Even in the current time, it is among some of the best cereal brands. The main reason behind this is a low concentration of calories and a high level of dietary fiber. This cereal enhances the metabolism rate and asks the body to burn extra fat down. As a result, you can lose a certain amount of weight without doing much exercise. Many doctors and physical trainers suggest this cereal for bodyweight reduction.
Best Cereals For Weight Loss FAQs
1. Is eating cereal good for losing weight?
Compared to other snacks, cereal is a better choice to cool down hunger. You can have these cereals two times a day for faster weight reduction. Another benefit of having healthy cereal is that they keep you away from junk foods. As you know, junk foods are one of the main reasons behind health degradation. So, cereal can help you positively preserve your health. Most cereals contain close to zero fat and very little amount of carbohydrate. Therefore, cereal does not increase body fat quickly.
However, you need to select your cereal carefully. Some cereal companies incorporate artificial flavor and extra sugar. These types of cereal can give you a counterproductive result. Before choosing any particular cereal, check out our top cereal brands review and find the best one for your body.
See also: https://www.livestrong.com/article/456855-can-you-lose-weight-just-by-eating-cereal-only/
2. Does eating cereal make you fat while sleeping?
It is indeed a fact that cereal increases the metabolism rate and improves digestion capacity. However, there is no scientific evidence available behind this myth. Many people gain extra weight after cereal consumption because they are choosing the wrong types of cereal for the breakfast. Eating high caloric cereal will increase your body mass and generate fat accumulation in your body.
For this reason, checkout various top cereal brands. And choose those which contain less caloric energy per serving. Any cereal that delivers less than 300 calories per serving is the best for weight loss. On the other hand, a cereal that delivers more than 300 calories per serving is good for weight gain and skinny people can have those cereals.
Read also: https://www.cookinglight.com/healthy-living/weight-loss/worst-late-night-foods
3. Does cereal make you fat?
Only if you choose the wrong type of cereal for your body, any cereal with whole grains does not contribute to the fat generation process in the body. However, various shady companies include added sugar and preservatives to make their cereal flavourful. These cereals are very high-calorie density in nature and they are not healthy for the body. If you choose one of the best cereal brands, the chances of getting fat will be substantially less.
Going with a cereal for weight loss is just a starting point for fitness. Along with the cereal, you have to do proper exercise or running for weight loss. The cereal can only slow down the fat generation process in your body. You still have to sweat in the gym for weight reduction. Otherwise, you only get a 50 % result from the cereal.
Read also: https://www.shape.com/healthy-eating/diet-tips/how-your-bowl-cereal-making-you-fat
What to do if my favorite cereal does not match the guidelines?
It can be heartbreaking to know that your favorite cereal does not match health guidelines. It means till now you were heaving unhealthy cereal every morning. Instead of making you slim, your favorite cereal was making you only fat. So, if you are a health-conscious person and dearly want to lose some weight, you have to do some adjustments to your cereal choice. Throw your current cereal in the garbage can and choose from the best cereals for weight loss.
Make sure the current cereal you are choosing has a similar flavor profile to your favorite cereal. It will help you make the switch easily and make your morning delightful as always. The cereal should not have more than 300 calories of energy in each serving and you can indulge it with a happy face.