What's life without spice? Boring. What's food without the best teriyaki sauce? This question isn't even worth answering.
If there's one flavouring agent that has taken hold of the world's collective imagination, it is the teriyaki sauce. Hailing from traditional Japanese cuisine, teriyaki sauce has been personalized and adopted into various global cuisines. Whether you're planning to eat simple steamed salad or a plateful of roasted meat, teriyaki sauce can heighten and uplift your meal's flavour within seconds.
In this guide, we take a deep dive to understand this beloved marinade/glaze better. Then, we'll explore the top teriyaki sauce brands of 2021, so you can know which brands to buy. We'll end this guide with a detailed recipe to make the best teriyaki sauce right at home.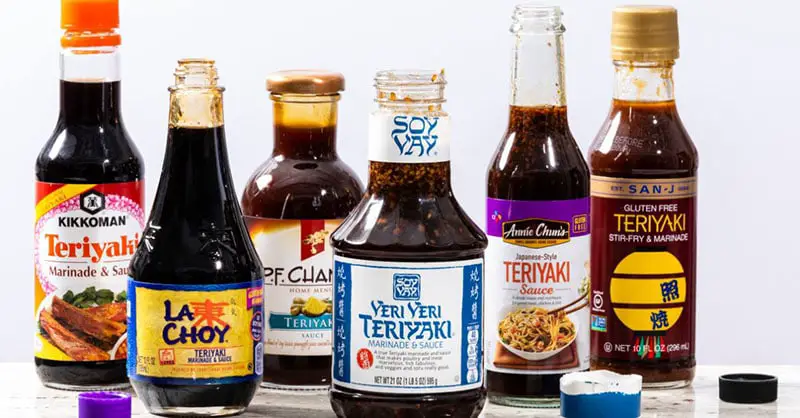 Points to Consider Before Purchasing a Teriyaki Sauce
Teriyaki is a style of cooking.
Contrary to popular belief, "teriyaki" doesn't just refer to a garnishing sauce, it actually refers to a style of cooking.
The word "teriyaki" can be split into two words – "Teri" meaning "something that gleams or has a bright lustre" and "Yaki" – which is a type of cooking that means "grilling or broiling". So, teriyaki refers to a style of grilling or broiling that results in the food gleaming or gaining lustre. It was one of three Japanese cooking styles that immigrated to the Western world – the other two being yakitori and sukiyaki.
Teriyaki cooking style is believed to have originated during the Edo period, which was between 1603 AD and 1868 AD. However, teriyaki cooking then was completely different from what we know to be teriyaki cooking today.
As geopolitical and economic changes took place during the Edo era, Japanese cuisine experienced a major transformation. Although soybean had been an integral part of Japanese cuisine since as early as 701 CE, the way it was consumed changed over the years. In 1228, the earliest version of the modern-day soy sauce was discovered by accident when pheasants realized that the liquid collecting at the bottom of the bowl when fermenting miso (mixture of salted soybeans and Koji mould), made for a delicious seasoning. (This is where the teriyaki sauces actually stem from historically.)
By the Edo period, "shoyu" or soy sauce had been evolved in consistency, flavour and aesthetics. By the late Edo period, the tradition of Kuromame became prevalent in Japan, where boiled black soybeans were glazed in soy sauce and sugar and eaten during Osechi Ryori (Japanese New Year). This was one of the most significant developments in teriyaki styled cooking, i.e., using soy sauce to marinate and glaze grilled and broiled food items.
From then, there was no looking back and shoyu sauce became a mainstream seasoning in Japanese cuisine.
About Teriyaki Sauce
Teriyaki cooking, as we've seen, uses shoyu to add more flavour and texture to meat and vegetables. But so far, we've hardly mentioned the words "teriyaki sauce". That's because, the "teriyaki sauce" as we know it today, is an American invention and not really Japanese.
The real shoyu sauce from Japanese cuisine uses a different set of ingredients in its recipe. But when the first Japanese immigrants made their way to North America in the 1860s, they couldn't recreate conventional shoyu sauce because of the absence of specific ingredients. While ingredients like Sake and Mirin (both of which are alcoholic liquids made by fermenting rice) could be made at home, other ingredients couldn't be recreated. Instead, Japanese immigrants replaced a few ingredients with what they found in America, such as brown sugar and pineapple juice.
By then, concentrated soy sauce was already being exported by Japan into the United States. By mixing their modified ingredients with the soy sauce, early Japanese American settlers were able to create a different version of the shoyu sauce used in teriyaki cuisine. This new sauce became an instant success in the USA and it was adopted as "Teriyaki Sauce" into their cuisine.
In terms of taste, teriyaki sauce has a complex flavour profile. It is sweet, salty and tangy at the same time, with a very sticky texture. Teriyaki sauce is used as a marinade before cooking red meat, white meat and seafood. It is also used to glaze already grilled, roasted or broiled meats as well. As the world becomes more vegetarian and vegan, teriyaki sauce is now being used as a glaze for boiled or steamed vegetables and rice as well. After you cook a meal with teriyaki sauce, it develops a delicious and caramelized flavour.
Depending on the meal, teriyaki sauce is either directly ladled in copious quantities onto the meal, or it is drizzled gently onto skewered meats and vegetables to give them a light coating. For people who can't eat a lot of teriyaki sauce, just a few splatters of it are dropped on the plate before plating the rest of the meal.
Teriyaki Sauce Nutrition
Teriyaki sauce is a healthy alternative to many of the cheese-based and cream-based sauces. If you use 1 tablespoon of teriyaki sauce, you have 0% saturated fat and 0% trans-fat. This sauce is a heart-healthy seasoning, since it doesn't have any cholesterol. The teriyaki sauce also doesn't use a lot of ingredients that are high in fibre or carbohydrates.
The ingredients used to make teriyaki sauce contain natural sugars and you may find up to 2.5% sugar in 1 tablespoon of teriyaki sauce. This sauce is quite heavy on the salt, with a 29% (up to 689.9mg) of sodium present.
In terms of nutrient quotient, your 1 tablespoon of teriyaki sauce has the following vitamins and minerals:
2% Vitamin B6
1% Calcium
4% Iron
4% Magnesium
3% Phosphorus
1% Zinc
1% Copper
1% Selenium
1% Thiamine
1% Riboflavin
2% Niacin
1% Folate
1% Choline
The tablespoon of sauce will also hold about 12.2gms of water as well.
As your teriyaki sauce consumption increases, the nutritional quotient will also change accordingly. It's very important to keep any existing health conditions in mind before you grab a bottle of teriyaki sauce. For example, if you are already diagnosed with high blood pressure, heart disease, osteoporosis and kidney or renal stones, its best to avoid teriyaki sauce because of the salt percentage.
Remember not to eat teriyaki sauce when pregnant, since soy contains phytoestrogens, which in very high quantities can affect the growing foetus.
But apart from these minor restrictions, you can easily consume teriyaki sauce without any problem. It is by far safer than most sauces because of the absence of fat and cholesterol.
Storing Teriyaki Sauce
All food items go bad one day and this includes teriyaki sauce. But this expiration will take much longer than most other sauces, because of the presence of salt, which is a natural preservative.
Depending on the temperature it is stored in; your bottle of teriyaki sauce can stay fresh for 3-12 months. To increase its shelf life, you should store your teriyaki sauce in the fridge. Cold temperatures slow down chemical and microbial activity and preserve the taste and aroma of your teriyaki sauce for a long time.
It is better to finish using your bottle of teriyaki sauce within the Best Before Date on the bottle. But if you can't, do this:
Re-seal the bottle as best as you can and put in the freezer (if you have a vacuum sealing device, that works best).
Pour your teriyaki sauce out into the ice cube tray and freeze it as cubes. Next, put the cubed sauce into an airtight bag and put it in the freezer. It'll become gelatinous in texture and revert to their liquid condition when you take it out again.
If you plan to use your sauce to marinate vegetables and meat, store the pre- teriyaki-sauce-marinated foods directly in the freezer. Take the meal out when you're ready to cook it.
Before you reuse your stored teriyaki sauce, check if its still in good condition. It shouldn't taste different from usual and should not have signs of mould. The colour, texture and taste should all be normal.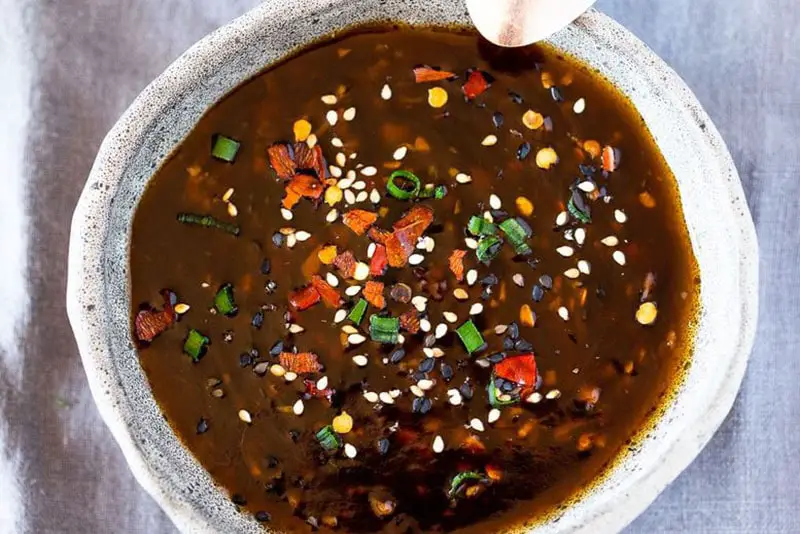 Top Rated Teriyaki Sauce Reviews
[amazon bestseller="Teriyaki Sauce" items="6″ template="list"]
1. ​​ Soy Vay Marinade & Sauce, Veri Veri Teriyaki
Highlighted Features
The reason why the Soy Vay Marinade & Sauce, Veri Veri Teriyaki sauce is the first on our list of top teriyaki sauce brands of 2021, is that is completely kosher! Plus, it is gluten-free and contains no dairy or peanuts, which means people with allergies can use this too. Additionally, this teriyaki sauce is made using completely organic ingredients and is MSG-free and free of other preservatives.The Soy Vay Marinade & Sauce, Veri Veri Teriyaki sauce comes in 42 fl. ounce bottles.
Pros
If you enjoy your teriyaki sauce with a sharper tanginess to it, then the Soy Vay Marinade & Sauce, Veri Veri Teriyaki might be one of the best teriyaki sauces for your palate. This brand doesn't really follow the traditional sweet and thick recipe of usual teriyaki sauces. Instead, what you get is a sauce high on spice, salt and flavour. There is a generous helping of sesame seeds and ginger in this sauce, which you might enjoy.
Cons
If you're not a fan of salt or have a medical condition that can be worsened by increased salt in your diet, it's best to avoid this brand.
[amazon box="B00L36L5FE" template="horizontal"]
2. Kikkoman Gluten-Free
Highlighted Features
The Kikkoman Gluten-Free teriyaki sauce is considered to be one of the best teriyaki sauces by the Gluten Intolerance Group of North America (GIG), because unlike the ordinary teriyaki sauce, this one is completely gluten-free. This makes this product very safe for people diagnosed with celiac disease and those who don't want glutenous meals.
This teriyaki sauce is available in two sizes – 10 fl. ounce and 20 fl. ounce, making it easier for families of different sizes choose a bottle that works for them.
Pros
Some teriyaki sauce brands are made on a wheat base. But we all know that the best teriyaki sauces are made on a rice base. The Kikkoman Gluten-Free teriyaki sauce is made using rice sake, which gives it a wholesome flavour that you'll feel in every bite. It has the right mixture of sweet and salt.
Cons
The absence of gluten makes this sauce thin and watery, which not everyone may like.
3. Red Shell
Highlighted Features
Red Shell's teriyaki sauce might just be one of the best teriyaki sauces of 2021, for its thickness, richness and general creaminess. Perfect to be used as a seasoning on sautéed vegetables, grilled meats and boiled seafood, it'll offer you a culinary experience you won't forget in a hurry.
The sauce's very thickness makes this sauce ideal ingredient if you're a fan of the Bloody Geisha cocktail.
You get this sauce in 12 fl. ounce bottles.
Pros
Red Shell's teriyaki sauce is free from trans-fat and saturated fat, making it one of the healthiest teriyaki sauce brands around. You won't find any MSG or preservatives here either, making it perfect for children and the elderly.
The great thing about Red Shell's teriyaki sauce is that it doesn't give out a soy-heavy aroma or flavour. You'll find it to be balanced in its sweetness, saltiness and tanginess.
Cons
Given its thick consistency, this sauce might not work so well as a marinade. Plus, the small bottles might not last very long because of the smaller quantity.
[amazon box="/B00F6JD6SI" template="horizontal"]
4. Kikkoman
Highlighted Features
Coming in large 40 fl. ounce bottles, this Kikkoman teriyaki sauce is one of the top teriyaki sauce brands in 2021 for those looking to buy bulk quantities. If you're a big family or you use teriyaki sauce extensively, this brand is value for money.
Pros
This brand doesn't use sesame oil or a lot of sesame seeds. So, if you're allergic to sesame, this sauce is a great option for you. The thinner consistency of the sauce makes it ideal for marinades and stir fry. Once cooked, it offers a delicious sweet caramelised flavour that kids and adults will both enjoy.
Another advantage of this sauce is that its not too overpowering, but has a mild tanginess and sweetness.
Cons
This brand uses sodium benzoate as one of its main ingredients, which can flare-up certain medical conditions.
5. Mr. Yoshida's Sweet Marinade & Cooking Sauce
Highlighted Features
Mr. Yoshida's Sweet Marinade & Cooking Sauce is a MSG-free, preservative-free and additive-free sauce, making it one of the top teriyaki sauce brands of 2021.
Coming in a 12-pack, 17 fl. ounce bottles, this is one of the most reasonably-priced teriyaki sauce brands on the market. The smaller spout design minimizes wastage and maximizes shelf life.
Pros
Whether you need a pack of teriyaki sauces for home use or commercial use, Mr. Yoshida's Sweet Marinade & Cooking Sauce can help you in both scenarios. It's quantity and taste make it highly-versatile.
This brand goes very well with other types of sauces. It's not too strong in flavour, but it retains the classic sweetness and texture of traditional teriyaki sauce.
Cons
Sometimes the packaging can be too much with separate plastic bags for each of the 12 boxes. This makes the packaging not very eco-friendly.
6. Seal Sama
Highlighted Features
Created by master chef Peggi Whiting as a healthier, low-calorie, low-fat and low-carb alternative to the conventional teriyaki sauce, the Seal Sama brand is ideal if you're on a strict diet. The brand replaces sugar with sucralose, which is an artificial sweetener that only imparts the taste without the calories.
Seal Sama is one of the few teriyaki sauce brands that also withholds the excess sodium. This makes this sauce one of the top teriyaki sauce brands of 2021 for people who have to be on a low-salt diet.
The sauce comes in a small 12fl. ounce bottle that's easy to store.
Pros
Unlike other teriyaki sauce brands, Seal Sama doesn't leave behind a strong soy aftertaste. It is light on the palate and lends a gentle, caramelized taste and texture to the meals it is cooked with.
Cons
As with anything low-fat and low-carb, Seal Sama teriyaki sauce can be tad more expensive than other brands.
[amazon box="B00L36L5FE" template="horizontal"]
7. The Rice Road
Highlighted Features
With over 60 years' experience in making Asian cooking, Rice Road has a rich legacy in formulating the most delectable sauces and marinades. Their teriyaki sauce is one of the best teriyaki sauces because of its smooth texture, sticky consistency, thickness and creaminess.  It isn't too heavy on the spices, making it perfect if you prefer gentler flavours.
The Red Rice teriyaki sauce comes in three variants – ginger, sesame & ginger and stir fry. It is housed in a massive 78 fl. ounce bottle, which is perfect if you're the kind who uses teriyaki sauce every day.
Pros
This is one sauce brand that has a significantly lesser salt content than other teriyaki sauce brands. The base also includes beef bone marrow, which makes the Red Rice teriyaki sauce more nutritious and delicious. This brand is also renowned for being preservative-free and MSG-free.
Cons
The Red Rice teriyaki sauce leans heavily towards ginger, which may be too overwhelming if you don't like the root.
Read also: SLOW COOKER TERIYAKI CHICKEN
8. Kikkoman Roasted Garlic
Highlighted Features
The Kikkoman Roasted Garlic teriyaki sauce is truly one of the best brands on the market now.
This sauce is a premium-quality ready-to-use sauce that champions the pungent flavours of garlic. It is a completely vegetarian product that doesn't use any meat-based ingredients. The xanthan gum in this sauce ensures your Kikkoman Roasted Garlic teriyaki sauce retains its taste, texture, consistency and nutrition for months, irrespective of the temperature it is stored in.
This sauce is available in 10 fl. ounce bottles.
Pros
The flavour profile and the consistency of the Kikkoman Roasted Garlic teriyaki sauce make it ideal for marinades. It can be used on everything from beef to fish to poultry to vegetables to rice. Although this teriyaki sauce is high in garlic, it's not too overpowering. Other flavours such as rice wine, soy and onion also shine through.
Cons
Since this sauce has a higher quantity of garlic – which is a strong vegetable – it may not go very well with meals that have very strong flavours by themselves.
9. ​ Kikkoman Glaze, Teriyaki
Highlighted Features
This is the final Kikkoman brand that forms part of our top teriyaki sauce brands of 2021 list and this is a behemoth of a bottle. Coming in an 80 ft. ounce bottle, the Kikkoman Glaze teriyaki sauce gives your meats and vegetables a beautiful crust that is a joy to chomp into. The sweet and salty taste, with highlights of sharp tanginess really help the meat or vegetable shine, bringing a complex flavour profile to the entire meal.
Read more: Best Pad Thai Sauce 2021
Pros
The Kikkoman Glaze teriyaki sauce has very few artificial additives and uses organically grown produce to make the sauce. The consistency is such that you can either directly apply the glaze using a spoon or gently apply it on using a brush. You can also put a spoonful in a bowl of plain rice and you'll have a ready-to-eat meal.
Cons
If you're looking for a teriyaki sauce that can be used to marinade your meats and vegetables in, this sauce may not be right, since it is not thin enough.
10. Panda Express Chinese Mandarin Sauce
Highlighted Features
Made using a variety of spices, rice wine and soy, the Panda Express Chinese Mandarin Sauce is one of the best teriyaki sauces. If you love Panda Express' famous Mandarin Chicken, you'll definitely love this delicious teriyaki sauce. There are no preservatives or additives in this Mandarin sauce. It is completely MSG-free and HFCS-free as well.
Pros
This teriyaki sauce is a treat for the taste buds. It isn't super-Japanese and if you're okay with having a completely unique flavour in your teriyaki cooking, this should definitely be in your pantry. It is a zero-fat teriyaki sauce and ideal if you're looking for a healthy option to maintain your fitness.
The versatility of the spices ensures you can use this Mandarin sauce on a variety of cuisines and meals.
Cons
If you're a purist and a fan of traditional Japanese teriyaki sauce, you might be put off by the contemporary style of this sauce.
Homemade Teriyaki Sauce Recipe
Due to the coronavirus pandemic, the top teriyaki sauce brands of 2021 are finding it difficult to make and distribute their products globally. In such a scenario, it helps to know how to make teriyaki sauce at home.
Here's our recipe for the best homemade teriyaki sauce. These measures are for approximately 3 cups worth of teriyaki sauce.
Cooking time:
5-7 minutes
Ingredients:
2 cups room temperature water
½ cup cold water
½ cup soy sauce
½ teaspoon garlic powder
1 teaspoon ginger powder
4 tablespoons corn starch
10 tablespoons packed brown sugar
2-4 tablespoons honey (depending on how sweet and sticky you want the sauce)
Recipe:
In a bowl, mix the room temperature water with soy sauce, garlic powder, ginger powder, brown sugar and honey. Whisk it until the ingredients dissolve and mix properly in the water.
Place the bowl on a medium flame for about 1 minute and allow the liquid mixture to heat.
In another bowl, mix the corn starch with ¼ cup of water until the mixture forms a smooth paste. Set the remaining ¼ cup of water aside.
Add the corn starch paste into the sauce base heating on the stove and stir until the ingredients combine properly.
Keep stirring the sauce on a medium flame until the sauce thickens to the desired consistency. If you feel the sauce is too thick, use the remaining water as needed, to correct the sauce's consistency.
Conclusion
When you have a bottle of the best teriyaki sauce, you don't need to spend hours cooking fancy meals with hundreds of ingredients. Just adding a dash, dollop or drizzle of teriyaki sauce to your meal, can elevate your culinary experience within seconds.
So far, we've introduced to you our list of the top teriyaki sauce brands of 2021. Which ones have you already tried? Which ones do you like and want to try now? Each of the teriyaki sauce brands we've listed here are easily available, taste great, are versatile in how they can be used and they are pocket-friendly. Made using the healthiest ingredients and perfect for all cuisines (not just Japanese), they'll make a great addition in your kitchen. So, go ahead and pick up your bottle of teriyaki sauce today and enjoy a spectacular meal.