You have started shopping for organic produce and have swapped out all the toxic cleaners for safer ones. You have even ditched the artificial fragrances and started using cleaner options for your beauty routine. But, the one thing that most people don't focus on is their cookware, which is actually a major source of toxic chemicals that can increase your body's toxic load. Thankfully, there are safer options that you can use.
In this article, we will be learning about the type of safe, non-toxic cookware and how you should buy them.
What is non-toxic cookware?
Teflon and other types of nonstick coatings are made of polytetrafluoroethylene (PTFE) or perfluorooctanoic (PFOA) that can seriously harm your health. Chemicals found in the PFCs family can lead to birth defects, liver inflammation, weakened immune defenses, birth defects, and other issues.
So, if you are planning to spend money on grass-fed meat and organic vegetables, it makes sense to cook it in something that is non-toxic.
The new kitchenware on the market has improved dramatically in terms of health. Instead of chemicals like Teflon, cookwares are now coated using complex premium materials like stone, marble, diamond, porcelain, ceramic, and titanium. The goal behind using these is that coating the steel and aluminum prevent the chemicals from getting inside your food. Also, these materials can be used for minimizing the effects of your food sticking to your cookware.
Needless to say, the new non-toxic cookware offers a multitude of benefits than the traditional cookware. Not only do they protect you from toxic coatings, but the new ergonomics make your cooking more healthy and enjoyable.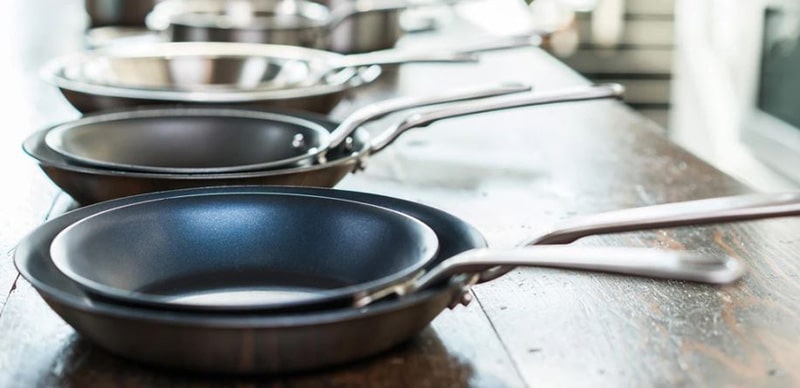 Non-stick cookware is designed to prevent the food from sticking to the cookware. It is lined with Teflon and has a frictionless surface that also makes the process of cooking food easy.
Non-stick pans were layered with a chemical named Perfluorooctanoic acid (PFOA) or Polytetrafluoroethylene (PTFE). These chemicals were associated with a lot of problems and so, their usage in the cookware was discontinued. However, there are still a lot of cheap, non-stick cookware in the market that have this compound in them. Using such cookware will increase the risk of conditions like a liver tumor, kidney disorder, breast cancer, thyroid, and reduced fertility.
Another issue with non-stick cookware is that when it is exposed to high temperature, it turns harmful. At temperatures more than 570°F (300°C), non-stick cookware coated with Teflon will start to break down and release toxic chemicals right into the air. If you inhale these toxic fumes, you will start experiencing flu-like symptoms. Headache, fever, body aches, and body chills are some of the common, but temporary symptoms.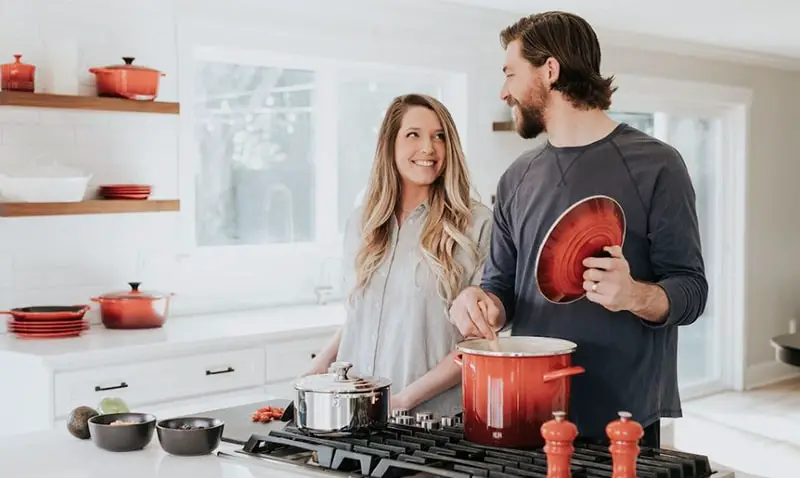 5 Healthy Non-Toxic Cookware
In order to avoid getting exposed to harmful chemicals from your cookware, you need to replace it with a non-toxic one that is free from PFOA and PTFE compounds. There are five common options you have for healthy, non-toxic cookware.
Cast Iron Pans
You can use dutch ovens and cast iron pans for baking and frying food to perfection. If you season them properly, they do a great job at non-stick cooking on a stove or for baking in the oven. Even though cast iron pots are heavier than other cookware, all the extra muscle power you use for cooking food in them is definitely worth it. After all, most of us won't mind building our arm muscles and getting a little exercise while cooking.
The best part about using a cast iron pan is that it is tough. That is why you can find old cast iron pans in antique shops and yard sales. It will take a lot of cooking and effort to ruin them completely. Another benefit of using a cast iron pan is that once it is hot, it will remain hot making it a perfect appliance for searing meat. During the cooking process, some iron will get absorbed into the food as well. Also, since it is capable of holding heat for a long period of time, it is great for keeping your food warm.
Each time that you cook in the cast iron pan, you are seasoning it and making it better. It does a great job of displaying your food as well, especially if it is used for pies or bread.
Stainless Steel Cookware
Stainless steel cookware is more than just a passing trend. Today, they have become a mainstream, contemporary cookware that can be used for several years. When it comes to durability, stainless steel cookware is almost indestructible. The better quality stainless-steel is used, the harder the surface will be. This way, you won't have to deal with annoying issues of chipping like with nonstick or cast-iron cookware.
The multi-ply stainless steel offers a great coking performance as it spreads heat evenly and absorbs it quickly. In fact, the 5-play pan is as good as a copper pan. The hard, smooth, and non-porous surfaces are also easier to clean. You can scrub, soak, and clean it without any hassles. In fact, if you don't want to hand wash, you can simply throw it in the dishwasher machine.
To maintain your stainless-steel cookware, you don't have to do a lot. There is no need to season it for preventing rust. You don't even have to pamper the fragile coat for avoiding peeling. There are no special rules or guidelines that you need to follow. Stainless-steel cookware is also one of the safest products for acid foods as there is no risk of any harmful chemicals leaching into the cookware and getting a weird taste. The best part is that you can avail all these benefits at an affordable price.
Glass Cookware
The beauty, versatility, functionality, and safety offered by the glass is what makes it a must-have in your kitchen. From baking to storing and serving, it can do everything. Glass cookware is non-reactive, non-toxic, easy to clean, and gives superior results. In fact, if you are planning to replace your non-stick cookware, the glass should be your first choice, especially if you are really into baking.
There are various brands offering safer, non-stick cookware. But, it is best that you avoid these chemical coatings and opt for something that is pure and tried like glass. It doesn't interact with your food so you don't have to worry about harmful chemicals leaching into your food. Also, while baking in glass, you can be assured that nothing will be released into the food or will be absorbed by it. This is a better option than an oven where the temperatures fluctuate naturally. Unlike the oven where every time the temperature drops, the heating element is signaled to increase it, the glass pan is able to maintain the same temperature during the whole cooking process.
Another advantage of using glass cookware for baking is that it is clear. Once the pan is filled, you can see whether the ingredients are distributed evenly or not.
Ceramic Cookware
Ceramic cookware is another non-toxic cookware option that you can go for. Compared to the cookware products with Poly Tetra Fluoro Ethylene (PTFE), it is environmentally-friendly. In fact, it has the composition of sand that is present naturally all over the world. Ceramic cookware is durable as well. It has ITC high temp coating that makes it incredibly resistant. It can resist temperature about 800 degrees Fahrenheit. The ceramic insulation coating is scratch resistant making it capable of handling wear and tear for years.
Another advantage of using ceramic cookware is the energy efficiency it offers. You can heat this cookware easily so that you don't have to waste the energy from the oven or stove to heat them. They are also capable of retaining heat better that makes them perfect for cooking during winter.
Ceramic cookware also offers a lot of versatility as compared to other forms of kitchenware. It can naturally resist bacteria buildup in the food that makes it perfect for reheating and storing food. You can throw it directly in the oven, microwave, or stovetop. You can even put leftovers in the kitchen. And even though it is not completely free of maintenance, cleaning it won't take a lot of effort. Since it is nonstick, there won't be a need of using special cleaning techniques for getting the food out of it.
Copper Cookware
Copper cookware has been in use since ancient times. The ancient Egyptians insulated their pots and pans with copper because they knew about its antibacterial properties. Today, copper cookware is used with a lining of stainless steel or tin for preventing copper poisoning. It is also known for adding an elegant touch to your kitchen decor.
One of the main advantages of using copper cookware is the excellent thermal conduction is free. That is why it is often used for cooking foods that are temperature sensitive like sauteed sides. It offers even heat distribution on the cooking surface. It is also one of the best metals for providing adhesion. It will support smooth and uniform coverage on ferrous as well as non-ferrous base metals. So, coating copper cookware with another metal like stainless steel makes it tightly connected and ensures that it has an even heat dispersion and extended product life.
Copper also acts as a great undercoat for different layers like steel, nickel, tin, or aluminum. Even though it might not be as hard as other metals, it offers a uniform coating that is free from defects that might have been on the initial substrate.
Top Rated Non-Toxic Cookware Brands
[amazon bestseller="Non Toxic Cookware" items="6″ template="list"]
1. Ozeri Stone Earth Frying Pans
The Ozeri Stone Earth Frying Pans use a custom-formulated and stone-derived coating made in Germany. It is capable of delivering non-stick perfection while ensuring that your food remains completely free of any toxic substances like PFBS, PFOA, PFBS, GenX, APEO, and the less known NEP and NMP. The Stone Earth pans don't use any of these chemicals. In fact, the German-made coating has managed to stay ahead of the curve and managed to achieve the highest grade in environmental health and food safety.
The coating of the pan is applied through a water-based technique that is free from any harmful chemicals like NEP and NMP. The heavy-gauge aluminum core ensures even and fast cooking without any hot spots. Also, it has a magnetized bottom that makes it usable on the rapid heat transfer induction stoves. The stone-derived coating and the heat-resistant, silicone-coated handles set this eco-friendly pan apart from the crowd.
[amazon box="B01LHG4EES" template="horizontal"]
2. GreenPan Valencia Pro 11-piece Cookware Set
The GreenPan cookware has been known for its high performance. The Valencia Cookware set features ferromagnetic particles that are reinforced using copper in the base that offers superb results and superior induction. Each piece is coated using Thermolon Minerals ceramic non-stick surfaces that enable healthy, easily releasing, and low-fat cooking. Infused with diamonds, this coating is free of lead, cadmium, PFOA, and PFAS. This way, you can be assured that if you overheat accidentally, no toxic fumes will be released into your food or the air. Made using hard-anodized and heavy-gauge aluminum, the ValenciaPro pans and pots offer an even heat distribution.
The utensils are extremely safe. The diamond-infused nonstick coating ensures that the cookware has balanced heating, effortless cleanup, and remarkable durability. It also comes with a magneto induction base that makes it perfect for browning and searing on all stovetops. The hard-anodized aluminum body makes the cookware unbelievable scratch-resistant and durable.
3. GreenLife 14-Piece Non-stick Cookware Set
GreenLife is known for its revolutionary technology known as Thermolon. With this technology, the cookware has the non-stick properties offered by the ceramic coating while ensuring that it is free of PTFE and PFOA. Regardless of how much you heat the pans and pots, no toxic fumes will be released.
This 14-piece non-stick cookware set is among the best ceramic cookware in the market and is definitely worth the hype. The main reason for its popularity is its lightweight pans. Not only are they easy to handle and have no stability issues, but the handles are extra soft and ergonomic that makes them a must-have in your kitchen.
The set is known for its decent durability as well, especially considering its price. The aluminum makes it resistant and the thick base guarantees even heat distribution. The thermolon ceramic non-stick coating will ensure that you have a seamless cooking process. You can even get this set in a wide range of colors like black, pink, red, blue, lavender, and turquoise.
4. Calphalon Commercial Hard-Anodized 13-pc. Cookware Set
This 13-piece cookware set from Calphalon has been created for nonstick performance and commercial durability. The Calphalon commercial nonstick has been created using hard-anodized and heavy-gauge aluminum. Its exterior is about 80% harder than the ones found in stainless steel cookware. Inside every pan, you will find three nonstick layers that will provide superior durability and release. With its triple-riveted long handles, you will have a unique design that will make them cool on the stove. With the Calphalon's nonstick convenience and the original hard-anodized construction, this is a great combination. It is also oven safe for about 450 degrees.
The hard-anodized aluminum is durable and heats evenly and quickly to give you gourmet results. The nonstick interior resists odor and stains and releases food. It also comes with a glass lid so that you are able to monitor your dishes without losing any flavor, nutrients, or moisture.
[amazon box="B009JXPS6U" template="horizontal"]
5. WearEver Pure Living Cookware Set
This is a 15-piece, nontoxic cookware set that includes a wide range of usable pans including a 3 qt saucepan and 12" frying pan. The larger pan sizes work well if you plan to cook for the entire family. All the pans are designed in red (a crimson or darker cherry color instead of a bright red) and have red silicone ergonomic handles and a snow-white interior. In total, there are 6 glass interchangeable lids and 8 pots/pans.
The Pure Living Cookware set from WearEver is 100% oven safe, dishwasher safe, and non-toxic. Even though the product is designed/engineered in the United States, just like other popular cookware models, it is manufactured in China as well. The medium-lightweight pans are not flimsy and have a solid and sturdy feel. The high-quality ⅛ inch aluminum base is used for constructing the body of the utensils. This way, even at lower temperatures, the food will be evenly cooked and have great results.
6. Rachael Ray Hard-Anodized II 10-Piece Cookware Set
With its durable nonstick surfaces and bold pops of color, the hard-anodized 10 piece cookware set from Rachael Ray ensures that the cooking process is fun and hassle-free. The collection includes saucepans, skillets, stockpot, and saute that can handle any menu for a hungry family.
The cookware has a hard-anodized construction that heats your food evenly and swiftly. The interiors of the pan are coated using durable nonstick that gives an impeccable food release. You can use the two handy skillets and 2-quart saucepan for preparing a scrumptious breakfast including classic dishes of Rachael Ray.
All the cookware utensils come with grippy handles that have been rubberized for providing you with comfort. They are also double riveted to provide for the much-required strength. It comes with shatter-resistant glass lids so that you are able to monitor your food while cooking without losing any moisture or heat.
7. Anolon Advanced Bronze Hard-Anodized
The Anolon Advanced Bronze Hard-Anodized set is created using hard-anodized and heavy gauge aluminum. Gauge here refers to the thickness. By heavy thickness, we mean that the pans will be able to deliver even heat and won't be dented or warped with usage. The cookware has a professional and sophisticated appearance. You can get it in two variations – deep chocolate interior with a warm bronze finish or black exterior and interior. Both of the versions come with domed glass lids.
The cookware has Anolon's proprietary SureGrip handles that are made using stainless steel and covered with silicone rubber. Since no plastic is used, you will have a very comfortable grip. It is also oven safe for about 400 F. The double-riveted handles are extra strong and don't fall off.
All the pieces in the cookware sets have glass lids made of domed and tempered glass which makes them break-resistant. Also, they have a tight fit to enable the formation of a seal during cooking.
[amazon box="B071HVQL76″ template="horizontal"]
8. Tramontina 15-Piece Hard Anodized Cookware Set
The Tramontina 15-piece hard-anodized cookware set comes from the popular Gourmet collection from the company. It is a collection of high-quality, premium products that have been engineered and manufactured using the finest materials, design, and workmanship. The performance that this cookware set gives it outmatched as compared to other similar products in the market. It is known for delivering the best value and quality to cooking enthusiasts as well as professionals.
The heavy-gauge vessels come with a nonstick interior finish so that the cooking and the cleaning process is easy. Also, the hard-anodized exterior is durable and capable of withstanding high temperatures without losing any color. The riveted and satin-finished handles are made of stainless steel and provide extra support and comfort during cooking. It is a safe and highly efficient cookware that will be the perfect fit for your kitchen.
[amazon box="B01ERZEYK0″ template="horizontal"]
9. Le Creuset Signature 5-Piece Cast Iron Cookware Set
With its Signature collection, the Le Creuset has continued to offer excellent culinary craftsmanship. The next evolution to their classic enameled cast-iron cookware is this 5-piece set. Through this set, they have managed to perfectly blend the latest functional and ergonomic innovations with their classic feel and form.
The cookware has been optimized to provide steady and even heat. It also has an improved enamel interior that is perfectly capable of resisting dulling, staining, and wear and tear. With its composite knob that can resist temperatures of about 500°F and improved ergonomic, it has a sure grip. This is further improved with its 45% larger handles that will provide better grip even if you are wearing oven mitts.
This cookware set has enameled cast-iron construction that doesn't require any additional seasoning and offers superior heat retention. It is also safe for dishwasher use. Please note that you should use plastic, wood, or heat-resistant nylon tools for avoiding scratches on the enamel surface.
10. Beka Eco-Logic
The Beka Eco-logic cookware set is the first 100% green cookware in the world, both in recycling as well as manufacturing. It comes with a superior ceramic coating that uses less energy for grilling and searing. That is why they are perfect for cooking at a lower heat for simmering stocks and soups. They have been created using high-performing materials that respect the environment and can guarantee optimal heat conductivity.
The Eco-logic range has a durable and thick aluminum body. Through its worldwide patented and exclusive 100% eco-friendly process, the aluminum body surface is converted into a hard ceramic oxide that can guarantee excellent adhesion of the outer as well as inner coating. Every aspect involved with this cookware system, from design to materials selection and manufacturing processes, were considered carefully to ensure that the set was produced and used in a way that has the least negative effect on the environment.
11. Xtrema Cookware
Unlike the ceramic-coated pans in which chemicals are used for bonding the ceramic to the metal base, Xtrema cookware is entirely ceramic. From the ceramic core to the ceramic glaze, the set has been designed for keeping foods completely free of metals and chemicals. Simply put, this cookware set is extremely healthy to use.
Xtrema ceramic cookware is known for its superior heat conduction capabilities and versatility. So, if you are planning to replace your nonstick metallic cookware with ones with ceramics, Xtrema cookware is a good place to start. It has a glossy appearance that indicates that nothing will be leached onto your food. And even though its aesthetics might not be appealing to all, you can take solace in the fact that your cookware won't be scratched, even after a lot of wear and tear.
[amazon box="B071HVQL76″ template="horizontal"]
12. GreenPan CC000675-001 Valencia Pro Hard
GreenPans are not the oldest cookware in the market, but with their features, they are definitely taking it by storm. Even though they have average prices, people prefer this set because of its high-quality. Let's discuss some of the features that are offered with this cookware set.
This cookware system's body is made using hard-anodized and reinforced aluminum that makes it highly durable. Thanks to the Magento induction technology used for creating this cookware set, you don't have to worry about it getting wobbly over time. Also, your cookware will remain free of scratches for a long time. So, whether you are cooking, browning, or searing, you will get even heat without any loss of energy.
All the items included in this cookware set come with a durable coating layer of ceramic that makes them stick. Because of this, you will be able to cook using less oil or butter. Also, it makes cleaning the utensils easier. The ceramic coating releases the foodstuff easily and lets you have super clear cookware. It is also scratch-resistant. The construction of the cookware set is in a way that ensures even distribution of heat.
Not everyone uses a cooktop for making food. Many people prefer to cook in the oven. That is why they need a cookware set that is safe for oven use. The GreenPan Valencia Pro Hard set is safe for the oven as well as the broiler. However, you have to keep the temperature under 600 degrees Celsius.
Pros
The nonstick cooking surface ensures that the set is easy to clean.
The ceramic coating derived from natural sand provides maximum purity.
It is broiler and oven sage for about 600 degrees Celsius.
It offers even heat distribution.
No toxic substance has been used in creating the cookware set.
Cons
There is no spatula with the set.
13. Calphalon Contemporary
Calphalon is among the most highly regarded brands in the world. And the high performance it offers, one can understand why.
The Calphalon contemporary cookware set comes in stainless steel and non-stick varieties. The stainless steel set comes fully-clad with a thick aluminum core that is encapsulated using stainless steel on either side. The non-stick set is made using a hard-anodized aluminum base and coated with three layers of PTFE.
All the pans from the set have a long and brushed stainless steel handle connected to the base. It also has a curved two-pronged design that disperses heat so that the handle remains cool. The stainless steel cookware has a brushed finish exterior while the non-stick set has a dark grey exterior. There is a sloped steel handle on the top of the tempered glass lid. In terms of performance, the cookware heats up evenly and fast without any cold or hot spots. Due to its thick construction, it is able to retain heat properly. Also, the triple-layer, non-stick surface doesn't get scratched easily.
Both non-sticks, as well as stainless steel sets, are safe for oven use for about 450 degrees Fahrenheit. The non-stick pan is not safe for broiler use. Also, the stainless steel cookware has compatibility with all the cooktops including induction.
Calphalon claims that their collection is safe for dishwashers. However, it is recommended that you hand wash these for avoiding any unnecessary damage because of harsh detergents, high temperatures, and contact with other sharp utensils.
Pros
Premium cookware model made using hard-anodized or 3-play aluminum construction.
Gets heated evenly and quickly without any cold or hot spots.
The charcoal gray aluminum and brushed stainless steel gives an elegant appearance.
It is durable and will last for a long time.
Cons
It is quite expensive.
The pans get heated quickly.
There are not a lot of options in terms of colored exteriors.
[amazon box="B009JXPS6U" template="horizontal"]
14. Rachael Ray Hard-Anodized Nonstick
Racheal Ray is one of the most popular cooking professionals, especially in the world of home cooking. Her hard-anodized cookware is among the most affordable nonstick cookware sets that include her popular orange handles. The cookware set has an aluminum core that goes through an electrochemical process for hardening the metal. It also results in the creation of a stain and scratch-resistant, PFOA-free, and non-porous and nonstick surface that works well for professionals as well as home cooks.
Since it is hard-anodized cookware, your food won't stick to the surface and the smell and odor won't get absorbed into the utensils. Also, you can use these on the stovetop as well as in the oven. Unlike many other hard-anodized cookwares that are out of reach for many because of their high price, the Rachael Ray hard-anodized cookware set is affordable and offers the durability of professional kitchenware.
This is the best nonstick cookware for home cooks who would like to cook like a professional chef. Overall, this set offers exceptional value without breaking the bank. The hard-anodized cookware set includes pots, skillets, and saucepans. Basically, you will have all the cookware pieces that are essential for your kitchen. It is a cookware set that provides the ease of using nonstick cookware along with the durability you get with stainless steel cookware. Needless to say, this cookware set will last for years to come.
Pros
The sides and bottoms of the set get heated up quickly and evenly.
The nonstick cooking surface is free of PFOA.
It can be used on the cooktop as well as the oven.
Its exterior is a hard outer shell.
It is resistant to stains, odors, and scratches.
Cons
It cannot handle temperatures of more than 350 degrees Fahrenheit.
15. Le Creuset Signature Cookware Set
The Le Creuset Signature Cookware set offers something unique and special. With this set, you will have access to a versatile utensils collection that comes in different shapes, sizes, and utilities. It perfectly blends the classic design style of Le Creuset with modern culinary technology.
The pans and pots of the Signature set are created using high-efficient and durable heat distributor metals such as stoneware, cast iron, and steel. And the best part is that all the items are unique in terms of their material and specific utility. For example, the Dutch oven, saucepan, and skillet are created with cast iron. Their cooking surface is coated using enamel. Lastly, the enamel coating is sealed in the inner liquid of raw items without any seasoning. This way, you will be able to cook a great meal with the taste, browning, and flavor you want. And that too, without bearing the weird iron-smell.
The Le Creuset cast iron pans are different from the competitors because of their cooking surface that is coated using enamel. Not only does it help with the easy food release, but also makes the cleaning process a lot easier. Also, the color of the enamel coating enables you to properly see the condition of the food. The skillet is blessed with a black enamel finish. It doesn't need any seasoning. With the skillet, you will be able to cook food that you want without reaching a high-temperature level.
Cooking, serving, and storing food with Le Creuset cookware is safe as well as enjoyable. It is a high-end cookware collection that has good thermal resistance ability. Whether you want to stir-fry or slow cook, the Le Creuset will assist you well.
Pros
Versatile collection
Even cooking performance
Heavy-duty construction
Safe for induction, oven, broiler, and freezer
Lifetime warranty
Multiple color options
Cons
Slightly expensive
Doesn't come with clear glass lids
16. Ozeri Stone Earth Frying Pan
Ozeri is a comparatively new brand in the field of kitchenware. It specializes in modern, digital lifestyle products. It started as a provider of kitchenware products for timeshare as well as holiday destinations. Today, it is used by consumers from all over the world.
The Ozeri Stone Earth Frying Pan is a German innovation. It is created using Stonehenge, a natural stone derived and nonstick coating that is free of PFOA, a chemical found in a barrel, stock, and Lock nonstick cookware. PFOS is the reason why the cookware is nonstick. Thanks to Stonehenge, even at the highest possible temperature, there were no harmful substances released from the pan. The reason for this is that the stone coating is derived from nature.
It has better non-stick qualities that ensure that you don't have any grease while cooking which makes your meal a healthy one. If you do happen to have a sticky accident, cleaning the utensil is extremely easy. All you need is a paper towel. You can simply wipe down the utensil and throw the towel away.
To provide even cooking, the pan has been created using high-quality die-cast aluminum that has a magnetized base. Together, they are able to provide even distribution of temperature.
Pros
The pan has a naturally-derived stone coating and is free of PFOA. So, even if you are cooking at an extremely high temperature, no toxic chemicals will be released.
The die-cast aluminum base coupled with the magnetized base ensures that there are fewer hot spots while the temperature gets stabilized.
Cons
It is not considered safe for dishwasher use.
17. WearEver 2100087606 Ceramic Cookware Set
This ceramic cookware set is a high-quality one from WearEver that comes with a W-stamped base and heavy-gauge aluminum core. It not only offers strength but also provides even heat distribution.
The WearEver ceramic cookware set is built using a ceramic nonstick coating that makes cooking easy. You can cook a lot of different dishes in this cookware without using a lot of oil. That is why it is a popular option for people who are watching their oil intake. It is also advantageous for deep-fried foods. You can get this nonstick cookware in red, gold, and black. It is these beautiful colors that make the cookware look attractive and fascinating. Standard pans are boring. With this well-designed and colorful cookware, you can enlighten your kitchen and give it more style.
The handles of the set are built using soft-touch silicone handles. Since all the pieces are lightweight, working with this cookware is extremely comfortable. The utensils are made of thick gauge aluminum that protects it from scratches and stains and offers high durability. Basically, it has all the required safety features that are a must for cooking. However, it cannot be used with induction.
This cookware offers a maximum heat resistance of 700 degrees Fahrenheit. For oven cooking, the maximum temperature resistance is about 300 degrees Fahrenheit.
Pros
High-quality aluminum is capable of distributing heat evenly.
The ceramic nonstick coating is free of PFOA, PTFE, lead, and cadmium.
The non-stick surface is scratch and stain-resistant
The cookware is easy to clean.
Cons
The bottoms of the utensils are not that good and might chip off after some time.
18. Anolon Advanced Cookware Set
The Anolon Advanced cookware set is made using hard-anodized aluminum that is more durable than stainless steel cookware. The aluminum is able to distribute and retain heat more efficiently reducing the possibility of hot spots. So, you won't have to deal with situations when your food is properly cooked on one side but raw on the other side. It usually happens when you use cheaply-made pans and pots. But, the hard-anodized construction of these pans makes it touch. They are solid and sturdy.
This cookware set comes with the DuPont three-layer Autograph nonstick coating on the inside as well as outside. This ensures that your utensils don't have food sticking to them. Overall, this is a beautifully designed set that comes with shiny stainless trim and a deep charcoal gray exterior. So, not only will it help you with cooking, but also make your kitchen look good.
Pros
Glass tempered lids so that you can see your food from outside and retain the heat and moisture
Easy to clean surfaces
Provides great value for your money
Stylish design that is aesthetically appealing
Nonstick coating on interiors as well as exterior
Riveted handles with a strong grip
Safe for oven use
Comes with a lifelong warranty
Cons
Leaves scratches when used with metal utensils
Cannot be washed in a dishwasher
19. Porcelain Enamel Cookware
Most of us might consider using porcelain as cookware rather strange. However, porcelain enamel cookware is nothing like the fragile doll figurines that you used to play with. This cookware is made of steel, stainless steel, iron, or aluminum and is coated with a type of glass known as porcelain enamel.
Compared to Teflon, cast iron, or aluminum cookware, it is extremely safe. It doesn't interact with acidic foods and can cook any of your favorite foods without any trouble. Also, it offers a nonstick cooking surface that makes the cooking process easy.
Pros
It has a non-stick surface so that you can cook without having our food stick to the bottom.
It can go in the oven as well as a microwave. Also, it can be used with any stovetop.
It has an easy cleaning process. You can clean it fast and properly by doing a quick wipe with a detergent and dish sponge.
It is extremely durable and will last for many years.
Cons
These utensils are slightly heavy to be used for general use.
Compared to other cookware, it has lower heat conductivity. So, it will take some time to reach the required temperature.
It is prone to chipping.
It can be very expensive.
Read also: Top 15+ Best Cookware Material For Health Reviews 2021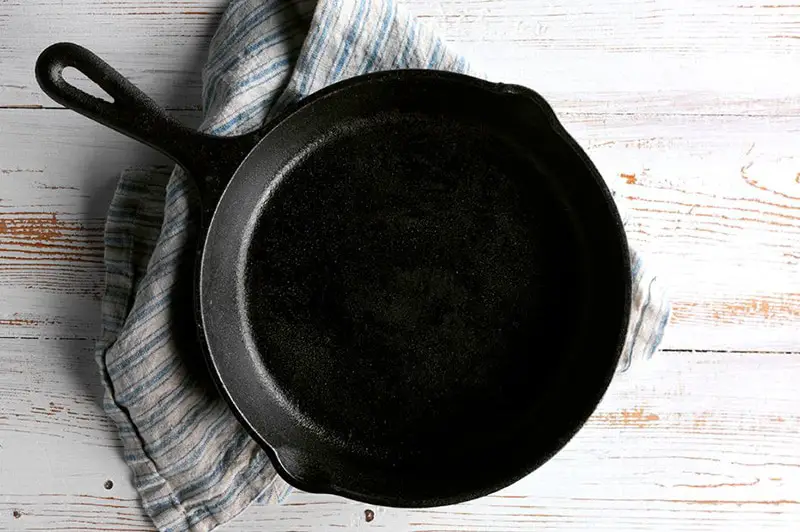 FAQs
Can I Use My Cast Iron Skillet Or Casserole On an Induction?
Yes, cast-iron cookware works well with induction. Even though your dutch ovens and skillets will be big and heavy, their all-ion composition will guarantee 100% magnetic cooking capability.
 Can Cast Iron Utensils Be Used In An Oven?
Yes, cast iron utensils are oven-safe. You can take them directly from the stove and place them inside the oven.
 Is Maintenance Of Cast Iron Utensils Complicated?
Yes, maintaining your cast iron utensils can be complicated. You have to season them properly and ensure that it is not exposed to air or else it will rust. But, you also have to ensure that you don't season too much or else it will get sticky. Also, you cannot wash them in a dishwasher. Watch out for any acidic ingredient as the acid can react with the iron and give your food a metallic taste. However, all the efforts that you make in maintaining your cast iron utensils will be worth it.
What is the best method to avoid potentially toxic cookware?
The best way for you to prevent potentially toxic cookware is to make yourself informed. Stay away from pans that don't have any labels, even if they are from your favorite shop. Consider budget while shopping for the cookware but don't prioritize it over quality.
What's the safest cookware?
When it comes to safe cookware, there is a multitude of options available. The most popular ones include ceramic coated, classic cast iron, and modern silicone cookware.
What cookware materials should you avoid?
Different cookware have different pros and cons. However, there are two cookwares that you should avoid at all costs:
PFOR (perfluorooctanoic acid)
PTFE (polytetrafluoroethylene or Teflon)
Caring for non-toxic cookware:
You can prolong the life of your cookware by taking proper care. With these tips, you will be able to look after your non-toxic cookware properly:
Don't store food in the same pans or pots where you cooked it unless the cookware is made of stone or glass.
Avoid using hard utensils and metal while using your cookware as they can compromise the surface and create scratches.
Minimize the time your food is touching the metals from the pans and pots.
Use some oil for minimizing the area of metal that is sticking to your food.
After every use, clean your pans and pots thoroughly.
Replace your nonstick or aluminum cookware every two to three years or when scratches or gouges start to appear.
Conclusion
With all the options that are in the market, buying cookware can be overwhelming for many. That is why it is important to research and figure out which cookware suits you and your kitchen the best. There are some safety concerns associated with nonstick coatings and that is why you need non-toxic cookware. All the above sets are capable of creating delicious food while ensuring that you have a healthy meal.