The best sauce can add a tsunami of flavors to many Southeast Asian recipes. The number of fish sauce brands available in the market will surprise you but are they all good enough to be crowned the best fish sauce? Read on as we compare various fish sauce brands to help you choose the very best.
What's fish sauce used for?
The name tells you all about fish sauce! It is a Vietnamese sauce made by fermenting small whole fish with salt for several months. The humble fish sauce has very few ingredients, but don't judge it by that. It's a liquid condiment with an umami flavor that's not too salty.
The process of making this sauce has nothing fancy about it. Usually, small fish or anchovies, squid, other sea creatures are fermented in barrels with sea-salt for a minimum of six months to more than one year. Salt acts as the perfect preservative while fermentation. That prevents the anchovies from getting spoilt, deepening the flavor of the fish sauce. When the time's right, the liquid is strained, sun-dried, and aged for a couple of months in huge containers before they are bottled.
Fish sauce, though mostly associated with Southeast Asian cooking is also found in various cultures like in ancient Greece, Burma, Cambodia, Japan, Italy. In modern cooking, fish sauce is used in a variety of dishes like Pad Thai, fried rice, stir fry, roasted meat and vegetables, vinaigrette, soups, yogurt dips, chicken stock, etc. Yes, you can use a dash of fish sauce in almost anything! The salty, fishy, slightly sweet, savory liquid can add show-stopping flavors to food.
The good thing about fish sauce is that if you don't overdo it, nobody would even notice it's there! That does not lessen its importance. The nutrient-rich sauce can be your secret replacement for salt or soy sauce in a dish.
Read also: https://www.myrecipes.com/ingredients/what-is-fish-sauce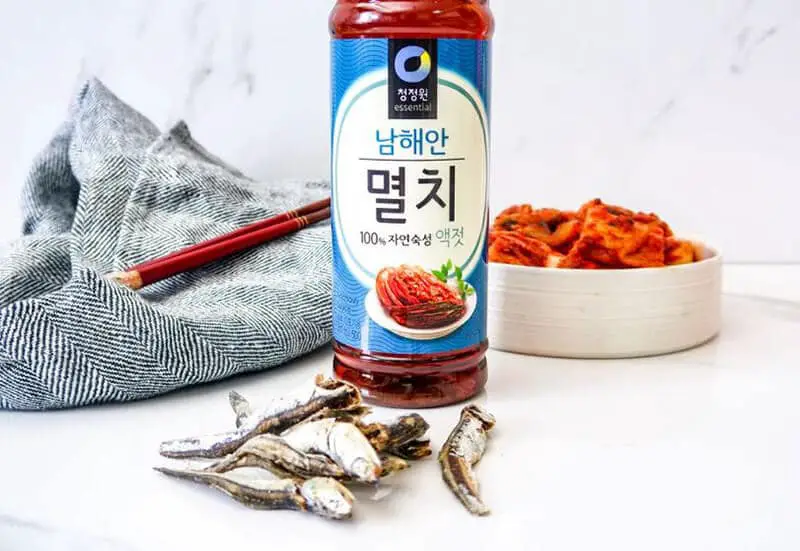 Tips to use fish sauce
Just like every other sauce, fish sauce has its unique traits. When using fish sauce brands, remember less is more! Add little at a time and adjust the taste. Add a few drops, mix with the food, taste to see if you need more. When the sauce strikes the right chord with the food …your taste buds will tell you it's enough. Follow these simple rules to make the most of the fish sauce in your kitchen.
Don't mix salt to the food before adding the fish sauce. This briny and flavorful sauce will be enough for your salt requirements.
Fish sauce is a staple of Vietnamese cuisine with a fish and sea smell.
Remember, once it drops into the pan, you cannot take it out. So, don't go overboard…add slowly little at a time till you reach the level of the desired flavor.
Fish sauce does not get spoilt too easily but why take a chance. To be sure and safe, refrigerate the bottle after opening. When preserved properly, fish sauce can last for years.
In case, you plan to keep it outside, make sure it is consumed within a short time. Place it in a dark and cool place.
Fish sauce opens up limitless cooking possibilities. So, go ahead and experiment with this robust, adaptable, versatile sauce to try out your favorite recipes.
You can read more: https://www.bonappetit.com/story/cooking-with-fish-sauce
How To You Know You Have a Bottle of the Best Sauce
The basic things to check on the bottle of fish sauce brands are where it was produced. The label will tell you the area of Vietnam it was made in. Authentic Vietnamese fish sauce often has Phu Quoc, or Phan Thiet printed on their labels. These are the most well-known areas that produce fish sauce in Vietnam. Similar sauces made in Thailand and the Philippines are often saltier and denser in flavor. To choose the best fish sauce check –
The list of ingredients: It is good enough for a fish suave to have only fish (mostly anchovies) and salt. Some of them may contain some sugar, but the lesser the better. Since, salt act as a preservative for this sauce, it is better to opt for a fish sauce that is free from any added preservatives, color, or MSG.
Smell: Fish sauce does not stink like fish as it is aged in salt for months. However, every fish sauce smells a little like fish and seawater. The authentic Vietnamese fish sauce is more potent and has a dense smell that may not go well with the rest of the cuisines world over.
Taste: Fish sauce is always salty and never sour. If yours tastes different…beware! It's not authentic! When the initial saltiness settles down in your mouth, you will get a mild sweet taste and umami flavor that will make your taste buds happy.
Look: All fish sauces do not look the same. One that's too dark may be too old. The best fish sauce will have an amber or rich golden hue and will look clear. Shake it lightly to see if air bubbles form. Air bubbles indicate the presence of protein.
Nitrogen Content: Every bottle of fish sauce shows the  nitrogen level with N followed by a number which can be anywhere from 20 to 60. A higher indicates a better grade and anything over 30N is good to go.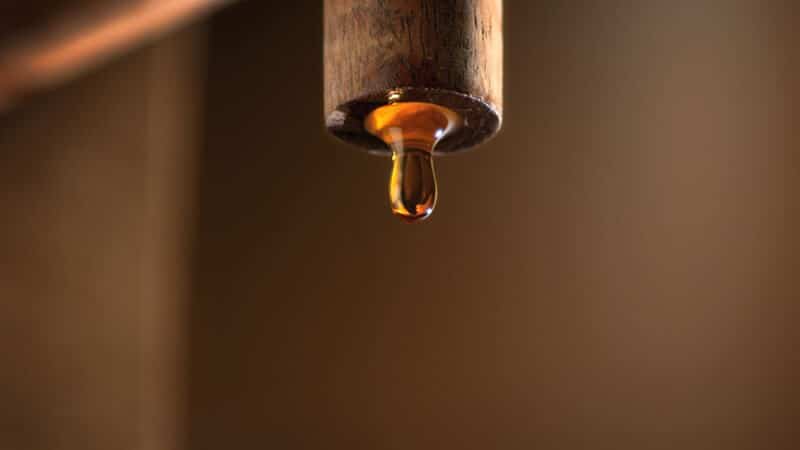 Top Rated Fish Sauce Brands
[amazon bestseller="Fish Sauce" items="6″ template="list"]
1. BLis Barrel Aged
In collaboration with Red Boat, the BLiS barrel-aged fish sauce is kept in the brine in bourbon barrels for over seven months. Made from only two ingredients, as all fish sauces should, it consists of only sea salt and anchovies from coastal Vietnam. This kind of sets a standard for other fish sauces in the market with its smoky, rich taste that comes from the barrels. It mellows down the potent fish smell and adds blissful umami flavor to a variety of cuisines.
Aging in wooden barrels has its own advantages. Sweetness is added to the sauce along with the unique smoky flavor. This liquid condiment can not only make authentic Vietnamese recipes tasteful, but also soups, roasts, vinaigrette, yum! It pairs well with other sauces and can be a wonderful addition to western recipes like barbecue or pot roasts.
Think of Vietnamese or Thai food and that you go! Noodle, salad, pad Thai, Thai chicken, Ahi Tuna poke, Vietnamese style chicken wings, Thai steak, shrimp curry, and the list goes on. Use the fish sauce to elevate the taste of your homemade fish sauce caramel. Drop few drops in salad dressings, egg or mushroom recipes, stir fry vegetables to lift the flavor by a zillion times! That's the power of this fish sauce. Our recommendation is, do give it a try!
[amazon box="B00K6ZJ1W2″ template="horizontal"]
2. Red Boat Premium
Red boat premium is one of the sugar-free fish sauces in the market. It's made of fish and salt, the only two ingredients fish sauce should contain. The flavors of this high-end fish sauce just pop in the mouth. It's got the umami flavor any chef would want in their food. Whether it's dressing your salads, lifting the taste of a broth, or mixing with palm sugar syrup to make a fish sauce caramel, this is the go-to condiment.
Potent, and salty with a sweet aftertaste, this sauce is rich in protein as the nitrogen value is more than 30. The 40°N and the 50°N variants have a striking price difference which might come as a shock. You can get the subtle sweetness, rich flavor, and fresh fish smell, slightly smoky twist that you desire in the 40° N variant and we suggest you stick to that to save some money. It's definitely among the best among the rest!
[amazon box="B01K3XCU2E" template="horizontal"]
3. Thai Kitchen Gluten Free Premium
Every time we tasted the gluten-free version of the fish sauce, we found it quite flavourful. Maybe not as dense as some of its competitors but not too bad either. It's great for adding to Brussels sprouts or making kimchi, the traditional side dish in Korean cuisine. It has a wonderful base flavour that can make your dipping sauce standout in the crowd. It is not too sharp and has a milder flavor that goes well for people who are looking for a fish sauce without too much of fish smell.
This sauce fits well for those who are not too inclined to cook authentic Vietnamese or Thai food. The flavor components of saltiness, sweetness, and a slight tang are in place to add freshness to any food.
It can be a good alternative for soy and salt and a mild umami flavor. The plus point of this sauce is – it is gluten-free as the name suggests. Keep it as an all-purpose sauce to elevate the taste of dipping sauce, dressings, marinades, and in south-east Asian cuisines. Since it is made with sea salt, if you notice salt crystals naturally forming in the bottle there is nothing to worry about.
You can read more: Top 8 Best Japanese Soy Sauce Reviews 2021
4. Three Crabs
The Three Crabs Fish Sauce is less salty than some of the other fish sauce brands. For some chefs, that's the reason to prefer it. For us, we would not call it the best as the taste varies in different bottles. Some are saltier compared to the others.
The flavor is not as dense as Red Boat and the smell is different too. It is a little muted, that does not make it the best authentic fish sauce.
The ingredients may not be just salt and fish like most of the fish sauce brands. It gets the sweet and salty taste which may be interesting for some, from the fructose and wheat germ protein that's added to its mass-produced bottles. It's good for adding to salads and stir-fry as seasoning but not the best choice for authentic Vietnamese or Thai dishes. Being free from MSG, it's a healthy choice for making food flavorful.
[amazon box="B01JK11GZW" template="horizontal"]
5. Haku Iwashi Whiskey Barrel Aged
This fish sauce is made from Iwashi anchovies, a fatty variety of fish. That gives it a different kind of taste and a delicate smell. It has a balance of saltiness and sweetness and a delicate texture that comes from the three years of aging and refining. Haku Iwashi is mostly preferred by Japanese chefs and some home chefs who are not too particular about the authentic fish sauce. Additionally, the uplifting essence of vanilla and the barrel in which they are aged are unmissable.
The subtle taste is not too bad for regular use, its earthy taste goes well with salads, kimchi, Pho, bread dips.
[amazon box="B0758VGKDF" template="horizontal"]
6. Tofuna Fysh Vegan
Although Tofuna Fysh Vegan fish sauce is included in the category of fish sauce, there is no fish in it. That makes it more interesting! Seaweed and veggies are all that it has, that is a good enough reason for it not to taste like any other traditional fish sauce.
This ingredient successfully provides similar color as other fish sauce and the saltiness is balanced with a hint of a sweet note. The umami flavor comes from the three seaweed blends – dulse, laver, sea lettuce that the recipe includes. The harmony of sweetness, tanginess, and a bit of sour taste is added with the presence of rice vinegar, horseradish, pineapple, and a hint of wasabi. The taste is quite memorable because it's different. It is a good seasoning option for vegan food.
We enjoyed the gluten-free product because it was different and we were not comparing it to any authentic fish sauce as anchovies were missing from it. There is no added sugar in his sweet and sour sauce.
It's a good vegetarian substitute and an all-purpose seasoning that can go in stir-fries, soups, sandwiches, dips, marinades for people who strictly follow a gluten-free diet.
Read also: Best Stir Fry Sauce 2021
7. Red Boat Kosher
Red Boat was one of the first brands to introduce kosher fish sauce. Slender and typically silvery ca com anchovy is mainly used in producing this sauce. The process strictly maintains the Jewish dietary Kashrut laws. The clear amber hue, rich flavor, and viscosity of this fish sauce are noteworthy. There are no preservatives or additives and its pure anchovies in brine.
It's at par with the Red Boat 40°N Premium Fish Sauce in flavor. The well-fermented, subtle, umami taste is in place. It is only a little less salty compared to the premium fish sauce.
Every bottle of the Red Boat kosher tastes the same and smells just like a fish sauce should – seawater and fish! More than anything else, the cultural blend makes this sauce more appealing.
In the wide spectrum of fish sauce brands we would give Red Boat fish sauce a thumbs up! Add this flavorful sauce to fish, veggies, meat, soups and you will remember the taste for a long time.
[amazon box="B00B617XK2″ template="horizontal"]
8. Golden Boy Brand
This fish sauce has a strong smell which may not agree with everyone. The sweet and sour taste, though not bad does not perfectly match an authentic fish sauce. We found the Golden Boy Brand Fish Sauce to be too flavorful for a fish sauce.
The sauce has an intense, attractive golden color. It misses the intricate complexities in taste that can be noticed in some of the fish sauce brands. It contains added sugar but no preservatives. Nothing special but not too bad either, this is a sauce for intensifying a fish smell and more saltiness to food.
A dash of this sauce can be added to anything from soups, noodles, fish, marinades that you put in the wok or a pan. We do not recommend using this as a dipping sauce for its strong smell.
9. Chung Jung One Premium Anchovy Fish Sauce Gold
The first thing to know about this sauce is it is Korean. The anchovies used in this sauce are caught off the coast of Namhae in southern Korea. Koreans usually add fish sauce to kimchi. It's your choice if you prefer a Korean fish sauce above most of the Vietnamese or Thai brands. As expected, the taste and smell both differ from the authentic Vietnamese fish sauce. However, the sauce has a subtle umami flavor that comes from the bamboo containers in which the fish are fermented.
If you taste Red Boat premium, BLiS barrel-aged fish sauce, and the Chung Jung One Premium Anchovy Fish Sauce, you will be able to tell the taste apart. This sauce is less salty with a more subdued flavor. It can be a wonderful replacement for soy sauce in stir-fry vegetables, prawn, or meat dishes. Kimchi, Ramen noodle.
The salt and sweetness is well-balanced in this sauce and you will not find it unpleasant in any way, just a little different. If you are not afraid of experimenting in the kitchen, this sauce can boost the flavor of chicken satay, soups, or your personal recipes that need a new twist in flavor.
See more: Top 35 Best BBQ Sauces Review 2021
10. Lucky Brand Thai
Lucky Brand Thai fish sauce is salty but the fish small is somewhat missing. Not a very dense fish sauce but good for adding a mild flavor to any dish that needs a slight umami flavor boost. The four main ingredients in this sauce are salt, anchovy extracts, sugar, and water.
The texture is watery and less-dense which is good for people who are looking for fish sauce for refinement in taste. We would call it a mild fish sauce where the punch is missing in flavor and smell both.
Call it mellow, weak, watery, it is good for people who are trying south-Asian recipes for the first time and want to avoid anything that has a strong aroma of fish. The advantage is, this fish sauce will never overpower the presence of any other condiment in your food. It can be considered good for cooking a variety of to use in Burmese, Cambodian, Filipino recipes that do not demand a dense fish sauce.
[amazon box="B07DK1PXGG" template="horizontal"]
11. Flying Lion Vietnamese Style
It's a Vietnamese-style sauce but the presence of vegetable protein is not what we would like to see on the label of an authentic fish sauce. Leaving the ingredients aside, it does not taste bad at all. The smell is not dense, we would call it 'light' and the taste is acceptable as a good fish sauce. It does not taste pure but it tastes good and that's what one needs for a home kitchen.
The saltiness status is 'medium' with a hint of sweetness that comes from the added fructose. Overall, it is well-balanced and won't add an overly fishy smell to any dish. We would be happy to give it a place in the list of best brands of fish sauce.
Whether you are a first-timer or a regular in Southeast-Asian cuisine like Thai, Vietnamese, Korean dishes- this sauce will be a star-condiment in all kinds of dishes. It is easily available and in situations when you cannot find your favorite brand, this one is worth a try.
The refined, mellow flavor, amber color, of this Vietnamese style fish sauce also pairs well with dipping sauces and marinades. It can complement the flavor of lemon juice, chilies, and other condiments typically used in many Asian recipes.
12. Megachef Premium Anchovy
The main issue with the Megachef Premium Anchovy fish sauce is that it lacks the fish flavor. We would call it the sweetest of all the fish sauces that we have tasted so far. If you like an extra hint of sweetness in your food, this could be the right liquid condiment for you. The salt level is medium. It hits the taste buds at the beginning and then turns somewhat sweet. It's a pity because barring the extra sweetness it would have made a good fish sauce with a light aroma.
Savory and sweet, this sauce can add an interesting taste to soups, steamed vegetables, poultry, seafood, and noodles. The umami flavor is not missing totally, so you will get some and miss some of the authentic flavors in this sticky, sweet, savory sauce. With no preservatives added, it is a healthy option if you do not mind the added sugar and fructose.
Read also: Top 10 Best Teriyaki Sauce Brands 2021
13. Phu Quoc
The original Phu Quoc sauce has a ratio of 3:1 of anchovies and brine when they are fermented in giant rattan barrels. The woody, umami flavor in the sauce comes from the indigenous palm containers. The anchovies used in this sauce are caught on the local shores.
This sauce is aromatic and well known for its high protein content. The authentic Phu Quoc sauce is aromatic, little sweet, and ideal for cooking special Southeast Asian rice dishes. It is also good for dipping veggies and meat to make them flavorful. It is good to have in the kitchen if you can lay your hands on the original ones as some diluted versions are also available in some markets.
14. Cat Hai
Cat Hai fish sauce is the specialty of the island with the same name Haiphong. Considered to be among the topmost fish sauce brands of Vietnam, unarguably it has to have some authentic taste. It has the salty and fish aroma that every fish sauce is expected to inherit. The protein content is high and so is the umami flavor.
If local people of the island are considered, there is no alternative to this sauce brand which is made from anchovy (Ca Com) and squid (Nham fish) fermented in brine. One of the secrets of Cat Hai's flavor is the fresh fish that's used in its sauce. It has a wonderful light amber color showing that it's not too old to use. This brand is well known for not using any artificial coloring or fragrance and other ingredients in their sauce. We would say, it's an authentic sauce to try.
15. Ca Na
It doesn't take much to make a good fish sauce. It's just salt brine and anchovies, but the mixing ratio and process of fermentation can make all the difference.
The complex fish sauce taste is missing in Ca Na fish sauce. It is a good condiment but with a mild flavor and deep caramel color. This one has a hint of sourness which is not common in many of the fish sauce brands. The sweet, hot, tangy flavors all in one bottle comes as a pleasant surprise.  It's got a discrete, sharp fishiness but that zest is flanked by the sweet and salty mix.
You can add some in stews, tossed peanuts, squid, pasta, and salad to make them more tasteful. We wouldn't call it the best but we wouldn't call it the worst of the lot either.
16. Phan Thiet
Many of Vietnam's fish sauce brands get their names from the region where they are manufactured just like Phan Thiet. The basic characteristic of Phan Thiet fish sauce is the absence of any foul and strange fish smell. It is kind of sweet with a distinct after taste. This sauce can shine in your soups, seafood, spring rolls, dressings, and dipping sauce or even in stir fry veggies or noodles. The bright amber color comes from the white anchovies that it's made from. Bottles that have a brownish yellow color are made from either scads or charcoal anchovies.
17. Lien Thanh
We approach all fish sauces with an open mind, and we did the same with the Lien Thanh. Lien Thanh offers a fish sauce that contains anchovy and another vegetarian variant that's purely made of pineapple juice, salt, water, amino acid mixture, added flavor, red yeast rice, synthetic sweeteners, and preservatives.
The vegetarian version has nothing authentic about it but is one of the best options for vegetarians who are looking for a savory condiment to add zing to their food.
The actual fish sauce (yellow label) from this brand contains 45% anchovy extracts (Phu Quoc) water, salt, synthetic fish sauce flavor, and red yeast rice. This brand uses flavor enhancers, synthetic color, added sweeteners, and preservatives. That tells you a lot about its authenticity.
We would not call anything the best when it needs artificial flavoring to add a close-to-natural aroma. For people, who are not too fussy about keeping authentic Vietnamese fish sauce brands in the kitchen, this fish sauce works in adding flavor to seafood, meat, beans, steamed vegetables, marinated, salads, fried rice, noodles, etc.
If you choose the vegetarian variant rest assured, there isn't much difference in the sauces because both are mostly artificially flavored.
18. IASA Anchovy Syrup Colatura di Alici of Cetara
After tasting so many Vietnamese and Thai fish sauce brands, this Italian fish sauce (which they call fish syrup) was a pleasant change. It is an ancient Roman anchovy sauce that has been a star ingredient in many Italian dishes.
Since this one is from Europe, it is meant to be a taste enhancer for pasta, spaghetti, salads, vegetables, etc. But even if you are planning to add it to your favorite Southeast-Asian dishes, it fits well with its rich sea-studded aroma. It can be that secret ingredient in almost any savory dish that has the power to elevate the flavor and make it more noticeable. The thick, viscous liquid is made following almost the same process as the Southeast Asian sauce bands. This zesty, briny, liquid has a wonderful umami flavor.
A dash of Colatura di Alici of Cetara paired with lime, chili pepper, lemon zest, pine nuts, green veggies or meat of your choice can be the quickest way to derive a pleasurable experience of this syrup with a fishy flavor.
The bottle, the rich brown color, and the taste of this anchovy syrup easily earn it a place among the top brands producing the best fish sauce.
19. Chung-Jung-one Premium Anchovy Fish Sauce Gold
This sauce is of Korean origin with only the basic two ingredients sea salt and Korean anchovies. With artificial flavors and coloring agents missing, it has an authentic taste. What's different in this sauce is its unique slightly pungent and dense flavor.
A salt substitute, it has the power to add an instant fish taste to food without making it extra salty. We replaced soy sauce with this fish sauce and found it a good alternative with deeper umami and rich aroma without being stinky. The light aroma serves better for the larger variety of users who would not like an extra-fish smell in their food.
The flexible-to-use sauce goes well in Kimchi, all kind of Southeast Asian vegetable recipes, chicken satay, stew and produces an interesting and yummy result with soothing, rich, Asian umami.
Fish Sauce FAQs
1. Is fish sauce supposed to stink?
Since fish sauce is made from sea fish (anchovy extract) and saltwater, it is bound to have a smell. Traditional fish sauce is way less smelly than the commercial ones and also varies from one brand to the other. It often depends on the fermenting period, the type of fish, and the ingredients used.
2. What can I use instead of fish sauce in pad thai?
Fish sauce has plenty of substitutes if you are not too particular. The best alternative is soy sauce. Other than that oyster sauce, tamari, vegan fish sauce, coconut aminos, (which only consists of veggies),  Worcestershire sauce, or even pan tossed or stir-fried anchovies work well to give the salty, umami flavor.
Read more: https://thestonesoup.com/blog/fish-sauce-substitutes/
3. Can I use hoisin sauce instead of fish sauce?
Though hoisin sauce is also used in Southeast Asian dishes but has a completely different flavor compared to fish sauce. It has its unique umami flavour but lacks the smell of fish. It is thicker and darker than fish sauce and contains spices like garlic, chili, fennel which are not typical of fish sauce.
Read also: 10 Best Asian Fish Sauce Recipes