Are you searching for the best Ihop pancakes? Keep reading DADONG will help you to find out the answer to the best pancakes at IHOP.
IHOP is an American multinational breakfast restaurant chain. It was founded on July 7, 1958, in Los Angeles, California. Although IHOP has a number of items on its menu but pancakes are the first thing that comes to our mind when we think of IHOP. It is one the most famous breakfast outlets in America after McDonald's, Dunkin' Donuts, and Waffle House. However, it also offers lunch and dinner items. The menu includes items like French toasts, waffles, omelets, burgers, sandwiches, salads, and a lot more.
The variety of pancakes offered by IHOP has made it to travel across the globe starting from California and reaching South Asia. IHOP has around 1,841 locations in Americas, South Asia, and the Middle East. Some of them are owned by area licenses while most are franchised. The first IHOP outlet in South America was opened recently in 2019.
The restaurant was founded by Jerry Lapin, Albert Kallis, and AL Lapin. The first prototype design for the building of IHOP had a distinctive blue roof and was steep-roofed. It was an A-frame building which was last constructed in 1979. A number of such buildings still exist in and around the United States of America. The restaurant was founded by the name of International House of Pancakes which was later shortened to IHOP. This was done mainly for marketing purposes.
Pancakes are everybody's favorite breakfast and IHOP, which has pancakes in its original name too, offers different varieties in this everyday breakfast item. In simple words, pancakes are flat thin and round cakes, prepared from the starch-based batter. They contain eggs, butter, and milk. They are cooked on hot surfaces like frying pans or griddles.
The options of IHOP pancakes available make it overwhelming for us and it gets difficult to place an order. To help you decide what to order, we have reviewed the most famous IHOP pancakes for you. The list has reviews of the 14 top IHOP pancakes brands.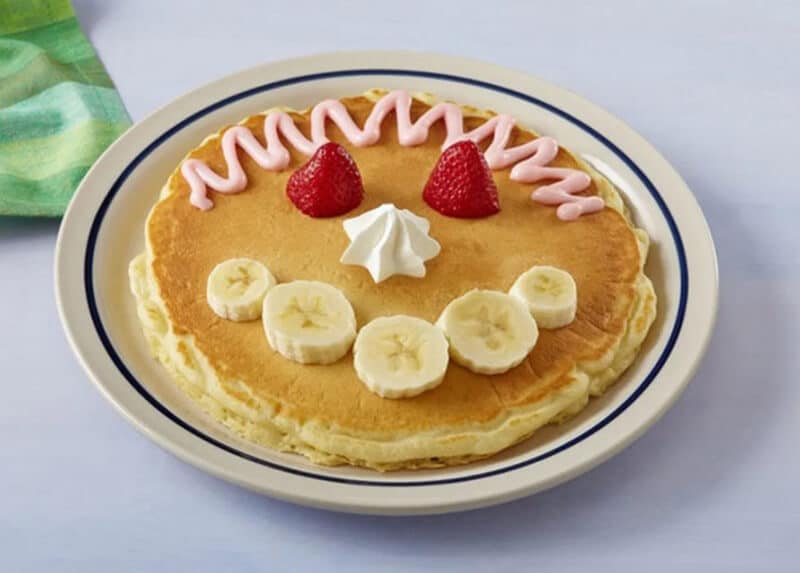 Top pancakes At IHOP
Harvest Grain 'N Nut
These pancakes are sweet, delicious, and healthy breakfast meals. The fluffy pancakes are filled with healthy nuts such as almonds, wholesome oats and walnuts. These pancakes are rich in vitamin & minerals, iron, riboflavin, calcium, and phosphorus. Ihop Harvest Grain 'N Nut tasty pancakes are served at Ihop store in set of 4 and topped with later of whipped real butter which increases the cravings. The delicious pancakes offer 990 calories per servings. Ihop Harvest Grain 'N Nut pancakes are best delicious and healthy breakfast at a pocket friendly rate. These are Ihop healthiest option of pancakes at just 4.15 USD for half stack.
Mexican Tres Leches
Mexican Tres Leches pancakes are on the Ihop international menu. These pancakes are ironic pancakes offered with Mexican twist. This is a global twist to standard pancakes. These are served in layer of 4 fluffy pancakes of buttermilk which is layered with dulce de leche caramel sauce, caramel sauce. These savory pancakes are served crowned with the topping of whipped cream. The perfect blend of all ingredients and toppings make it delicious. This is the best match for every sweet tooth of top Ihop Pancakes Brands.
The peach-topped pancakes (Rooty Tooty Fresh 'N Fruity)
The peach-topped pancakes (Rooty Tooty Fresh 'N Fruity) layers of pancakes offered topped with glazed peaches and with whipped cream. With the topping of peaches it is extra sweet. The addition of peach make buttermilk pancakes more delicious and lovable. Ihop uses canned peaches and the syrup. This loaded pancake offers 1,400 calories per servings. This full stack of Rooty Tooty Fresh 'N Fruity pancakes cost 10.49 USD to pocket. Unfortunately, the peach-topped pancakes (Rooty Tooty Fresh 'N Fruity) are now not available on Ihop menu.
Strawberry banana
Ihop Strawberry banana pancake is the perfect combination of hot and cold. The moist and hot airy buttermilk pancakes are served with fresh banana slices. These delicious pancakes are topped with refreshing and cooling banana and strawberries. The topped strawberries are glazed and the syrup is tasty and perfect. The strawberries are refreshing with the whipped cream topping. This combination make it simply loved by all age group especially children. These delicious Strawberry banana pancakes cost 5.50 USD for half stack of two pancakes. This is a classic combination for breakfast simple yet delicious.
New York cheesecake
New York cheesecake pancakes are the perfect combination of Ihop classic pancakes with New York classic. Ihop serves New York cheesecake pancakes in stack of four soft pancakes which are filled with classic cheesecake bites. These stacks of pancakes are topped with cold and glazed delicious strawberries with syrup. The pancakes are light and are topped with whipped cream. The blend of cold strawberries with hot cheesecake bite filled pancakes is smooth and tasty. IHOP offers New York cheesecake pancakes at 10.99 USD for full stack of four soft and moist pancakes. New York cheesecake pancakes could have been more delicious if it had more syrup and creamy cheesecake filled inside pancakes.
First full-stack buttermilk pancakes
First full-stack buttermilk pancakes are the original fluffy and light pancakes. These are the main base for every other pancake. Ihop offers world famous fluffy pancakes. These are topped with whipped real butter. The buttermilk classic pancakes can be tried with all types of syrups. The short stack of buttermilk pancakes cost 7.99 USD which is quite pocketing friendly. 
Cupcake
Ihop offers the best pancakes to celebrate breakfast. The cupcake pancakes are perfect for breakfast as well as dessert. These are combination of fluffy layered pancakes filled with rainbow sprinkles. This is topped with delicious and flavorful thick icing. Ihop serves cupcake pancakes with whipping cream topping to make it more delicious. All these delicious pancake combination comes in a price of 10.99 USD. The rainbow sprinkle gives perfect look to the delicious pancakes.
Chocolate chip
Chocolate chip pancakes are favourite of chocolate lovers. Chocolate chip pancakes are fluffy and light pancakes which are filled with chocolate chip from inside. The pancakes are served with layer of chocolate syrup with lots of chocolate chips as toppings. The whipped cream adds the crown to the stack of chocolate chip pancakes. IHOP offers chocolate chip pancakes which is pure bliss for chocolate lovers and children. 10.99 USD is the price for full stack of chocolate chip pancakes at any Ihop store.
Belgian dark chocolate mousse
Belgian dark chocolate mousse pancakes are the best pancakes offered by Ihop. These are offered in the stack of four pancakes with four layers of different chocolate. It is a blend of chocolate flavored pancakes with layer of dark chocolate mousse. Then the pancakes are sprinkled with chocolate chips and cocoa power to enhance its flavor. The topping of whipped cream makes it perfect and is a delicious breakfast for chocolate lovers. 
Cinn A Stacks
Cinn A stacks pancakes are offered in a stack of four pancakes. These buttermilk pancakes are layered with cream cheese icing and cinnamon roll filling. It is an untimate combination of cinnamon roll and pancakes. The cinn a stacks pancakes are sugar treat and loaded with creamy flavor. But unfortunately now these Cinn A stack pancakes are no longer on I Hop menu. Ihop has Cinn A Stack in other version of French toast but has same toppings similar to cinn a stacks pancakes.
Blueberry
Ihop offers blureberry pancakes at it store which are simply delicious. It has four layer filed with blueberry pancakes with blueberry thick topping. The pancakes are served in very presentable way with whipped cream on the top of layered pancakes. But the quantity of blueberries was very less than expected. The blueberries are cold making the hot pancakes cool down. These pancakes are healthy and are loved by blueberry lovers.
Strawberry and Cream
The strawberry and cream pancakes are one of the best pancakes in Ihop menu. It is perfect combination of pancakes layered with vanilla cream with strawberries. Ihop serves strawberry and cream pancakes with topping of whipped cream to add most taste and flavor to it. The pancakes are perfectly creamy and strawberries make it delicious. Strawberry and cream pancakes are of great value for your money and are super good for breakfast. 
English sticky toffee
English sticky toffee pancakes are layers of classic buttermilk soft and light pancakes. The pancakes are filed with extra crunchy English toffee. These pancakes are then layered with salted toffee mousse to make it more delicious. English sticky toffee pancakes are served with toppings of crunchy toffee bits and pieces with salted caramel sauce. This is one of the globally inspired pancakes which is extremely different and tasty.
Red Velvet Pancakes
Red Velvet Pancakes are one of highly recommended pancakes at Ihop store. Ihop offers stack of four red velvet pancakes at 4.99 USD. This is much more like a desert than a simple breakfast. The pancakes are super moist, light and fluffy. The pancakes are of perfect thickness and are served with whipped cream toppings. It makes feel like eating a red velvet cake. The Red Velvet Pancakes are perfect in sweetness and with perfect icing.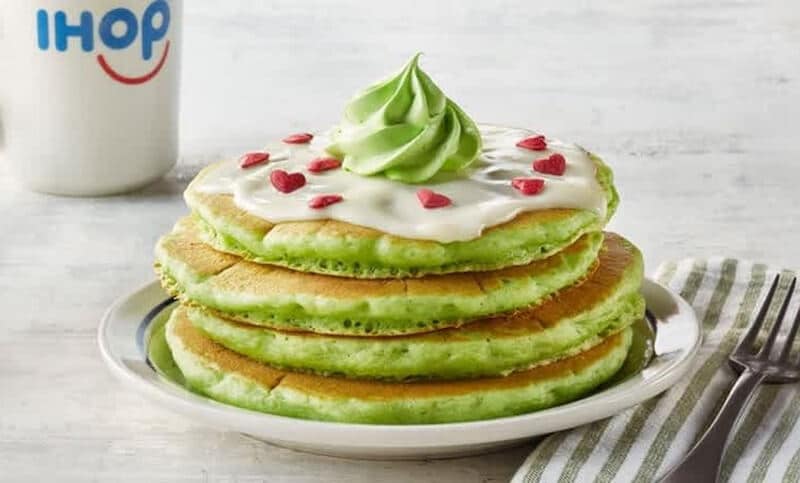 IHOP's famous pancakes
IHOP or the International House of Pancakes offer legit pancakes to its valuable customers throughout the day (most outlets are open 24*7). The brand lives up to the expectations of people and offers pancakes that are unique and delicious in taste. But do they really have any other option than to provide these delicious pancakes? Not really because they have pancakes in their name too and have been advertising with the same since years. When you call yourself International House of Pancakes, you are automatically embodied with the responsibility to offer the best pancakes to your customers. The same is the case with IHOP.
You might have swallowed heaps of these tasty pancakes for breakfast, lunch or sometimes dinner too. But have you ever wondered how do they always have perfectly shaped, cooked and the yummiest pancakes? There are a lot of secrets to the IHOP's classic and tasty pancakes that we have found out. The secret is hidden in the batter, ingredients, griddle and what not. 
The key is the griddle
The griddle is the main thing behind the deliciousness of the IHOP pancakes. The are two stations in the IHOP kitchen designed solely for pancakes amongst the four of them. A total of 5 cooking stations are there on the griddle at IHOP. Some of them are wet and some dry. This makes the kitchen quick and efficient.
The main point behind this griddle theory is that placing the pancakes on their own griddle is important for the taste. This prevents any inter-mingling of flavors from any other items into the pancakes. Imagine eating your pancakes with a taste of onions from sandwiches. Do you like imagining? You won't like eating either. So the separation of griddles is an important aspect.
Next is the temperature at which pancakes are cooked. 350 degrees is the best temperature to get pancakes right. Nothing more, nothing less. All IHOP griddles are set at 350 degrees. an interesting fact is that IHOP adds items to its menu after checking if it can be cooked at 350 degrees or not.
The consistency with the griddle ensures that the taste of IHOP pancakes is consistent too. All  IHOP pancakes are cooked fresh as and when the order is received. This is why the pancakes always taste fresh and perfect. Because who even wants to eat a stale pancake, after all.
And there is yet another pancake-making secret
The griddle was not all of it. There's one more pancake making secret that we have for you. Have you ever notices that the whole stack of all pancakes are of same size? All those who have noticed this uniformity must have wondered the reason behind it. the secret behind this uniformity in the size of the pancakes is a handy batter dispenser used by all the cooks. They put all the batter in a little dispenser like tool, and then pour the batter from the open end. For this, they push down a lever that dispenses the pancakes in a circular form onto the griddle.
This little tool does wonders for the pancake makers. When we make pancakes at home, one of them is as small as a bowl while some are the size of the pan. But the leading pancake brand cannot let this happen with their most famous dish. So they have found a way out and have learnt how to make evenly sized pancakes everywhere.
The batter
The good thing about the pancake batter is that you can do a lot more than just make pancakes with it. IHOP's omelet selection makes use of a "secret ingredient" to make omelets that are a lot fluffier than what you're used to having. What's the secret ingredient? Wait for it…it is pancake batter.
You may already know that you can get fluffier omelets by adding water to slow down the cooking process. You may even know how to get creamier and sweeter omelets by adding milk to beaten eggs for your omelet. But IHOP's omelet selection takes it up a notch.
The addition of pancake batter in IHOP's omelet selection, you can add more structure to the eggs and give them a sturdier and more filling look and feel. Extra moisture is also added through this which results in omelets fluffier than you would've ever made before. It can also more your omelet more flavorful by giving it the slight taste of pancakes.
With IHOP's omelet selection, you no longer have to worry about having thick and dense omelets. You can enjoy a fluffy omelet early in the morning with a cup of coffee and start your day afresh.
IHOP sells a whopping amount of pancakes every year. Along with pancakes comes the syrup which is also sold in similar quantities. But how can one take down pancakes and syrup without any liquid? So on that note comes the IHOP coffee, which is also sold in millions. According to reports, IHOP serves 700 million pancakes every year along with 1.5 million gallons of syrup. The number of cups of coffee sold is around 100 million.
The popularity of the IHOP breakfast chain justifies these sale statistics. But the interesting factor is the sale of the flashier pancakes like Mexican Churro and Italian Cannoli does not contribute much to the whopping yearly sale. The maximum contribution comes from the sale of the classic IHOP pancake- the Original Buttermilk Pancakes. The data presented here was given by 'The Daily Meal' which surveyed all the top restaurant chains in America.
Free Pancake Day
On the National Pancake Day every year, IHOP offers a free stack of yet another favorite IHOP pancake. It is their Original Buttermilk Pancakes. The free pancake day falls in February every year, while the date keeps shifting. In 2021, the free pancake day at IHOP is on 16th February 2021. People from all over the country can enjoy the classic IHOP pancakes for free on this day.
However, IHOP in turn encourages the customers to donate some amount to the various charities such as Shriners Hospitals, Children's Miracle Network, Lymphona Society and many more. The thought of a small amount of your money being put to a good use gives us satisfaction, right? This very thought and strategy utilized by IHOP has been raising billions of money since its inception in 2005. Offering a stack of pancake for and raising something for charity is a great step taken by IHOP. This has also allowed IHOP and its customers to help thousands of people by doing great things.
A whopping amount of five million free pancakes are served throughout the country on this single day. each person visiting IHOP gets a short stack of 3 buttermilk pancakes. The donation is completely voluntary, however, customers are just encouraged to donate a small amount. So make sure to step in the nearest IHOP outlet, enjoy your free IHOP pancakes and extend your help towards those in need.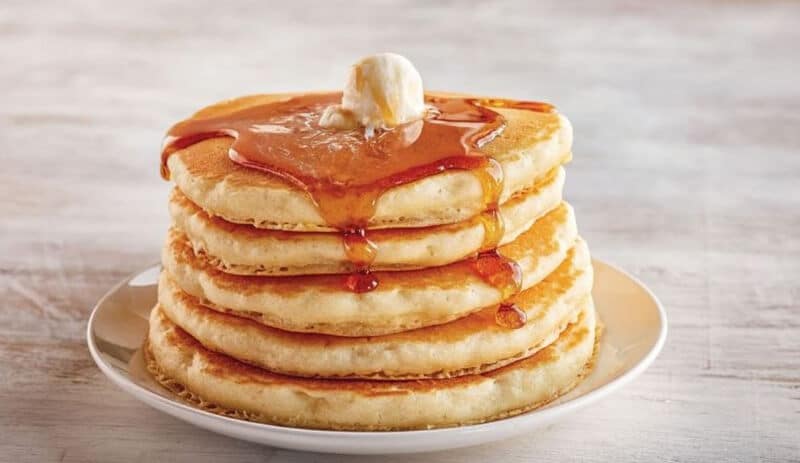 Sandwich Tips
New to the world of pancake making and could use some tips on how to get it right? Already a seasoned pancake maker? It doesn't matter if you're a novice in the world of pancake making or have tried your hand at several pancakes, you can benefit from these pancake making tips and make sure your pancakes turn out delicious every time.
Don't overdo it while mixing your batter. It's a good idea to whisk all the dry ingredients first so that any big lumps are avoided. Once whisked, add the dry ingredients very carefully to the wet ones and gently combine the two. Over blending will cost you airy and light pancakes so resist the urge to do this. Letting your batter rest is a good way to get rid of lumps.
Make use of a skillet or a griddle to cook you pancakes. Instead of greasing the pan, you can add melted butter directly to the surface or rub a bar onto the pan. Simple flipping is made a whole lot easier with this and it ensures that your pancakes get cooked evenly. On larger skillets, you will even be able to make more than 1 pancake at a time so it's a good idea to keep this handy. Just make sure you wipe it down after each pancake to avoid any burnt butter taste coming on to the next pancake you're making.
While you're waiting for your batter to rest, you can work on making sure your pan is hot before you add the batter. Putting it on a medium low flame will make sure your pancakes are fluffy and ready to eat.
As tempting as it is to flip your pancakes, take them off the pan, and dig in, remain patient. Pay attention to how they're cooking and flip them only when the edges of one side start to brown and you can observe bubbles. Be careful not to press the pancakes while they're cooking as this can result in flat, thick pancakes instead of airy ones.