Sub-Zero and Viking are two of the finest names in the appliance sector. However, there was no competition between them before as Sub-Zero built refrigerators while Viking sold ranges. The article makes a detailed note of Sub-Zero Vs Viking.
However, Viking bought the high-end refrigerator production of Amana and became a range company, as well as, a refrigerator company. Likewise, Sub-Zero purchased Wolf to also become a refrigerator and range company.
After some teething issues, Viking has started producing a better refrigerator. However, does it stand before Sub-Zero? It is imperative to point out that Viking, as well as, Sub-Zero has launched great refrigerators. Both have air filtration systems installed inside their refrigerators. The article compares Sub-Zero Vs Viking so that you know how they differ from each other and can make an informed choice.
Read more: https://www.vikingrange.com/consumer/category/products/refrigeration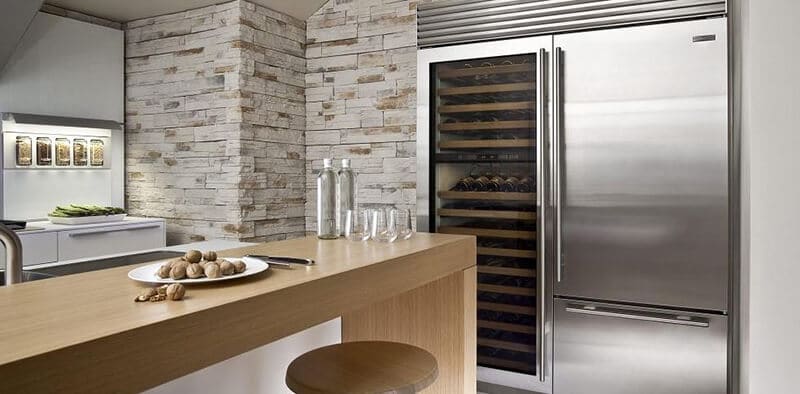 The Background of Sub-Zero
Westye F. Bakke established the organization in 1945 in Madison, Wisconsin. Survived by Elaine, his daughter, the duo acquired the Wolf Range Corporation's domestic appliance line. Wolf Range Corporation was a manufacturer based in California and produced professional-style grills, cooktops, and ranges for commercial, as well as, residential purposes.
Sub-Zero's corporate companion Wolf Appliance Inc. diversified the handful of products they acquired from the original company. Today it sells a wide range of domestic cooking appliances such as wall ovens, cooktops, kitchen stoves, ventilation equipment, and warming drawers. The products of the company compete with the ones manufactured by other companies like Viking and Dacor among others.
The company was the first manufacturer of appliances in the market to manufacture, as well as, market a counter depth fridge. These refrigerators are shallower as compared to normal fridges. They have been so designed to prevent sticking out a distance unlike the normal refrigerators do in the kitchen. The company is known for such innovative thinking.
The Background of Viking
Viking Range Corporation is an appliance company based in the United States, which is engaged in the manufacturing of kitchen appliances for commercial and residential use. It first entered the kitchen appliances space in 1987. That was the year when it introduced its maiden range of professional-grade for residential purposes.
The organization today offers 3 lines of premium appliances such as refrigeration and kitchen clean-up, ventilation, and cooking. The company is also into manufacturing different types of outdoor appliances. Apart from their less costly 'Designer" and "Professional series, the latest offering of this company is the new "Commercial" kitchen appliances line. These products are used in restaurants, as well as, in other commercial kitchens. The company has its headquarter in downtown Greenwood, in the southern state of Mississippi.
Read more: Top 22 Best Refrigerators Brands 2021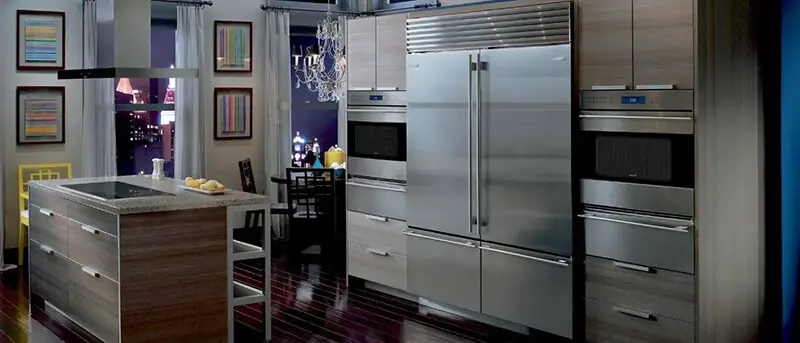 Sub Zero vs Viking Refrigerators
Air Purification Filters
Today, refrigerator producing brands such as Sub-Zero, as well as, Viking have emerged as tough competitors in the market. Both these companies produce great refrigerators. Also, both of them have sophisticated air filtration systems inside their fridges.
The air filtration system of Sub-Zero has a special air scrubber that can scrub off-gases from food items. Thus, your food items can be fresher and tastier for a longer duration as compared to food kept in Viking refrigerators. It also means that there is less wastage. The system also eradicates the possibility of cross-contamination, which can prevent the food from getting spoiled.
On the other hand, a Viking refrigerator uses Plasmacluster Icon Air Purifier from Sharp. The air purification system can remove impurities such as bacteria and airborne mold while also removing the foul smell.
Read more: Top 21 Best Wine Refrigerators Brand In 2021
Door Seal
Meanwhile, a Sub-Zero refrigerator comes with a vacuum seal on its door. The feature prevents outside air to enter the refrigerator. There is also a high-humidity drawer with an adjustable compartment for dairy products and dividers. The drawers also come with a unique low-temperature zone and are magnetized to seal the air out.
A Viking refrigerator has a couple of high-humidity zone drawers and an adjustable drawer in the cold zone. These can be set for long-term or produce, storage of fresh meat with different temperature controls. The company sells its door seal also as a spare part and it can be fitted to refrigerators of several other electronics companies. Some of these are Electrolux, Juno, SIBIR, and Whirlpool.
Controls
A Sub-Zero, as well as, a Viking refrigerator is equipped with electronic controls. The aim of these controls is to maintain the temperature inside.
A Sub-Zero refrigerator maintains 2 degrees temperature inside. If you want to adjust temperatures on a Sub-Zero fridge, you have to set the dial in the range of four and 6.1. As the setting is higher, the temperature becomes colder. After the setting is changed by you, it takes twenty-four hours for the new setting to become effective.
On the other hand, Viking insists that the temperature can be controlled to one degree in its refrigerators. If you want to adjust the freezer temperature, you just have to press the pad called "ACTIVATE CONTROLS." Thereafter, press the "FRZ TEMP" or "REF TEMP" pad. Simply press the "LOWER' or "HIGHER" pad for adjusting the temperature setting. However, it should be one degree at a time. Let a day to reach the fridge reach this new setting.
See more: Top 8 Best Beverage Refrigerators Review 2021
Warranty
Sub-Zero refrigerators use a 2-compressor system. On the other hand, there is a single compressor in Viking refrigerators. However, both these appliance companies provide excellent warranties on their refrigerators.
Sub-Zero refrigerators offer a 2-year guarantee on certain components and a 12 years guarantee on its double compressors. However, as opposed to this, Viking offers a guarantee for 3-year on its single scooter.
Overall Performance
It is obvious from the above discussion that Viking has significantly improved from its earlier models as far as its technological features are concerned. At the same time, the Sub-Zero refrigerator still has a clear edge between the two of them.
After all, Sub-Zero refrigerators have two compressors meaning that the air is chambered in the designated location. As such, the moist air will not come out of the refrigerator. Additionally, it cannot mix with the freezer's drier air.
In layman's terms it means that when you store different food items inside it, their tastes do not mix. Who would like ice-cream to taste like fish and vice-versa? The Sub-Zero refrigerator's vacuum seal will not allow the air to infiltrate. It is precisely for this particular feature that food will taste fresher and tastier for a longer duration.
Read more: Top 17 Best Refrigerator Under 1000 In 2021
Reliability
The new owner of Viking, Middleby, is a great commercial company with unbelievable cooking technology. However, the Viking refrigerator is still an offshoot from the old 1990s' Amana built-ins.
They need to retool the product, which has been traditionally problematic in order to compete with the better Sub-Zero product.
Until that time, Sub-Zero is the product of choice.
See also: Top 16 Best LG Refrigerators Review 2021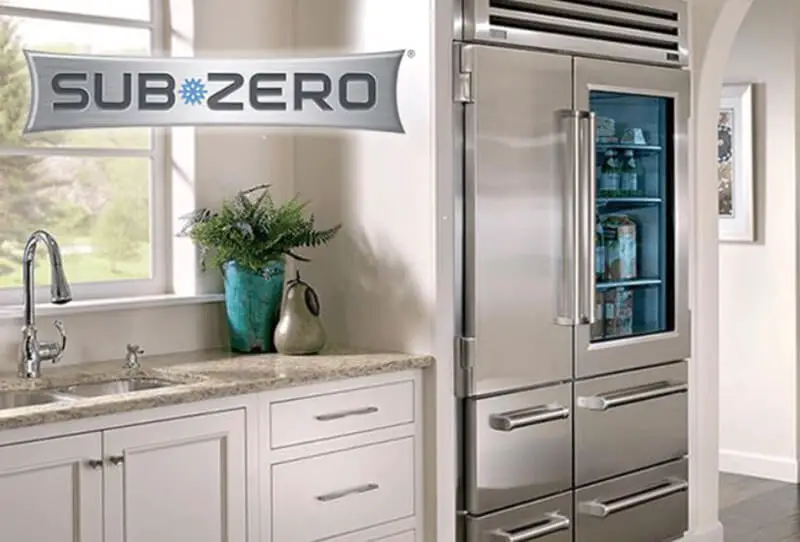 Sub-Zero IT36CIIDRH
Features
1. Dual refrigeration helps to keep your food fresher
Sub-Zero offers this unique technology featuring two different cooling systems. The technology helps fresh food to stay fresh in the moist and cool air of the refrigerator. The dry, frigid air prevents frost and offers optimum preservation conditions to maintain each kind of food.
2. Over-and-under freezer/refrigerator storage
These units provide easy access to refrigerator storage. There is a roll-out, full-extension freezer drawer that contains 2-tier wire baskets.
3. Seamlessly designed internal water dispenser
It is an advanced water filtration solution that drastically brings down contaminants. The dispenser can preserve the clean and fresh taste of water.
4. Excellent round the clock customer support
The customer care team of Sub-Zero has an excellent reputation for providing exceptional service for its products. The customer service team is located in Madison, Wisconsin, and is in proximity to the factory. They are known for providing friendly and expert problem-solving support.
5. Automatic ice maker facility
Its refrigerator offers crescent-shaped ice cubes and has an increasing ice production by around 30 percent on an average within a period of 24 hours.
6. Water-filtration system
The water filtration system of a Sub-Zero refrigerator needs little maintenance. It uses a special filter that can last up to 12 months or 750 gallons. The system can be replaced easily and quickly.
7. Rigorous testing is done to make sure that the system is dependable
All components of all Sub-Zero units are rigorously tested in the manufacturing facilities of the United States before assembling them. Thereafter, each completed product is tested in the factory for twenty-four hours before it is shipped.
8. Air-purification system can fight odors, spoilage
Built-in refrigerators of Sub-Zero feature a special air purification system, which comprises a scrubber to eradicate bacteria, viruses, and mold, every 20 minutes.
Read more: Thermador vs. Sub Zero – Who's Win? [ NEW 2021]
Viking VBI7360WR
Features:
The bottom mount refrigerator has a capacity of 13.6 cubic feet. It has ample space to fit all your grocery requirements.
Each unit features internal LED lights making it easy to find things you are searching for inside the system.
There is a separate crisper drawer, which enables the user to store the most used produce or meat separately from the main compartment of the refrigerator.
Its built-in design enables the refrigerator to fit effortlessly into a kitchen.
The refrigerator's internal water dispenser fills a glass with pure filtered water simply by pushing a button.
It is an ENERGY STAR approved product. That means you are sure to save a lot of bucks on your monthly utility bill.