Thermador and Sub-Zero happen to be two of the most well-known manufacturers of column refrigeration units. If you don't know much about column refrigeration and how these top two brands fare when pitted against each other, read this post.
As far as column refrigeration is concerned, Thermador and Sub-Zero are two of most talked-about brands on the planet. Both brands offer columns with a diverse array of features and in this post, we're going to talk about them in detail. But before we get down to the details, we'd like to talk more about what columns are, along with their benefits.
"Column" is a term that's very loosely-used in the refrigeration industry, but more often than not, it refers to a single-purpose, full-size unit. So columns can be all-freezers, all-refrigerators and wine systems that can be combined to create a high-end look.
Read also: https://en.wikipedia.org/wiki/Thermador.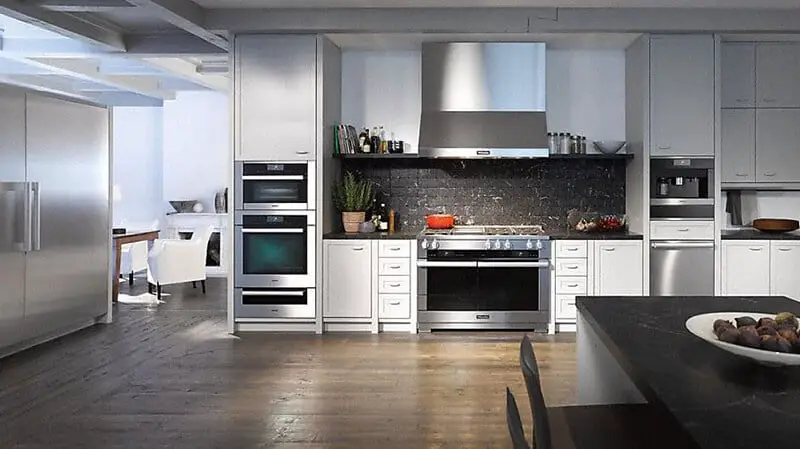 Column advantages
In recent years, both Thermador and Sub-Zero have come up with feature-rich columns that are similar not just in terms of their refrigeration systems, but also in terms of looks and pricing. Units from both brands offer plenty of benefits, apart from the fact that your kitchen's sure to be transformed by a column from an average-looking space to something way classier and organized.
Most standard refrigerators don't give buyers much room to customize their purchase, but that's where columns hold the edge over their competitors. Want a freezer that matches the size of your refrigerator? Want a wine system sandwiched in between the two? Simply put, when it comes to columns, the possibilities are endless.
If you're just laying down the blueprint for a new kitchen, feel free to include the column in the plan. But if you already have a kitchen that's packed with appliances, you can also accommodate a small column if your existing refrigerator isn't fulfilling your needs.
Apart from the customization on offer, columns are also armed with hi-tech features that guarantee efficient refrigeration and solid, robust designs that score big on durability. So, now that you know what columns are and what makes them special, let's talk about some of the features you'll get to enjoy if you purchase one from either Thermador or Sub-Zero.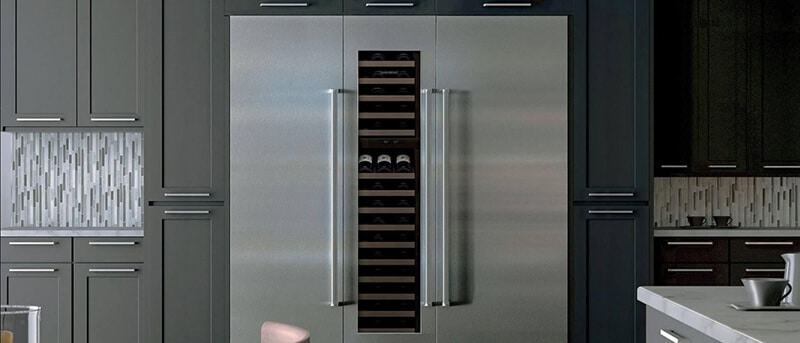 Sub-Zero
Sub-Zero is a brand that dates back to the mid-1950s, when it was founded in Madison, Wisconsin by Westye F. Bakke. In its early days, the brand was known as the Sub-Zero Freezer Company. However, since it acquired Wolf Range Corporation's domestic appliance line, its product catalog has rapidly expanded and today, it competes with the likes of KitchenAid, Viking, and of course, Thermador.
Read also: Which is better: Sub Zero vs. Viking? [ New 2021]
Sub-Zero revolutionized the refrigeration industry when it introduced built-in refrigerators and in today's times, its columns include features such as:
Compatibility with stainless steel and custom panels
Optimal organization facilitated by double freezer drawers
Dual compressor and evaporator
Optional internal water dispenser
Full height door that facilitates true cabinet integration minus an exposed venting grille
Food stays fresh for a longer time thanks to air purification system that removes ethylene from the air
Soft-close drawers and doors.
Nano-coated spill-proof shelving and a crystal interior
Accurate and user-friendly temperature management facilitated by a smart-touch control panel.
Gradual illumination of refrigerator interior thanks to soft-on LED lighting.
Storage crisper featuring high humidity control and low temperature technologies.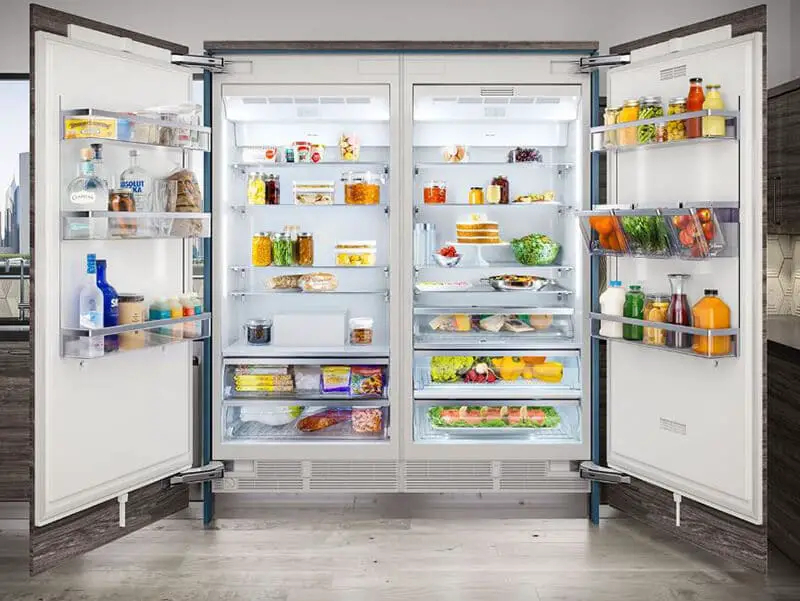 Thermador
Thermador is owned by a subsidiary of BSH Hausgerate GmbH, the world's second-largest appliance manufacturer. The brand is credited for inventing the world's first cooktop and wall oven and also for being the first manufacturers who introduced stainless steel builds and designs to household appliances. Over the years, the brand's product catalog has witnessed several additions and today, it manufactures columns as well, which are manufactured in Turkey.
Some of the features that make Thermador columns so highly sought-after include the following:
Full Height/True Flush Door Panels
Compatible with stainless steel and custom panels
Dual compressor and evaporator
The full height door facilitates true cabinet integration minus an exposed venting grille
FREEDOM Hinge
LED extra-bright interior lighting
Accurate temperature management facilitated by electronic controls
Meat drawer (full width)
Ultimate adjustability facilitated by full-length cantilever racks
Air is kept fresh and clean by reducing odors through the carbon air filter
The 90° door-opening angle features full extension drawers
Full-width glass shelves featuring metal trim
Large freezer drawer
Gallon door bins
SuperCool technology for chilling food rapidly
Filtered ice-maker
SuperFreeze technology for efficient freezing of food
3 operational modes; sabbath, economy, and vacation
Energy Star-rated
Door-open alarm
5 cu. ft. Capacity
You can read more: Best Refrigerator Thermometers Brand.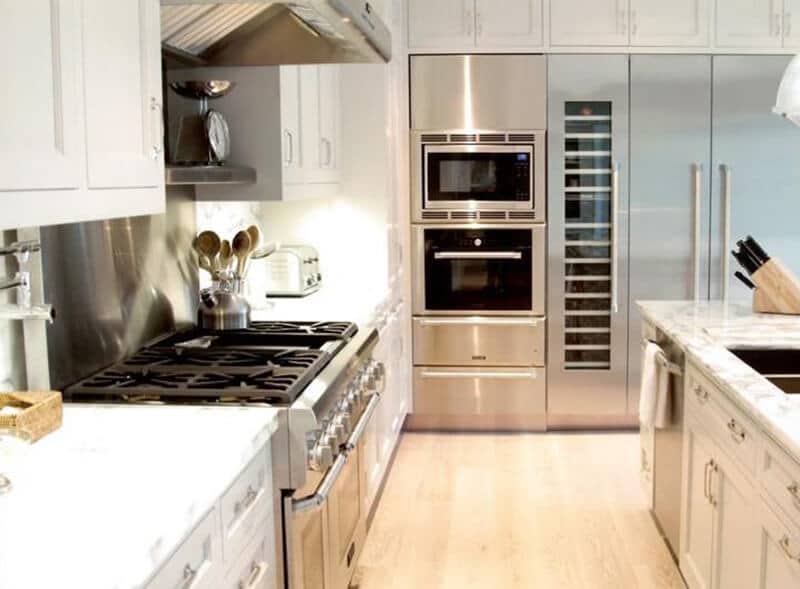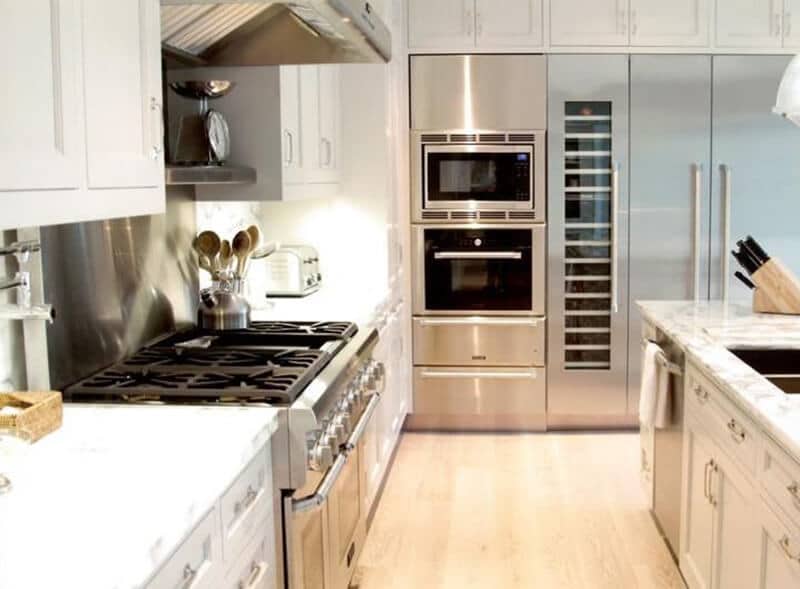 Thermador vs Sub Zero – Which is better?
Now that we've taken you through some of the most iconic features on both Thermador and Sub-Zero columns, it's time to take a look at the various important aspects across columns from both brands. In this section, you'll come to know if you should consider purchasing a Thermador column or one from Sub Zero.
The Door
The best door-related feature on Thermador columns is the Open Door Assist that allows users to open the door without using excessive force. This feature is aimed at preventing the spreading of bacteria, which is always a possibility when you're handling raw meats.
Sub-Zero columns feature soft-close doors and drawers, which, in principle, are quite similar to the doors that Thermador columns have to offer. However, the Thermador columns hold a slight edge over the Sub Zero columns simply because the former offers door shelves with a lot of storage space.
See also: Bosch vs Kitchenaid Refrigerators – Review & Comparison [ New 2021]
Controls
In terms of control, both the Thermador and Sub-Zero columns offer similar features. Both columns have smart-touch control panels that allow users to not just adjust temperatures, but also change operational modes.
It's hard to pick a clear winner as far as the controls are concerned, but if we had to pick one, we'd choose the Thermador columns, simply because they offer a bit more in terms of tracking performance.
Shelving
On the Thermador columns, the produce bins and door shelves are adjustable and they can be placed at absolutely any level of the door that the user chooses. This adjustability makes the shelving fantastically flexible as well.
However, on the shelving front, the Sub-Zero tops the Thermador columns simply because of the spill-proof shelving. The Nano-coated shelves ensure that it isn't a hassle to maintain the column and keep it neat and tidy.
Read also: Which is better: Maytag vs. Whirlpool Refrigerator? [ New 2021]
Air Cleaning
Both Thermador and Sub-Zero columns feature technologies that purify the air to ensure that stored foods and beverages stay fresh for a long time.
However, Thermador takes the cake simply because of its carbon air filter, which is really effective at eliminated undesirable odors from the interiors. But again, this is a very close-run thing, and doesn't at all mean that the Sub-Zero columns are inferior.
So, we've reached the conclusion of this comparison guide and we hope that you learned a lot regarding column refrigerators and the features included in columns manufactured by Sub-Zero and Thermador. We also wish you the best for picking the right column for your kitchen.
See also: Top 22 Best Refrigerators Brands 2021