Not sure which is better between Whirlpool and Kitchenaid? Then you NEED to see the following post of DaDong.
Kitchenaid
KitchenAid has been a household name for more than 100 years. It is a classic brand of home appliances and kitchenware that has made cooking, baking, and preparing food simpler. You will find KitchenAid appliances in almost all houses in America. The reason behind that is how much KitchenAid has revolutionized household appliances in terms of aesthetic appeal. Their appearance is what has allowed them to stand apart from the plethora of appliances in the market. In fact, in the past couple of years, they have revamped their design completely in order to become more competitive.
But, are they really worth all the popularity and hype? In this article, we will discuss the long-fought battle of Whirlpool and Kitchenaid to find out the answer.
See more: Who Makes KitchenAid Appliances?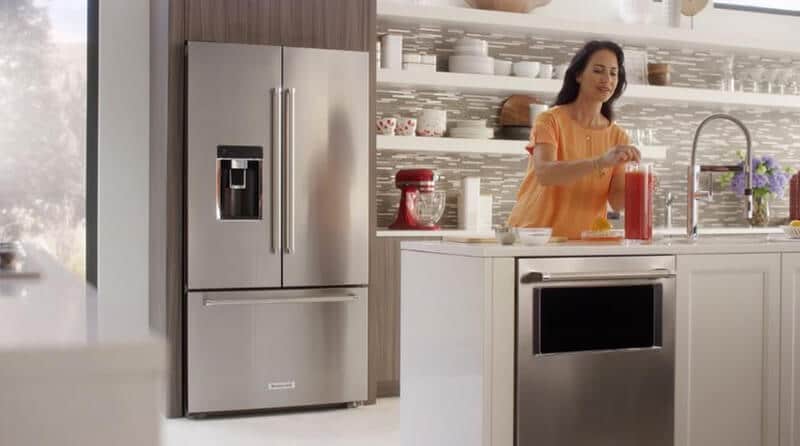 Whirlpool
Whirlpool doesn't need any introduction. The brand has been a part of kitchens and households for years. One of their most popular appliances are refrigerators that are highly regarded for their quality and durability. They are known for lasting longer and not requiring as many repairs. There is a wide range of options available including French door, bottom freezer, side-by-side, and top freezer that comes with several standout modern features.
See also: https://en.wikipedia.org/wiki/Whirlpool_Corporation.
Even though they are competitively priced, all the appliances from the brand are energy efficient. It is the perfect brand for people who want a super functional and thoughtful storage option that comes with an upscale design. But how does this brand do with its competitor KitchenAid?
Read also: Top 15 Best Whirlpool Refrigerators Review 2021
Whirlpool vs Kitchenaid Refrigerators
Whirlpool and KitchenAid are two competitive brands that offer a lot of high-quality options for people. In this article, we will be comparing Whirlpool and Kitchenaid, bottom-freezer models from both brands – KitchenAid KRBR109ESS and Whirlpool WRB322DMBM to help you get a better understanding of what brand serves your interest the best.
Whirlpool refrigerators are available in four distinct styles. The most popular ones are the French Door Refrigerators that have been designed to keep the freezer items below and the most used items at eye level. It features a large pullout door for the deep freezer at the bottom and two doors that open up a single compartment at the top. Other styles include the side-by-side, bottom freezer, and top-freezer refrigerators. The side-by-side refrigerator has the refrigerator on the right and the freezer on the light. It has specialized storage and a space-saving ice maker on the freezer door. The bottom freezer refrigerator has a deep freezer on the bottom and a single door refrigerator on the top, just like the french door. However, it is smaller in size than the latter and is lighter on features. The last one is the top freezer refrigerator that has a single door refrigerator on the bottom and a freezer on the top.
See also: Top 16 Best LG Refrigerators Review 2021
Whirlpool makes counter-depth as well as standard-depth refrigerators. The former has been designed to be in alignment with the cabinet's front edge to give a streamlined look to the kitchen while the latter takes up more space and offers more storage space.
Whirlpool is one of the largest manufacturers of refrigerators in the United States. There are more than 100 models in the catalog featuring different colors, styles, and features. But, there are two factors that help Whirlpool refrigerators stand out from the crowd – the temperature/humidity control abilities and the storage options. This way, you have the option to buy a fridge that works best for your kitchen. For example, for a large family that can sacrifice for the built-in seamless look, the full-depth version works best. If someone wants a modern kitchen look, they can go for the counter-depth design.
See more: Best Refrigerator Temperature In 2021
KitchenAid refrigerators are known for their feature and high-end looks. The reliability it offers is unmatched. It is the perfect model for people who want a spacious fridge that comes with high-end features that increase accessibility and ease in the kitchen. Whether you are looking for a model with touch-activated controls of French doors, KitchenAid has got you covered.
When it comes to Whirlpool and Kitchenaid, both models offer French door, side-by-side, and bottom freezer options. However, there is also an under counter fridge option in KitchenAidthat has been designed to be placed under a standard countertop. It might feature only a fridge or a small freezer compartment attached to the fridge component. There is also an alternative under-counter option that features two pull-out drawers that work best in areas that don't have enough space for opening a fridge door. You also have the option to get a built-in or freestanding refrigerator. The built-in refrigerator fits exactly with the kitchen units giving a seamless look from the ceiling to floor. The freestanding refrigerator, on the other hand, can be placed anywhere with an appropriately sized gap. They might overlap your kitchen counters.
See also: Which is better: Sub Zero vs. Viking? [ New 2021]
KitchenAid is also known for some of its classic features like adjustable shelves that give you the flexibility to store awkwardly sized or extra-large items or a door alarm that will make a sound if the fridge door is left open for too long preventing food spoilage. Some of the models feature the impressive Printshield finish that ensures that there is no mark left on the door. High-end fridges from KitchenAid give you the power to control the humidity, temperature, and other settings through a touch-pad panel.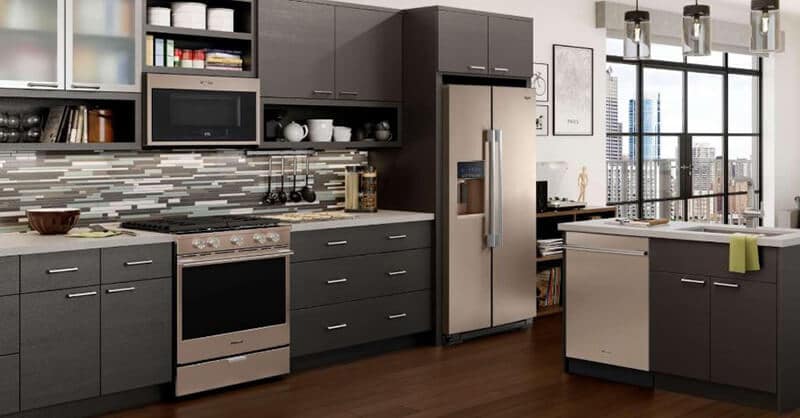 Best Bottom Freezer Refrigerator – KitchenAid vs. Whirlpool
Bottom Freezer refrigerators are new style fridges featuring a freezer on the bottom instead of the usual type. There are several benefits to this form of the refrigerator that we will be discussing.
The most important advantage of this fridge is that the refrigerator is at an eye level. People use their refrigerator far more often than they do their freezer. When the freezer is moved to the bottom, the refrigerator now is available in a more accessible space. The bottom-mounted freezer puts the refrigerator at the eye and chest level making it easier for you to find commonly used items like produce, milk, and cheese. It is also a suitable option for anyone with mobility issues who can't stoop down easily to get food.
Another benefit of having a bottom freezer is that they come with a slide-out drawer that makes it easy to organize, access, and store your frozen foods. The drawers maximize the available space better than the single-door freezers. With sliding drawers and lift-out baskets, you will be able to access your food without having to dig through the precariously stacked items.
Now that you have an understanding of what the bottom freezer refrigerators are, you are ready to discuss the models from two of the most popular kitchen appliances brands – KitchenAid and Whirlpool. In the article, we will be discussing Whirlpool Vs Kitchenaid, specifically KitchenAid KRBR109ESS – 30″ – 19 cu ft and Whirlpool WRB322DMBM – 33″ – 22 cu. ft.
Read more: Top Best Wall Ovens 2021
1. The KitchenAid KRBR109ESS – 30″ – 19 cu ft
The striking KitchenAid KRBR109ESS is the best built-in bottom freezer refrigerator for people who want a sleek design with high-quality features. It is a striking model that comes with an ExtendFresh Produce Preserver and Temperature Management System that maintains the texture and taste of your food. This is done through the sensors that ensure that all the ingredients are at the right temperature for optimum texture and taste. It also features stunning satin-textured handles, a beautiful chrome frame, and the iconic KitchenAid Brand medallions.
Inside the refrigerator, you will find the classic platinum-finish interior, as opposed to the white, plastic housing, along with silver, shiny walls. The freezer comes with a pull-out drawer that makes it more accessible. The factory-installed ice maker keeps the ice bin full. You can also find the interior electronic temperature controls at the front to make easy adjustments to the temperature. The full-width pantry drawers ensure that you are able to store everything, from produce to meats in the compartment. For easy and quick cleanup, the shelves are made of spill-proof glasses. Thanks to the KitchenAid's FIT System Guarantee, you can rest assured knowing that it will fit your existing cabinetry.
This fridge from KitchenAid is a high-end, built-in refrigerator that not only looks great but performs well.
Read more: French Door vs. Side By Side
2. The Whirlpool WRB322DMBM – 33″ – 22 cu. ft.
If you are looking for a functional and well-designed refrigerator, your search has ended. The Whirlpool WRB322DMBM has it all – a simple and sleek exterior that will match your kitchen and a temperature control system capable of bringing your groceries to an ideal temperature while ensuring that there is no wastage of energy. Its FreshFlow technology allows it to ensure that your produce remains fresh for longer by absorbing any excess gas that can spoil your food. This technology helps you save money as well. Given its price, the model offers an ample amount of space. The total capacity of the fridge is 22 cubic feet, out of which 16 cubic feet is occupied by the refrigerator portion. There are five shelves in the fridge to help you organize your goods. The bottom freezer comes with sliding baskets allowing your access to all the tucked away bags of frozen foods.
The model is capable of managing the temperature efficiently. The Adaptive Defrost ensures that the food is kept at the right temperature. The compressor is kicked in only when it is needed. There is also FreshFlow produce persevere cartridge that helps in keeping your food fresh. Needless to say, this bottom freezer refrigerator from Whirlpool is surely worth all the bucks.
Features Comparison
Ability & Storage – The KitchenAid is definitely the narrower model. The 22 cubic feet Whirlpool refrigerator is on the average side. As far as storage is considered, both models have somewhat similar layouts. The KitchenAid model features a dairy door bin and a full-width pantry drawer. However, if you prefer an icemaker included in your fridge, the Whirlpool model might be better suited for you.
Look & Feel – The Whirlpool model is available in more color options than the KitchenAid model includes a new black stainless steel that offers a sleek and modern look to your kitchen. However, the bar handles give a more commercial look to the KitchenAid model.
Price & Warranty – The prices of both the models is pretty close. However, there is a small difference in the warranties. Both the models have one year of labor and parts on the full appliances as well as a 2nd through 5th-year labor and parts on a sealed refrigeration system and cavity liner. However, the KitchenAid model has an additional 6th through 10th years for parts only on the sealed system giving it an edge in the battle of Whirlpool Vs Kitchenaid.
Read also: Frigidaire vs. Whirlpool
We hope that this article has helped you understand Whirlpool and Kitchenaid and made the buying process easy for you.
Please note that there is no right winner. Both models come with great storage options, LED lighting, and Energy Star ratings, but there are differences in added features and styling. Rest assured, both models are amazing and definitely worth every dollar.
Read also: Top 22 Best Refrigerators Brands 2021