If the conventional refrigerator you own isn't fulfilling your cold storage space requirements, you should definitely consider purchasing an under-counter refrigerator. Built-in under-counter refrigerators are designed to fit in perfectly under your counter-top and between your cabinets, which means that adding one won't involve creating any additional space in your kitchen. free-standing variants are available as well and offer a bit more storage space, often featuring multiple doors.
In today's times, under-counter refrigerators are available with a multitude of features and in this post, we're going to take a look at some of the top under-counter refrigerator brands in 2021. In this review, you'll find a vast array of under-counter freezers and refrigerators that are all about making cold storage as convenient as possible. So, without further ado, let's get started!
But before we start reviewing the top under-counter refrigerator brands in 2021, let's take a closer look at some factors you must consider before you buy one for your kitchen.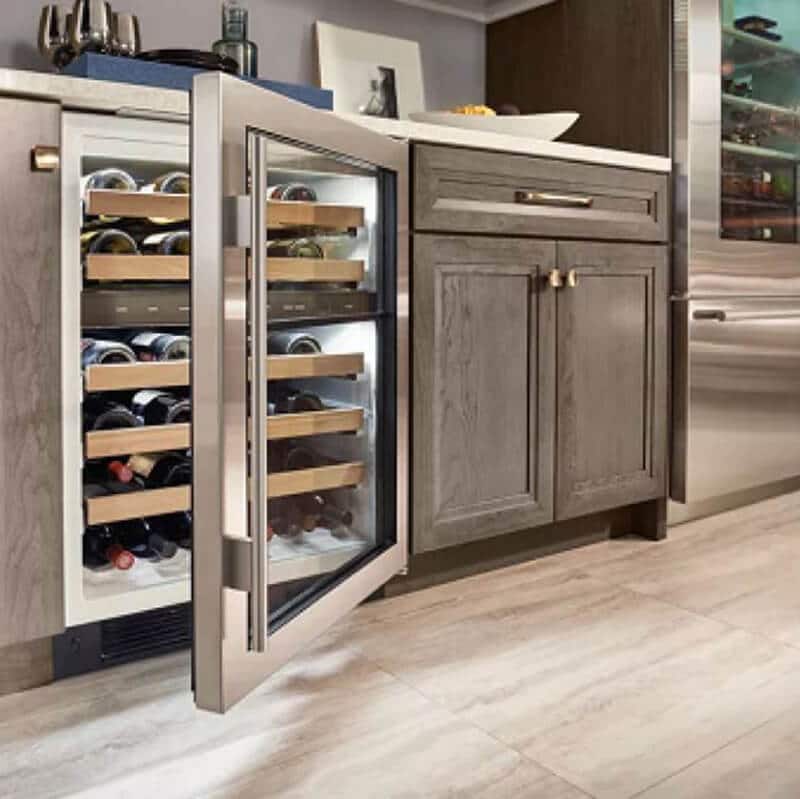 How to Choose an Undercounter Refrigerator or Freezer
Here are some crucial factors to keep in mind before buying an under-counter refrigerator:
Different types of under-counter refrigerators are available for different purposes. So the first question you need to ask is what purpose(s) do you want your under-counter refrigerator to serve? Would it primarily function as a self-service area refrigerator or would it be a handy storage space near your prep are where you can store frequently-used ingredients?
Getting the measurements right is extremely important. From the height to the horizontal space, make sure that there's enough space to accommodate the under-counter refrigerator that you're planning to buy. Aisle space is also a vital consideration, particularly if you're keen on buying an under-counter refrigerator with multiple doors and drawers. Not taking measurements seriously can result in difficulties in terms of accommodating the appliance as well as the freedom of movement inside the kitchen.
Once you have clarity in terms of what purpose you'd want your under-counter refrigerator to serve and all the measurements involved, it's time to narrow your focus down to the list of options that best suit your requirements. Take as much time as you need to double check all the specs, measurements and clearances. If you're still in doubt, don't hesitate to ask more questions, because ultimately, you'd want a product that doesn't inconvenience you in any way.
See more: https://dengarden.com/appliances/Undercounter-Refrigerator.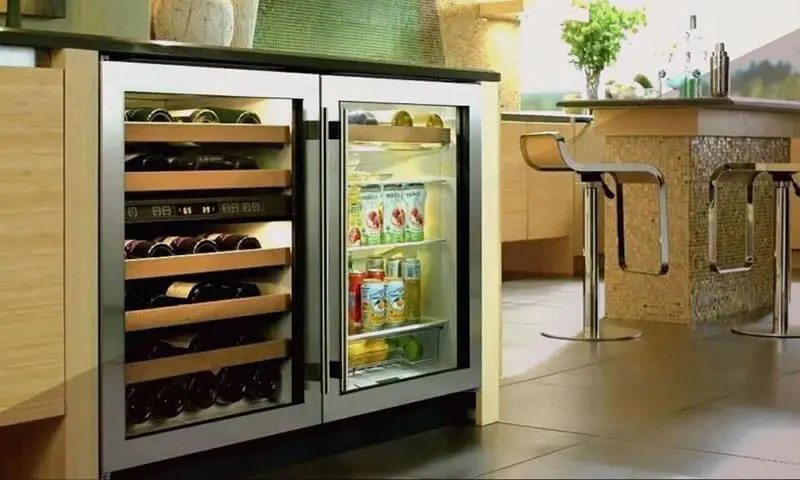 Top Rated Undercounter Bridges
1. RCA RFR835- 2 Door Fridge and Freezer – Amazon's Choice
The RCA RFR835 is an under-counter refrigerator that's basically a miniature version of the conventional 2 door refrigerators that we all know so well. Available in both black and white color variants with a glossy finish, this fridge and freezer is a free-standing appliance, which means you can't accommodate it underneath your kitchen counter-top. However, it provides slightly more storage space than built-in under-counter refrigerators.
It's a 3.2 cubic foot refrigerator with its bottom door leading to the refrigerator and the top door leading to the freezer. While the appliance's performance manages to impress throughout the year, it's during the hot summers when it really shines thanks to its compressor cooling and adjustable thermostat, which maintain optimum cooling temperatures to preserve foods and beverages. Some of the design front include the flush back design, which is a huge space saver. Its reversible door is a useful feature as well, as it accommodates both left and right-handed use.
The door basket provides the most ideal space for keeping 2 liter bottles and the built in can dispenser is a nice little storage feature as well. All in all, it's a great option to consider if you're looking for a free-standing under-counter refrigerator.
Sale
RCA RFR322 Mini Refrigerator, Compact Freezer Compartment, Adjustable Thermostat Control, Reversible Door, Ideal Fridge for Dorm, Office, Apartment, Platinum Stainless, 3.2 Cubic Feet
STYLISH: Our RCA Compact Refrigerator comes in a variety of colorful, bold, and glossy colors. That compliments your design and improves the appearance of your kitchen, dorm, room, or workplace, wherever you choose to put it.
REVERSIBLE DOORS: It is small enough to fit in any dorm, kitchen, room, or workplace. Using the reversible door, you can easily set the little fridge door to open to the left or right, depending on your needs and room layout.
Pros:
A durable refrigerator that will last a long time.
Door basket that's ideal for storing 2 liter bottles.
Built-in can dispenser.
The experience of makers Curtis International Ltd., who have made a number of excellent refrigerators in the past.
Cons:
It may generate some noise during operation that may be annoying for some users.
2. Avallon ABR241SGRH
The Avallon ABR241SGRH is a built-in under-counter refrigerator that's perfect not just for your kitchen, but for an office space or a bedroom as well. The most iconic feature of this appliance is the double paned Low-E glass, which boasts of state-of-the-art technology that's meant to act as a thermal barrier for filtering harmful UV rays. Not only does this feature protect your foods and beverages, but also makes the appliance energy efficient by reflecting unwanted heat. While this technology won't really make a difference if you're setting up the unit indoors, it certainly does allow you the freedom of setting up outdoors for those special occasions with friends and family.
This particular model consists of a right hand door opening, but if you're on the lookout for an under-counter refrigerator with a left hand door opening, look for the LH at the end of the model number instead of the RH. The door itself has a solid stainless steel make and it can be locked, which is great for keeping the kids from accessing the fridge; a handy feature if you plan to store alcoholic beverages.
The interior of the fridge consists of three sanded glass shelves, which can accommodate up to 152 cans. Ideally, big glass bottles shouldn't be stored in this appliance. The dimensions of this unit (34.5" high, 23.9" wide, 23.7" deep) should be considered before it's bought specifically as an under-counter refrigerator. Of course, you can buy it and use it as a free-standing appliance as well. Its compressor cooling system is incredibly efficient and even though the unit may seem a little noisy initially, you'll get used to it in next to no time. In terms of warranty, there's a 1 year cover on the cooler and a 5 year cover on the compressor.
Pros:
UV ray filtration system.
Efficient compressor cooling system.
Durable build.
Lockable door.
Cons:
Not ideal for storing heavy glass bottles.
Door is not reversible.
See more: Best Refrigerators Brands
3. Danby DAR044A6DDB
Picking the best under-counter refrigerator from this review is a challenging affair, but the Danby DAR044A6DDB sure comes close to being one of the best we've reviewed, especially in terms of aesthetics and functionality. This 4.4 cu. ft. refrigerator combines both classic and modern refrigerator design elements to deliver a stunning look that's sure to enhance any kitchen space. Some of its iconic exterior features include a stylized chrome worktop, a rubber-grip chrome handle, and a curved door design with a metallic finish.
The door lock is a really handy feature, as it allows users to lock the refrigerator, which is recommended if there are kids at home and alcoholic beverages stored inside the fridge. The interiors are just as stunning as the exteriors and boast of 4.4 cu. ft. of storage space, which is equivalent to a whopping 124 liters. Storage versatility is ensured by two and a half shelves made of tempered glass and a glass top vegetable crisper. The sheer capacity of this unit allows users to store large glass bottles with ease.
Efficient cooling is guaranteed by the mechanical thermostat, which features state-of-the-art tech. It's also an Energy Star-rated appliance, which means that despite its incredible cooling, it prevents electricity bills from skyrocketing. For easy maintenance, the makers have included the automatic defrost system. Additional features include the white LED light and the CanStor beverage dispenser.
Pros:
Looks great.
Versatile and high-capacity storage.
Efficient cooling.
Energy Star-rated.
Automatic defrost system ensures easy maintenance.
Cons:
Glass shelves may be damaged due to rough use.
4. SABA 27-inch
If you're on the lookout for an under-counter refrigerator that can be moved around easily and provides enough storage capacity for two – three people, look no further than the SUC-27R from SABA. It occupies only a fraction of the space that's needed to accommodate most of the other refrigerators featured in this review. Its best feature, without a doubt, is its portability, which is ensured by the wheels attached to the unit. Thanks to them, users can use the appliance both inside and outside their homes without any hassles.
It's quite a durable product as well, thanks to the solid stainless steel construction that provides strength to both the interior and the exterior. The back boasts of an aluminum finish and the entire unit is a breeze to fit under all sorts of counter-tops. The refrigerator displays high energy efficiency and is sure to make a positive impact on your electricity bills.
The SABA SUC-27R may be small,  but what it lacks in size it makes up for in terms of its performance and durability. Even if the unit develops some niggling technical issues, you can expect SABA's renowned warranty coverage to come to your aid.
Pros:
 
Needs very little space to be accommodated.
Stainless steel construction ensures durability.
Energy-efficient.
SABA's well-known warranty coverage.
Cons:
Somewhat noisy during operation.
Read more: Best Outdoor Refrigerator
5. Midea WHS-65LSS1
The Midea WHS-65LSS1 is a compact 1.6 cu. ft. under-counter refrigerator that offers several convenient features. Even though its capacity is limited and its only good enough to store a limited amount of food and drinks, it's surprisingly spacious for its size. Its scratch-resistant stainless steel finish makes it visually attractive and physically durable as well.
Its most convenient feature is, without a doubt, its adjustable legs, which make it easy for users to set up the refrigerator almost in any domestic space. So you don't necessarily have to use it only in the kitchen. Its door is reversible, which means that you don't need to worry about arranging things in your kitchen, which typically becomes a hassle when it comes to left hand or right hand opening doors.
Unlike many of its contemporaries, the Midea WHS-65LSS1 features a mechanical temperature control. This allows users to cool their frozen foods and beverages evenly according to their chilling preferences. Maintaining the appliance is easy too, thanks to the unit's manual defrost setting. All in all, it's the best under-counter refrigerator that money can buy as far as compactness and ease of maintenance are concerned.
Pros:
Scratch-resistant durable stainless steel construction.
Adjustable legs for easy setup almost anywhere.
Reversible door.
Easy to maintain.
Mechanical temperature control.
Cons:
Isn't suited for homes with more than two – three members.
6. Midea WHD-113FSS1 Dual Door Mini Fridge with Freezer
Double door under-counter refrigerators offer a lot of storage space and the Midea WHD-113FSS1 is a mini fridge that definitely doesn't disappoint. The separate freezer ensures that you have enough space to store both your favorite frozen foods and chilled beverages. With a capacity of 2.2 cu. ft., this is arguably one of the best dual door under-counter refrigerators that money can buy in 2021, especially if you want a fine balance between storage capacity and compactness.
A lot of Midea's under-counter refrigerators have adjustable legs and the same goes for the WHD-113FSS1. Thanks to those adjustable legs, the unit can be moved around easily, making it a breeze for users to set it up in a wide array of domestic spaces instead of being restricted to using it in the kitchen alone. It features a stainless steel construction and has a reversible door as well, making it easy for users to accommodate in their kitchens without going through a lot of rearranging. But if you want to, feel free to use this as a free-standing product.
Once you open the refrigerator door, you'll be greeted with a crisper drawer and two shelves. On the side of the door, there's enough space to comfortably store a two-liter bottle and seven cans. The freezer section is small but can still be used to store some ice cream pints, freezer meals or other smaller frozen foods. Throw the quiet operation and Midea's one-year warranty into the mix, and it's easy to see why this is one of the most highly-rated under-counter refrigerators today.
Pros:
Adjustable legs make it easy to move the unit.
Durable stainless steel build.
Reversible door.
Separate refrigerator and freezer sections for greater storage capacity.
Quiet operation.
One-year warranty.
Cons:
See also: Best Small Refrigerator
7. Avallon AFR241SSLH
Looks can be deceptive and that's certainly the case when it comes to the Avallon AFR241SSLH, but not in a bad way. Only 35" tall and 24" wide, this under-counter refrigerator doesn't look like one that has a lot of storage space to offer when you first see it. But once you pull that door open, the interiors reveal a different picture; one that you'll surely be impressed by. Renowned refrigerator makers Avallon once again showcase their smart design and engineering skills by creating a unit that looks small on the outside but has loads of room on the inside.
The stainless steel construction and finish is sure to complement any modern kitchen and along with the three glass shelves on the interior, it makes for an appearance that's classy and sophisticated. The cooling temperature can be set manually through a touch-screen and thanks to the circulation fans inside, the cool air is evenly distributed. Its also lockable, which ensures piece of mind when you're storing your favorite beers and wines with kids in the house.
Even though the smart design and construction make it best suited to being fitted under kitchen counter-tops, there's no reason why you can't set it up anywhere else. A lot of people who've already bought this product have rated it as the best under-counter refrigerator 2021 and our experience with the unit makes it hard for us to disagree.
Pros:
Compact size with loads of space.
Stainless steel finish and glass shelves.
Manual touch-screen temperature control.
Powerful circulation fans for even cool air distribution.
Can be set up under the counter or as a free-standing appliance.
Cons:
8. EdgeStar CBR1501SLD Beverage Cooler
The EdgeStar CBR1501SLD is the perfect under-counter refrigerator for those who are on the lookout for a mini fridge to only store their favorite alcoholic and non-alcoholic beverages. With a capacity of 5.49 cu. ft., this unit can accommodate a whopping 142 cans (12 oz. standard cans), which makes it the perfect fit for any room where you plan to chill with your friends and family.
In terms of appearance, the CBR1501SLD doesn't disappoint at all. Its stainless steel finish gives it a modern look and it can seamlessly fit into any modern living space. Thanks to its 24" width, its also easy for users to accommodate this cooler under their kitchen counter-tops without much of an effort. The stainless steel reversible door ensures that when closed, the fridge doesn't lose any cool air, which results in efficient cooling. The unit also boasts of powerful fans that evenly circulate the cold air so that all your drinks are cooled uniformly.
Users will also find the digital temperature control a very convenient feature, as they can pick any temperature within the 38 – 50°F range to get their drinks cooled according to their preferences. The unit also has an automatic defrost system, which makes maintenance an easy affair.
Pros:
Great capacity.
Modern look and feel.
Reversible door.
Easy to fit under existing counter-tops.
Even air circulation for uniform cooling.
Digital temperature control.
Cons:
Not ideal for storing food items.
9. Danby DAR017A2BDD Compact All Refrigerator
The Danby DAR017A2BDD Compact mini fridge is a 4.4 cu. ft. appliance that can be used either as a free-standing unit or an under-counter refrigerator. It's yet another quality product from Danby and its iridium silver color and metallic finish make it perfect for any modern living space. Apart from looking great, it also offers a lot of space on the inside, allowing users to store a wide variety of foods and beverages.
If you're on the lookout for an under-counter refrigerator that offers high versatility, this is definitely a product you should consider as it boasts of reversible door hinges. The adjustable shelves allow for a lot of flexibility, especially if you want to store items in the fridge that the default shelf placement won't accommodate easily. The CanStor Beverage Dispensing System is also a highlight of this unit. Maintenance is a piece of cake too, thanks to the automatic defrost system. The mechanical thermostat maintains optimum cooling as well.
The unit also tries to minimize its effects on the environment by utilizing the environment-friendly R600a refrigerant. It's also Energy Star compliant, which means that your electricity bills won't increase drastically. All in all, this retro mini under-counter refrigerator is one of the best that money can buy in 2021.
Pros:
4 cu. ft. capacity.
Iridium silver color and metallic finish for a modern look.
Versatile and flexible thanks to the reversible door hinges and adjustable shelves.
Easy maintenance thanks to the automatic defrost system.
Optimum cooling ensured by the mechanical thermostat.
Energy Star compliant and environment-friendly refrigerant.
Cons:
Read more: Best Refrigerator Under 1500
10. Koldfront TWR187ESS
The Koldfront TWR187ESS is a wine cooler with tons of features that are sure to impress wine connoisseurs who are on the lookout for a dedicated mini fridge to store all their choicest wines. The unit is constructed from corrosion-resistant stainless steel, which makes it an incredibly durable appliance. The door is made from tempered glass and gives the unit a sophisticated and classy feel, but as it is trimmed with stainless steel, it's quite hardy too. It can be locked as well, which is great for keeping all those expensive wines safe and secure.
The shelves are wooden and the best thing about them is that they're completely detachable. So if you want to store bottles that are larger than usual, just go ahead and remove the shelves and they should fit in comfortably. The interiors of the cooler has two zones and their temperatures can be separately controlled and monitored, thanks to the Duple Zone Control Panel. On the cooling front, the unit delivers incredible performance thanks to its thermoelectric cooling system. During operation, the unit barely makes any noise, which is sure to be a welcome surprise for owners.
The only major drawback of the Koldfront TWR187ESS is that it's primarily designed to be used as a free-standing appliance. If you want to accommodate it under your kitchen counter-top, you may have to go through a lot of adjustments and rearranging. But all in all, if you're searching for a top-notch wine cooler, look no further than the TWR187ESS.
Pros:
Corrosion-resistant stainless steel construction.
Detachable wooden shelves for storing larger bottles.
Two zones with separate cooling controls.
Thermoelectric cooling system for efficient cooling.
Not noisy at all during operation.
Cons:
Not suitable for storing food items.
11. SABA TUC27R 27 inches Under-counter fridge
The SABA TUC27R is yet another quality under-counter refrigerator from renowned fridge makers SABA. Its design is exemplary and its metallic finish gives it a modern look that complements any modern-day kitchen space extremely well. Wheels are attached to the unit, so if you ever feel like moving the unit away from the kitchen and placing it somewhere else, you can do it without having to lift and carry it.
It boasts of a self-closing door, which also has a 90-degree stay-open feature. So if you're in a situation where you need to take things out from the fridge one by one, you don't need to repeatedly open the door, which should save you a lot of hassle. Its refrigeration system is excellent as well and provides optimum cooling irrespective of whether you're storing food items or beverages. Long-term preservation of foods and beverages is ensured by the insulated lid and PVC-coated shelves.
Apart from its features, the unit also comes with a 2 year warranty that covers labor and appliance parts, and a 5 year warranty (for both commercial and residential use) that covers the compressor. Overall, it's an under-counter fridge that's sure to last a long time and provide efficient and effective cooling. It's surely one of the contenders as far as the best under-counter refrigerator in 2021 is concerned.
OUGAR8 Refrigerator Door Handle Covers,Keep Your Kitchen Appliance Clean from Smudges, Fingertips, Drips, &Food Stains, Perfect for Dishwashers(Gray)
KEEP YOU HANDLES NICE &CLEAN: It is designed to keep kitchen appliances handle off from stain, dirty kid hands, water and fingerprints, and do elegant decoration too.
SET OF 2 PIECES VELCRO COVERS: Our covers have a Velcro fastening for easier adjustment, and a perfect fit to any kitchen appliance you might put it(Like:Fridge, microwave, oven, kitchen cabinet, dish washer.etc.)
Pros:
Attached gaskets for easy movement.
Self-closing door with 90-degree stay-open feature.
Insulated lid and PVC-coated shelves for long-term preservation of beverages and food.
Great warranty coverage on parts.
Cons:
12. Allavino VSWR56-1SSRN-56 Bottle Single Wine Cellar fridge
Allavino's refrigerators are highly rated and the VSWR56-1SSRN-56 is a product that wine connoisseurs are bound to love. The RN in the model number stands for the right hinge door opening. If you're more comfortable with a left hinge opening, look for the LN in the model number instead of the RN. This is arguably the unit's only major drawback, as most of its contemporaries offer reversible doors that can be adjusted according to the user's preferences. However, its other features do enough to compensate for this issue.
It's a unit that you can use either as a free-standing appliance or an under-counter fridge. As a part of the iconic FlexCount series from Allavino, the appliance boasts of several top-notch features such as a sturdy and durable design, flexible shelving, advanced cooling technology and noise-free operation. Thanks to its front vent, installing it under your kitchen counter-top is an easy affair. Its temperature range is quite wide and ranges from 41 – 64°F. So if you're storing red wines, it's recommended to set the temperature in the 50 – 60°F range, but if you're more of a white wine lover, choose a temperature in the 40 – 50°F range.
Setting the temperature is incredibly easy for users, thanks to the control panel, which clearly shows you the temperature you've set and the actual temperature inside the cooler. Icons such as 'sparkling', 'red', and 'white' are incredibly helpful as well, particularly if you're not aware of the ideal temperature ranges for different types of wine. There's also an LED light that illuminates the interiors of the fridge and it can be easy controlled by using the control panel. Unwanted access can be prevented as well, thanks to the door lock.
Pros:
Durable design.
Easy installation.
Wide temperature range allowing users to store a variety of wines.
Easy-to-use control panel.
Cons:
Read more: Best Refrigerator Under 1000
13. Kegco VSCB-24SSRN 24″ Broad Undercounter Craft Beer Center Bomber Refrigerator
The Kegco VSCB-24SSRN 24" model is one that beer lovers will find incredibly handy to store their favorite craft beers. Craft beer bottles are known for being much larger than conventional beer bottles and this unit has been designed to make it easy for users to store those unconventionally-designed bottles. The unit boasts of a durable design and boasts of two metal shelves that are robust enough for storing a number of large 750 ml bottles or bombers. The shelves are fully extendable, which means that if you want to take out a bottle from the back, you don't to remove the ones in the front temporarily.
The glass door offers protection from harmful UV rays, which ensure that the beer compounds stay unaltered and can age with fine complexities. So, if you're someone who loves to age their beers before consuming them, this is undoubtedly one of the best under-counter refrigerators that you can buy in today's times. The interior lighting features cool blue LEDs that make the unit look nothing short of stunning, particularly when it's full of your favorite beers. If you want to save on some electricity expenses, feel free to turn the lights off. Even if you do leave them on, don't worry, as they won't add any heat to the interiors.
The unit's temperature range is wide and users can set their desired temperature in the range of 39 – 64°F. For serving chilled beer to your friends, it's best to set the temperature somewhere close to the 39°F mark. But if you're intent on aging those beers, set it somewhere closer to the 64°F mark. Efficient and uniform cooling is ensured by the powerful compressor, which is also aided by circulation fans that distribute cool air all around the fridge. There's only one major issue with this unit and that involves the refrigerator tipping over when the upper shelf is extended and full of bottles. However, you can sort that out in no time at all with by using anti-tip fasteners.
Pros:
Extendable shelves for ease of access.
Glass door prevents harmful UV rays from affecting the beer compounds.
Wide temperature range that's ideal for both chilling and aging beers.
Cons:
Prone to tipping over with upper shelf extended and full of bottles.
14. SPT BF-314U Stainless Steel Under-counter Beer Froster
The SPT BF-314U is an under-counter beer froster that offers 2.9 cu. ft. of storage capacity and is something that you must consider if you want a dedicated refrigerator for storing your beers. The unit features a black cabinet with a stainless steel door and overall, the construction and design are quite sturdy and durable. While users can definitely use this unit as a free-standing appliance, installing it as an under-counter unit is no hassle at all, thanks to the ventilation system in the front of the fridge.
The adjustable temperature range offered by this beer froster is in the range of 23 – 41°F, which gives users enough options to both cool their beers or chill them if they like their beers extra cold. However, if you're intent on aging your beers, this isn't the ideal unit as the optimum temperature for aging beers is 61°F. The four shelves are removable and this features comes in handy especially if you want to store bottles that are of a bigger size than the average beer bottles. There's a security lock as well for protecting your beers from unwanted access.
Unlike many other under-counter refrigeration units that generate a lot of noise during operation, the BF-314U is surprisingly quiet. Its automatic defrost system also comes in handy during maintenance. The LED temperature display with the digital controls allow users to oversee what the actual temperature is inside the unit. All in all, the BF-314U is a great option for people who want a mini beer froster for those special occasions with friends and family.
Pros:
Sturdy and durable construction and design.
Can be used as either free-standing or under-counter appliance.
under-counter installation is easy thanks to the front vent.
Removable shelves for storing bigger bottles.
Security lock for preventing unwanted access.
Quiet operation.
Cons:
Temperature range is not wide enough for aging beers.
15. Kalamera 24 inches Beverage toaster 175 Can Built-In or Freestanding
The Kalamera 24" wine cooler can be installed as either a free-standing unit or an under-counter refrigerator. It can store up to 46 wine bottles and is a unit that wine connoisseurs would surely love to own. This 24" wide unit is ideal for storing bottles that have a measurement of 11.8" by 2.75". Its stainless steel design along with its black body make it a unit that looks modern and one that will seamlessly fit into any modern space.
The unit consists of a powerful compressor that manages to cool all the contents inside the cooler efficiently. It also maintains consistent cooling temperatures, so if you're in a hurry to get your wines cooled according to your desired temperature, this unit certainly won't disappoint. The reversible door is definitely one of the highlights, allowing users to accommodate it in under-counter spaces without going through much rearranging. The five interior shelves are all made from wood and they can be made to slide as well, making it easy for users to gain access to all the bottles stored inside. Unwanted access can be prevented by using the security lock.
The unit has two separate temperature zones, which makes it an amazing unit where you can store all types of wines (red, white, and sparkling). The upper zone has a temperature range of 40 – 50°F and the lower zone has a temperature range of 50 – 66°F. The digital temperature control featured on the unit is in the form of an LCD display, which makes it easy for users to monitor and set the temperature. One of the best features of this unit is undoubtedly the temperature memory function. If there's a power outage in your area, you don't have to manually set the temperature again once the power comes back on. The unit will remember the temperature that you last set and will start cooling according to that when the power's back. In terms of warranty, Kalamera offers a 1 year limited coverage.
Pros:
Modern design and durable construction.
Powerful compressor for efficient cooling.
Reversible door with security lock.
Easy access to contents thanks to sliding wooden shelves.
Dual zone temperature control.
Temperature memory function.
Cons:
Isn't suitable for storing anything other than wine bottles.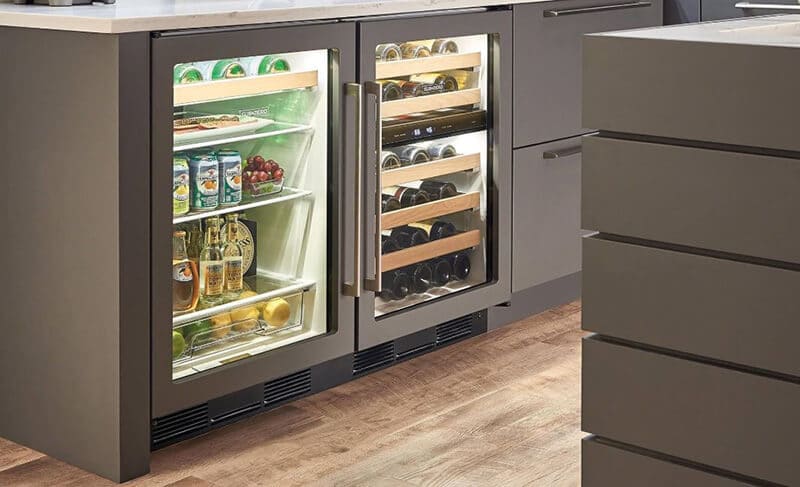 FAQs
1. Why are under-counter refrigerators so expensive?
under-counter refrigerators have gained a lot of notoriety for their exorbitant prices and as a result, this is one of the most commonly asked questions asked by prospective buyers. While there's no doubt that almost all under-counter refrigerators are priced on the higher side, it must be said that almost all of them feature incredibly durable constructions and designs and premium parts and consist of numerous features that aren't typically available in conventional refrigerators.
It's also worth mentioning that under-counter refrigerators aren't considered necessities like traditional refrigeration systems. They are still very much luxury products and their prices reflect that fact. What impacts their price the most is the fact that generally, they have separate compressors to cool the refrigerator and freezer sections. LCD and LED digital temperature displays and control panels are also additional features that you won't find on conventional fridges.
See more: https://topscabinet.net/built-refrigerators-expensive/
2. Is a built-in refrigerator worth it?
The answer to this question depends purely on your preferences. If the regular fridge in your kitchen isn't enough to accommodate your beverages and some food items, there's no reason why you shouldn't consider investing in a built-in refrigerator. While purchasing a brand new free-standing refrigerator may be less of a pocket pinch, it would require you to make additional space as conventional free-standing fridges need a lot of room to be set up and installed.
On the other hand, built-in refrigerators can be used as free-standing units as well and can be seamlessly accommodated under your kitchen counter-top, giving you easy access to items that you may need during cooking. Also, some built-in refrigerators come with gaskets that make it easy for users to move them around, which allows them to be set up in almost any space, be it indoors or outdoors. When you analyze the plethora of conveniences offered by built-in refrigerators, it's easy to see why they're priced so highly. But of course, whether one is worth your money or not boils down to whether those conveniences would be of any use to you or not.
3. Is Sub Zero worth the money?
One of the brands that we haven't featured on this review is Sub Zero. While the brand is well-known for manufacturing premium-quality built-in refrigerators, its products are simply too expensive. The starting price tag of Sub Zero products is around $7,500, several times higher than the prices of the units that we've reviewed in this post. Of course, if money is no object for you, there's no reason why you shouldn't invest in a Sub Zero built-in fridge. However, if you're on the lookout for a unit that delivers a fine combination of conveniences without costing a fortune, you'd be better off steering clear of Sub Zero appliances.
Last update on 2023-01-13 / Affiliate links / Images from Amazon Product Advertising API