The Whirlpool Vs Samsung spiel has been going on for quite a while, and that too without reaching at any clear conclusion. Both the companies are huge and have an impressive base of loyal customers who swear by their remarkable and robust refrigerators.
So which of two makes better refrigerators? Finding the answer to this question isn't as straightforward as it would seem. In fact, there are a number of criteria that a fridge model ought to pass to be considered 'an ideal refrigerator'.
Apart from its size and volume, a good refrigerator is bolstered with state-of-the-art technologies that keep your food healthy and fresh- making it a worthwhile investment.
Let's look at all the models that emerge as victors in the Whirlpool Vs Samsung showdown.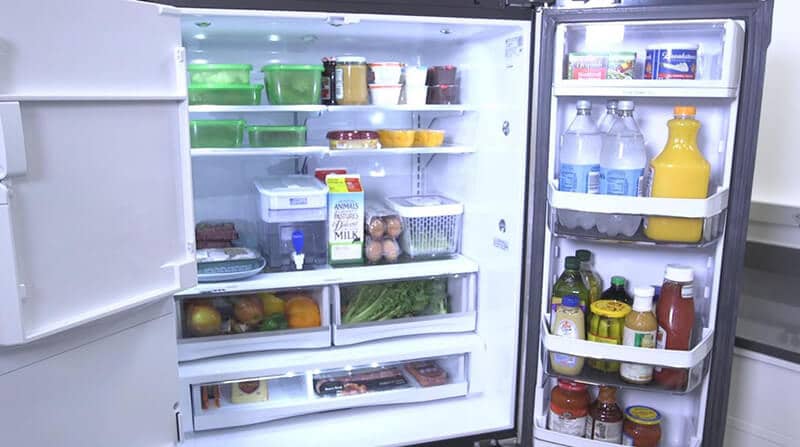 Overview – Whirlpool, Samsung, Which One to Purchase?
Customers torn between choosing a refrigerator from either of these companies have their fair share of work cut out for them. Of course, it's only natural to do a bit of research before dropping big bucks on any home appliance- refrigerator models are no exception.
Irrespective of the company tag a model bears, an ideal fridge is one which suits your specific needs. The first point to be remembered while choosing a refrigerator is to evaluate whether you're considering the purchase because of its utility or simply for the name.
Both the companies make fantastic fridges, so worrying about the quality is pretty much out of the equation. We've also set certain standards to compare leading models from both the brands, to find the Whirlpool Vs Samsung winner.
See also: Top 22 Best Refrigerator Brands 2021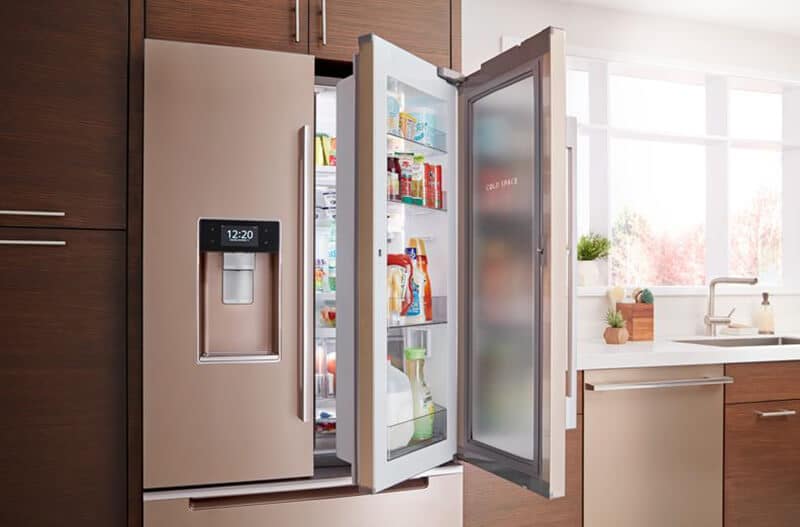 Whirlpool vs Samsung Refrigerator
1. Side by Side: Whirlpool WRS325SDHZ vs. Samsung RS25J500DSR
The Whirlpool model has storage capacities of 15 cu. ft. and 10 cu. ft. in the refrigerator and freezer respectively. As for Samsung, the fridge offers 24.52 cu. ft. of total storage space. Additionally, Whirlpool provides frameless glass shelves, gallon door bins and four fixed door bins while Samsung has three.
Winner: Whirlpool
The Samsung version comes with LED lighting, crisper drawers, multi cooling, power freeze and power cool options. The Whirlpool counterpart offers exterior ice and water dispensing, and tap touch controls.
Winner: Samsung
Both the models sport a sleek stainless steel exterior design and interior layout. But Whirlpool has a slight edge over Samsung with its fingerprint resistant body and hidden door hinges.
Winner: Whirlpool
Whirlpool and Samsung, both offer remarkable fridges. However, the main issues with the former model are in its crisper drawers which have trouble maintaining proper humidity. Samsung on the other hand has been reported to face technical problems every once in a while, usually requiring a technician's expertise.
Winner: Whirlpool
Though the Whirlpool version is a bit pricier than its Samsung competitor, we came to the conclusion that it's tech specs completely justify the price point.
Winner: Whirlpool
You can read more: Kenmore vs. Frigidaire.
2. French Door: Whirlpool WRX735SDHZ vs. Samsung RF28R7201SR
Whirlpool offers a total storage volume of 24.5 cubic feet while Samsung has a larger capacity of 28 cu. ft. Additionally, Samsung also has a smart divider, and we found it to be more space-efficient in general.
Winner: Samsung
Both the models offer a slew of technological features like exterior dispensers, smart performance and ADA compliance. However, Samsung's Bixby connectivity over Wi-Fi gives it a technical advantage over the Whirlpool model's features.
Winner: Samsung
The layouts for both Whirlpool and Samsung French Door refrigerators have been very aesthetically and smartly designed. Samsung comes with a modern look and spacious interior. The Whirlpool model has made the best possible use of the limited space available which makes perishables very easy to organize.
Winner: Whirlpool
One major persisting complaint with Whirlpool models has been that the ice maker/ dispenser is extremely loud as compared to the almost quiet Samsung. However, Samsung's complaints tend to be about technical breakdowns- making it a smidgen less reliable of the two.
Winner: Whirlpool
Whirlpool as well as Samsung offer great value for the prices of their French Door models. However, Samsung's wider range of features and especially remote accessibility makes it a better buy of the two.
Winner: Samsung
Samsung and Whirlpool have been globally-leading manufacturers of home appliances for a while now. The companies offer a plethora of refrigerator models, suited to the unique requirements of every household. In addition to this, they are also known for their great post-purchase customer service. Here's a brief description of both the technical giants, what sets them apart from rest of the competition and how they are faring in the Whirlpool Vs Samsung discourse.
Whirlpool
Headquartered in Michigan, Whirlpool is a multinational corporation known for manufacturing highly reliable home appliances for more than a century. The company has come a long way since it started their business operations with an electric motor-driven wringer washer. A few decades after its establishment, Whirlpool also ventured into the refrigerator market and is today one of its leading manufacturers around the globe.
The company focuses on keeping its refrigerator designs sleek and modern, and customers usually have only good things to say about the appliances they take home. They also offer a vast range of fridges in various configurations.
Apart from the occasional loud ice makers in many of their refrigerator versions, Whirlpool fridges are known for their long-lasting performance and reliability in keeping our food fresh.
Read more: https://en.wikipedia.org/wiki/Whirlpool_Corporation
Samsung
One of the largest corporations in the technology sector of the world, Samsung has made a hallmark reputation for itself. The conglomerate has operations in many major global business ventures, one of which is the company's home appliance market. Samsung boasts an impressive share in its target markets, testified by its satisfactory service and good-quality products.
The Korean giant invests heavily into research and development and this is visible in all of its new and innovative products. Samsung's expansion into the home appliance, especially refrigerators, sector came after Whirlpool. Still, the company has successfully established its brand name and reputation with its world-class features. Samsung is known for its ambitious projects and its refrigerators are the embodiment of all the research that goes into developing its technological infrastructure.
Read also: Top 10 Best Refrigerator Under 1500$ – Buyer's Guide.
Samsung & Whirlpool – Best Models
1. Single Door – Samsung RR19N1Y12RZ/HL / RR19R2Y12RZ/NL
Sporting a distinct Crown design, this single door Samsung model is a great option for those customers looking for a trusty and robust refrigerator. For a single door version, the model has an impressive storage volume of 192 liters and is undisputedly one of the best fridges you could get in this price range. The exterior is very stylish and comes in a number of color options with a chic-looking door handle that complements its design.
Let's talk all the unique features of this model:
The fridge looks just as stylish on the inside as it is on the outside. The interior is spacious and offers a load capacity of up to 192 liters, complete with additional bottle space and a large Vege box.
Its shelves have been made of toughened glass that can withstand weights as heavy as 175 kg. This means that you don't have to worry about large and heavy pans damaging its shelves.
A clear view lamp provides a clearer and brighter look inside to ensure than all foods are fresh.
This single door Samsung comes without a stabilizer for smooth functioning of all its electrical components. As a result, it is also immune to voltage fluctuations and automatically cuts off the power if the voltage gets too high.
Its anti-bacterial gasket avoids bacterial and fungi accumulation for all-round hygiene.
The only issue with this model is that it consumes too much power (two-star energy rating) due to the lack of a stabilizer. However, its list of features far surpasses its list of cons, making it a worthy addition to our Whirlpool Vs Samsung debate.
Read also: Bosch vs. Kitchenaid Refrigerators.
2. Dual Door – Wonderful Illusia
Of all the double door options out there, this model by Whirlpool makes for a great refrigerator in the family kitchens. Bearing a three-star energy score, the model is quite energy efficient and might save up to 35% of total electric consumption per year. It also boasts a host of intelligent features that have been specifically developed to keep our food fresh for as long as possible.
Equipped with Whirlpool's smart 6th Sense Deep Freeze, the dual door fridge can automatically set its temperature at the ideal level and ensures that minimum energy is expended while temperature decrease.
Separate fruit and veggie crisper drawers keep all fresh greens and fruits garden-quality crisp.
It has a reciprocatory compressor which is very easy to maintain.
The model also defrosts on its own when it senses ice build-up.
To keep all kinds of edibles fresh and odorless, air vents in the Fresh Flow Air Tower system circulate the air for homogenous cooling inside the refrigerator.
Its Micro Block prevents any sort of bacterial growth and keeps food safe to consume.
Making it to the best dual door model out of the Whirlpool Vs Samsung contest, this double door version by Whirlpool performs well in all aspects. It is energy efficient and is equipped with the latest tech innovations that promote freshness and hygiene in our diets.
3. Convertible – Samsung RT28R3744S8/HL
In the convertible refrigerator range of the two competing brands, this particular version by Samsung is by far the most terrific specimen. With a sleek exterior fashioned in real stainless steel, the model is minimalistic, modern and stylish. It comes with an Advanced Digital Inverter Technology and Samsung also offers a 10-year warranty on its compressor.
With a stabilizer-free operation range of 100 – 300 V, the model works with a steady electrical flow and immediately cuts-off when voltage fluctuations get too extreme.
Its convertible freezer transforms to become an extension of the fridge and increases storage space by 88 liters.
In total, the refrigerator has an aggregate storage capacity of 253 liters.
It has a straightforward layout for easy access to every nook and cranny on the inside.
At the touch of a button, the fridge Power Cools and Power Freezes- foods and makes ice respectively, at 31% increased speed.
In addition to being energy conscious, the refrigerator is also compatible with a solar setup.
It has a door alarm to notify when the door has been left open for more than two minutes.
Features like All Around Cooling, Easy Slide Shelf and Movable Ice Maker ensure the best health of eatables and easy organizing.
In our Whirlpool Vs Samsung quest to find the better brand, we have arrived at the conclusion that both the companies offer remarkable refrigerator models. Also, choosing the ideal one is entirely based on one's own personal needs and how they navigate around all the options available in the market.
Read more: Frigidaire vs. Whirlpool