Bamboo Steamer – Steaming Your Way To Healthy Living
Steamers are more than just an accessory. They not only protect the nutritional content, but are great when you need to reheat food. Bamboo steamers are a ubiquitous method of steaming, they come with stackable interlocking baskets with a lid on top. Not only you can steam buns and dumplings, they can also be used for deserts, everyday breads, vegetables, rice and proteins.
Modern methods of cooking strip away the essential nutrition from food. Steamers lock the vitamins and minerals in the food preparations thereby making food healthy and nutritious. Bamboo steamers absorb the condensation that forms on metal steamers, speeding up the cooking process significantly. That is why going for a bamboo steamer makes so much sense and a must-have in every kitchen. 
Why a bamboo steamer should be cleaned properly
A bamboo steamer like any other utensil has to be cleaned properly, stored immaculately and preserved thoughtfully. It is made of bamboo skin, in interlocked patterns shaped looking like a round basket. While the steam and heat is used to cook food, it naturally becomes oily. It gets prone to sticking bits and pieces of food in the bamboo. It therefore becomes very important to clean it properly so that its life can be elongated and food can be cooked for long. You might also want to look for foul smell every time after you wash and dry it. This will ensure that your steamer is hygienic enough for the next round of steaming. 
When you invest in a bamboo streamer, make sure to soak the bottom layer (the rim only) in water for about 30 minutes, to ensure it does not scorch or burn. A bamboo steamer is a possession because it requires a lot of effort in keeping it looking new. You would need to follow the ritual of deep cleaning, drying so that the mold does not form on the bottom. 
Steaming is way better than cooking in many ways. You do not have throw away the water after preparing your meals, the streaming process provides enough moisture to the food to make it eatable. Let us find out how a bamboo steamer should be cleaned so that you can enjoy your food the way nature made it- wholesome and nutritious.
How to clean a bamboo steamer properly
A bamboo steamer is made of all organic ingredients. You cannot and should not use detergents, steel wool or abrasive cleaning aids to wash it if you want it to last long. 
You do not need to be a professional chef to understand you have to care for it sensitively. You can however consult the instruction manual to understand the best way to clean your steamer. 
Method 1 (How to clean bamboo steamer-Normal wash)
Rinse and soak to clean your bamboo steamer 
Warm and hot water is suited to work best for washing bamboo steamers. If you washing through a tap, make sure to protect your hands. Turn the faucet and run the steamer beneath by letting every perforation be rinsed. Do the same for outer and inner side so that the surface is ringed and no residue is stuck in the perforations. Leave the bamboo steamer to dry out on the rack. 
Soak the bamboo in a utensil filled with hot water
Submerge your steamer basket in a pot full of hot water. Leave it overnight for a minimum of 8 hours and remove it after the time has elapsed. The food stuck in the perforations will start to float on the water. Take the basket out and rinse it under normal tap water. Leave it to dry for a while. 
Some bamboo steamers cannot endure hot temperatures. Make sure to read the instruction manual in order to find out the maximum temperature the steamer can withstand. 
Rinse in mild detergent water 
Bamboo steamers are extremely porous and prone to absorbing smells. Make sure to pick a mild preferably fragrance-free dishwasher liquid when you wash the bamboo steamer. Your steamer might develop a strong stench if you use chemical liquid detergents. This is bound to affect your preparations on subsequent uses. Invest in a good detergent or you might end up with a bamboo steamer that is worthless. 
Place a hot water filled pot in the sink and pour some dishwasher liquid in the water. Mix the soap in the water to create bubbles and rinse the bamboo steamer in the formulation. Remove it and let it to air-dry. 
Method 2 (How to clean bamboo steamer-Tough wash)
Remove tough grime and smells
After the usual wash cycle, if you find food stuck in the perforations of the bamboo steamer, it is time for a tough rinse. Use soft nylon scrubber to clean the surface of big ans small particles. Rinse the steamer in mild soap water and checkout for cleanliness.
Clean your steamer with a black tea bag
The tannic acid in black tea can do wonders to a streamer that requires extra sensitivity. While you cannot use abrasive products, a soaked black tea bag can rejuvenate the surface your bamboo steamer. Run the bag on the surface gently without letting it rip off and let the black tea bag do the magic. 
Rub lemon over the surface of steamer 
A lemon is a natural astringent and a great cleanser. It cleans the tough spots and particles easily. Make a lemon the size you can hold with your fingers and rub the wedge across the surface and perforations evenly. This is will not only wash the dirt away but will also remove the harshest stenches in no time. After that give your steamer a regular rinse and leave it to dry.
Dishwasher or No dishwasher
Bamboo steamers are made fragile or extremely durable. Read the special instructions if you plan to wash your steamer in the dishwasher. While the heavy rinse cycle of a dishwasher is perfect, your steamer might not be ready for heavy duty cleaning. In case of uncertainty, stick to using the manual way of washing your steamer and using the mildest detergent available in the market.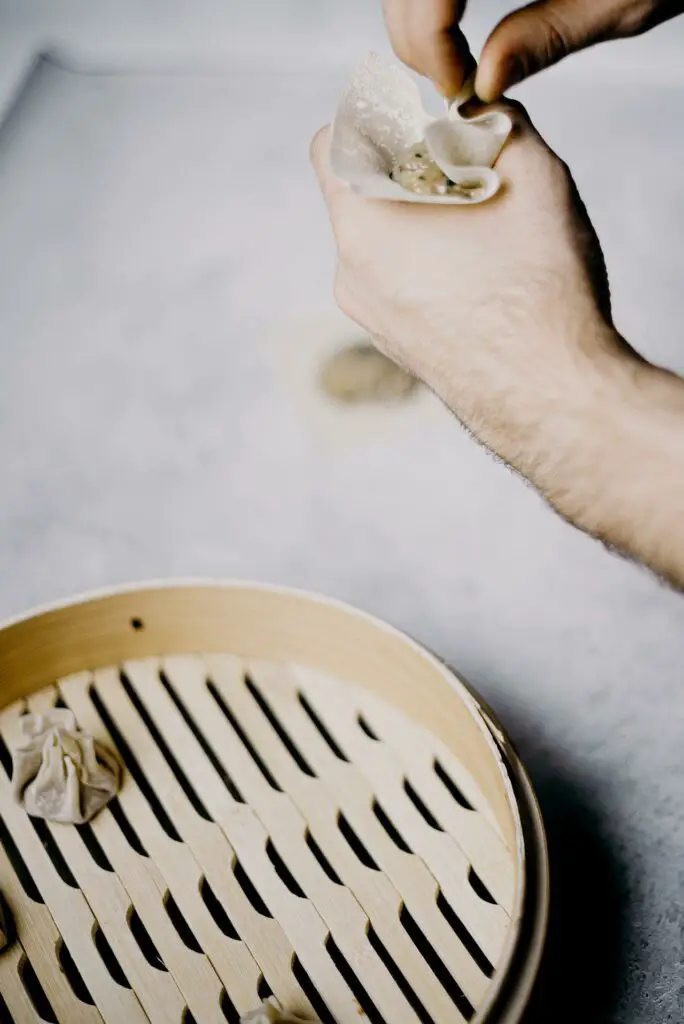 Method 3 (How to clean bamboo steamer-Care instructions)
Smart care for your steamer
Caring for a steamer is a cautionary tale. You would want to extend its life with simple techniques or even the smallest mold can make it unusable. After the wash cycle and drying, to make the steamer from loosing its sheen, dab some cooking oil with the use of a paper towel to the surface. Run the paper towel to the surface and into the perforations to keep it looking like new.
Soak the steamer before every preparation
Soaking your streamer makes it resilient to the heat. Before every preparation, soak it for 20 minutes so that it does not burn on during use. The more you use your steamer, the stronger it will get over time. However, go across the instruction manual to find out if it not advised. 
Don't place food directly on the basket
Your bamboo steamer is a versatile accessory. You can steam vegetarian and non-vegetarian food in it. It is however recommended to use a parchment paper every time on the surface while steaming so that the cleaning becomes easy. Alternatively, you can also use heatproof plate and then steam your food on it to avoid the food residue from ruining the surface. Remember, however to use the plates sized smaller than the perimeter of the steamer so that the steam does not get blocked in the process.
Best bamboo steamers available in the market
Now that know how taking care of your bamboo steamer is simple and effortless, let's go looking for a durable bamboo steamer. We have prepared a list of the best ones available in the market that will do your kitchen shelves an honor and your food taste better. Buy a bamboo steamer and start preparing delicious treats at the comfort your home.
Premium finish, compact design and incredibly durable Helen Chen's Kitchen bamboo steamer is a kitchen head turner. From simple steaming to adventurous cooking, this steamer is perfectly suited for vegetables, met, poultry, seafood, fish and deserts. Made from 100% natural bamboo, it is available in 4" small and 12" big size to suit everyone's needs. Lightweight and durable, this premium steamer is a kitchen essential for all those who like to enjoy their food made naturally. 
Steam it, reheat it multiple times without loosing the nutritious value of your food. With 2-tier stack, make single or multiple servings in one go. Easier to clean, this well designed steamer comes with easy handling, heat and stain resistant formation. Functionally superior, made from sustainable material and providing unmatched hygiene for the food, this steamer comes rated with highest satisfaction standards. Expect your food to be steamy, this bamboo steamer absorbs all the condensations and keep the water droplets from dripping on the food. In all, a versatile model for your family needs and a must have for your culinary experiments. 
Say goodbye to old methods of cooking. Better than simmering, frying, boiling or poaching, make way for the Mister Kitchenware handmade bamboo steamer. If you are looking for a healthy alternative, this is it. With mesmerising looks and durable contours, it can not only steam but can also be a great ice-breaker. With 2-tier stackable layer construction, this multi-level steamer is a time saving concept that helps make multiple preparations in one go.
With a diameter size 10"and 2.4" depth, you can make whatever you want in family size. Find included chopsticks, 10 liners and sauce dish and this package becomes too difficult to resist. Make healthy and nutritious meals including vegetables, dim sums, dumplings, Buns, Chicken Fish & Meat and much more with this recommended bamboo steamer.
Backed by 60-day 100% hassle-free money back guarantee, the Mister Kitchenware is affordable, economical and whole lot sensible. Offering a bamboo mesh lid for superior heat circulation and quick steaming session, this steamer will live up to your expectations and some more. 
The most economical bamboo steamer, offering the best of design ideation, sturdy look and long-lasting durability. If you want a steamer with snug-fit lid, a steamer basket that provides the best mechanics of effective steaming, JapanBargain 2222 is your run-on-the-mill variant. With easy lift handling, a firm lift support, and a design that is highly compact and modern, JapanBargain 2222 wins the show hands down.
With a handwoven lid to seal the moisture within, you get quick and effective steaming in one shot. A premium looking addition to any kitchen, this is one steamer you will not want to store away easily. Just follow the right instructions and you will get way more bang for your buck. Suitable for family size meals, a large diameter with huge capacity, this multi-storied steamer will accommodate a good family's needs. If however you love hosting and partying, run it full stream and see it at its unusual best and brightest. A versatile addition to your kitchen, it is made of natural bamboo and offers the benefits of healthy cooking that no other metal steamer can dream of providing. Buy this steamer if you are planning to enjoy homemade dimsum, wonton, seafood, vegetable salad, bread, etc.
Looking for extra premium featured, extra special durable and extra fine steamer in the market, look no further than this. A naturally woven bamboo that traps every bit of moisture, a 2-tier and lid construction, Yuho Asian Kitchen bamboo steamer is what heavy duty feels like. Be it vegetarian or non-vegetarian, this steamer is made by the masters with over 10 years of experience. 
Accept nothing but the best, accept no compromises and accept no traces of metal, wires or plastic. This kitchen bamboo is made from 100% natural bamboo made for highest food grade use. Not only compact, this steamer comes with 10 perforated parchment bamboo steamer liners so that can steam your food without working about the cleaning part. At 12", this steamer will ensure everything from a house reunion or a party is catered without leaving anyone hungry. Go grab the Yuho Asian bamboo steamer if you are looking for a one-time investment. Perfect for the needs of a healthy lifestyle, this bamboo steamer will a welcome addition that will get you compliments all across the town. 
If you are not used to steaming, bring BirdRock Bamboo steamer home and you will forget your old ways. A healthy alternative to deep frying and shallow cooking methods, this is what will change the way you live your life. A classic design identity that fits almost all pots, pans and woks, BirdRock is a steamer versatile enough for most needs. A 2-tier construction, the smart layered slits to let the steam pass and a woven lid to keep the lid inside, this steamer is mechanics of streaming at its best. 
A great addition to your steaming needs, it is perfect for dim sum, dumplings, vegetables, rice, beef, chicken, fish etc. and perfectly suited with 8″ Diameter x 2.4″ Depth dimensions. With 100% bamboo construction, the steam builds inside and the steaming time is reduced to minimum. Guaranteeing the best of health and least of effort, this is one durable steamer that stands out for its immaculate features and smart construction. Go explore the BirdRock Steamer and go authentic in your quest for healthy and nutritious food.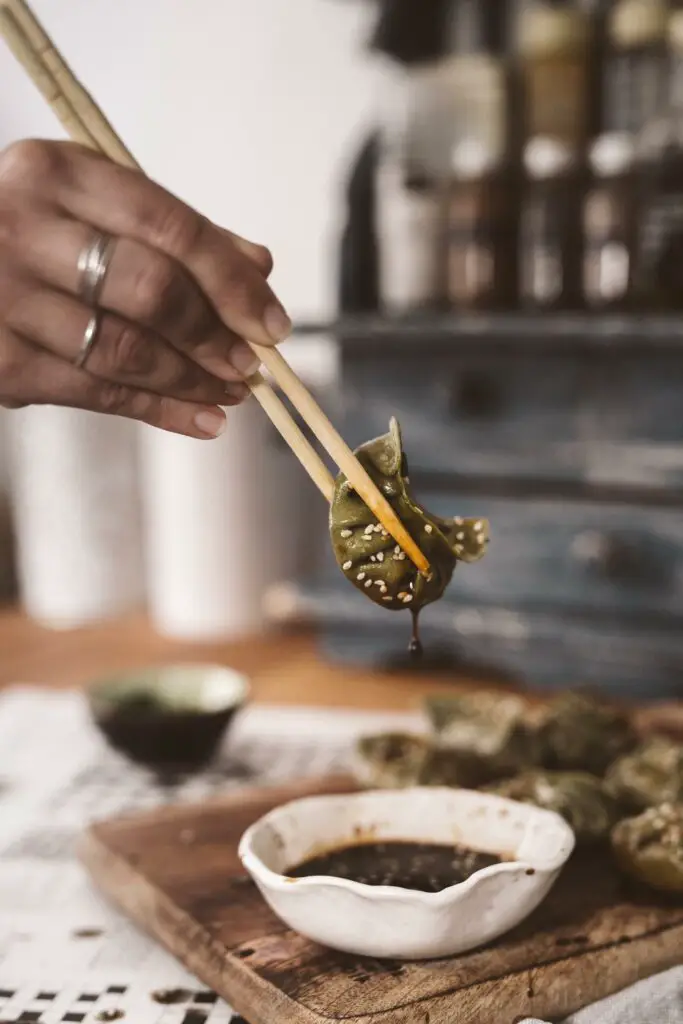 The Best of Food
Good food is good life. While we go about looking for freshest and tastiest ingredients for our food, we forget how we prepare it also matters in the end. Steaming is no doubt way better than cooking and a good bamboo steamer can enhance the value of your food even more. Experts recommend close to raw food for your own health benefit and a steamer makes sure that you enjoy the food the way nature intended it to be enjoyed. It's time to look for healthy choices and give yourself the benefit of health. If you want food to be nutritious and healthy, don't look for options, look for healthy choices. Irrespective of what steamer you choose, you are ultimately choosing health and wellness.