Are you struggling to make a choice? Then you absolutely HAVE to see our List of the Most Reliable Refrigerator Brands in 2021. You'll thank us for it.
A refrigerator isn't an appliance that can be bought on a whim. It can become an expensive mistake if you're not careful about your choice. The best way to purchase fridges is to look for the most reliable refrigerator in the market.
These days, you have numerous electrical appliance manufacturers who sell fridges. Almost all of them claim that they have the most reliable refrigerator. But what is the truth? Which brand uses premium quality parts? Which brand has the longest usage life?
Here, we explore various refrigerator brands that are commonly-purchased and we determine what makes a fridge brand the most reliable refrigerator in the market. Let's get started.
Which Refrigerator Brand Is the Most Reliable?
As of early 2021, there are 21 refrigerator manufacturers in the US alone. That's just one country. Other places such as China, Japan, South Korea, Germany and Sweden too are renowned to have the most reliable refrigerator brands in 2021. Making a choice from this extensive brand listing can be daunting.
The best way to proceed is to choose a brand that has a legacy in manufacturing refrigerators and freezers. They know what they're doing. Plus, theys will have access to cutting-edge cooling and food preservation technology, ensuring you get the most reliable refrigerator in 2021.
So, which brands come under this prestigious list? There's:
Whirlpool
General Electric Haier
Bosch
Electorlux
LG & Samsung
These mega manufacturers have thousands of sub-brands and models under their product lines and you'll find numerous options fitting your needs and budgets.
You may still purchase well-known Maytag, Kitchen-Aid, Frigidaire, and so forth, but they all belong to one of these six brands.
All you need to know about Kenmore
One prominent brand that is glaringly missing from the above list – and you may have been thinking about it – is Kenmore. So, why haven't we mentioned it above?
Well, the reason has to do with its parent company Sears bankruptcy. In 2020, the company liquidated 51 stores due to the impact by the coronavirus pandemic and filed for bankruptcy. Although Sears representatives have announced their plans to honour all Kenmore delivery and warranty commitments, you never know the future. Your Kenmore fridge might not get the care it needs because there's no one to service it.
Whirlpool brands
When it comes to listing the most reliable refrigerator brands in 2021, you can rest assured that Whirlpool makes the top spot.
Started in 1911 in Michigan, the Whirlpool Corporation focused on developing an expertise and leadership in the home appliance market. Their refrigerators are renowned for their feature-rich designs, classic & contemporary aesthetics and budget-friendly MRPs. What more could you ask for in a brand?
Today, Whirlpool is the oldest and most-renowned refrigerator repair specialist globally. Having purchased top fridge brands like KitchenAid, Maytag, Roper, Jenn-Air and Amana, Whirlpool Corporation has an expansive legacy of top-notch refrigerator engineering to its name.
Another reason why Whirlpool refrigerators have so many takers, is because of the accountability shouldered by the brand. If there's any defective part in any household appliance, Whirlpool has in place measures for you to easily replace the part or in some cases, the entire machine. With such robust customer service, you won't go wrong with this brand.
Finally, Whirlpool was the very first household appliance company to sponsor appliances to NASA's first-of-its-kind space kitchen. They provided a specially-designed miniature thermoelectric refrigerator (amongst other appliances) for the Apollo, Skylab and Gemini missions. This indicates how state-of-the-art Whirlpool refrigerators are. You can rest assured that you would be getting access to the latest F&B preservation and cooling technology, when you buy a Whirlpool refrigerator.
Read more: Top 15 Best Refrigerators Of Whirlpool Brands Review 2021
GE brands
General Electric is a behemoth in the world of refrigerator manufacturing.
GE's appliance division was purchased by the Chinese appliance manufacturer Haier in 2016, for a whopping $5.6 billion. Through this, Haier has also acquired GE's technical finesse in building a variety of household appliances, including refrigerators. Combined with Haier's own heritage in the field, GE Haier fridges are slowly being hailed as one of the most reliable brands of 2021.
Of course, in spite of all this, not everyone prefers to own a Chinese-built appliance. This might be something you may want to consider.
Bosch brands
One of Germany's most-renowned appliance manufacturers, Bosch already comes from a fine pedigree rooted in engineering. If you're looking for a refrigerator brand that comes with top quality parts, offers a lifespan of up to 13 years and boasts a contemporary aesthetic that's perfect for modern homes with modern needs, Bosch fridges can be the most reliable refrigerators you can choose.
But despite its many technical prowess's, Bosch refrigerators do suffer from one issue. If you're living outside of Europe, you may find it difficult to find qualified Bosch technicians for repairs and maintenance. Given that Bosch's refrigerators are on the pricier side, the lack of service support can be disheartening.
See also: https://en.wikipedia.org/wiki/Robert_Bosch_GmbH
Electrolux
Catering to the luxury market since 1910, Electrolux's refrigerators have graced many homes around the world. In fact, those customers who own the iconic Frigidaire say that it is the most reliable refrigerator ever!
Apart from Frigidaire, Electrolux also owns other refrigerator brands like Kelvinator and Tappan. While both have a lower price tag which might be enticing for buyers, today they fail to meet the benchmark set by other leading fridge brands. In fact, according to a 2019 Consumer Reports survey, it was found that Electrolux's line of household appliances has ranked second to last among the 24 household appliances brands under review – specifically in the most reliable refrigerator segment.
LG & Samsung
No list discussing the most reliable refrigerator brands can be complete talking about LG.
LG is a brand, whose refrigerators have received the highest number of J.D. Power awards for kitchen appliances over the years. This is a remarkable feat considering how competitive this segment is. They have also consistently received the first rank in terms of appliance reliability in these J.D. Power evaluations. If these compliments don't convince you of its quality, LG's 5-year parts guarantee and labour warranty might help. This South Korean brand is certainly one of the top choices for many-a-reviewer's list, including our own. The only issue we have with LG fridges, is with the design – it's not stylish enough to fit into millennial homes.
When we talk of South Korean fridge manufacturers, we do need to consider Samsung as well. Although predominantly a smart phone company, Samsung fridges are slowly gaining market share. Having a vibrant technological heritage, Samsung's line of fridges has become one of the most reliable refrigerator product lines because of its top-notch innovation. Other companies find it hard to compete with its unique, cutting-edge features. But, given that Samsung is newer to the refrigerator industry than LG, they've still laying the groundwork for certain technologies (like the spherical Craft Ice maker or the Wi-Fi connection technology), which LG has been offering for years.
See more: How To Reset LG Refrigerator? [ New 2021]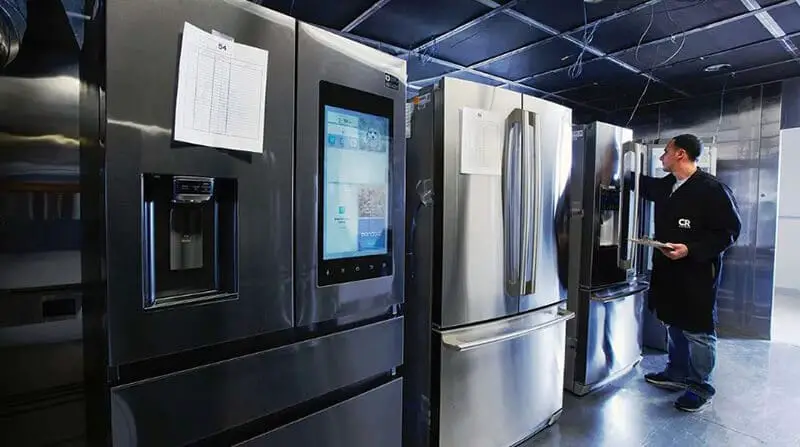 Dependable Fridge brands
Okay, now that we've taken a deep dive into the most reliable refrigerator brands, we're in a better place to judge each fridge brand. What we see is that although these brands are good, each might not be ideal for everyone.
The problem is that no one fridge has absolutely everything – great technical specifications, excellent aesthetics, seamless operation and low prices. It seems like you can have a few of these benefits and not all – UNLESS, you're smart about it.
So, how do you choose which refrigerator to get home?
Well, you need to consider the factors listed below as your yardstick and select a refrigerator that fits the bill.
Reliability and simplicity
When it comes to the refrigerator brands, you'll need to consider:
The quality of the parts used to build the fridge.
The availability of spare parts if you need replacement.
Ease of accessing customer support in your locality.
How responsive the installation and service teams are.
How well your new refrigerator's features perform and if they fulfil the functions they are meant to.
In terms of which companies offer the most reliable brands, Whirlpool Corporation and LG have both been consistently getting excellent reviews.
Now let's come to simplicity. Not everyone wants a refrigerator that comes fully-loaded with cutting-edge refrigeration technology such as Wi-Fi connectivity or curd setting technology (like Samsung's Curd Maestro™). If you need a top-quality fridge that performs its intended function – to cool, preserve and freeze your food and beverages – then a starting range model from any brand can work really well.
Design and Dependability
When it comes to fridge designs, we're basically talking about the shape, size, colour and layout of the refrigerator. Here, let's look at a few of the evergreen designs which we are sure you'll love for years to come:
Refrigerator styling
Top freezer refrigerators
These are actually the most-commonly bought and budget-friendly style. They come with freezer compartment on top and the majority portion (at the bottom) of the refrigerator is the fridge.
Bottom freezer refrigerators
Here, the top section of the appliance is the fridge, while the bottom is the freezer. This offers great convenience, especially if you have kids.
Side-by-side refrigerators
The side-by-side refrigerator has two columns – one side is a fridge and the other is the freezer. This is a great option for elderly customers or those who find it physically challenging to bend down or reach up to access their freezer.
French door styled refrigerators
Here, the doors will swing open like traditional French doors/windows do. These fridge models have three segments – one in the centre and one each on the two swinging doors. They offer a lot more space than other types of refrigerators.
Columned refrigerators are custom-built fridges. You'll need to get them built into your cabinetry permanently, where they'll sport multiple columned spaces with individual sets of storage bins.
External finishing
Grey and glossy stainless steel is the most conventional choice if you're not too keen on experimenting with the colours and finishing of your new fridge.
Coloured, high gloss stainless-steel
If stainless steel is your choice, but you feel adventurous, why not get your fridge in colour? While black and white stainless-steel fridges are quite popular.
If you're not a fan of glossy appliances, choose matte finished slate refrigerators. The best advantage of slate is that it hides any scratches or dents on your fridge's exteriors really well.
Refrigeration features
These refer to removable containers of different shapes and sizes, which you can take out and reorganize within the fridge.
Most reliable refrigerator models come with an open-door alarm system that indicates that you've forgotten to close the door. This helps preserve your fridge's cooling.
Many new-age refrigerators have a digital temperature display on the door, which indicate the temperature inside the fridge.
Separate cooling for fridge and freezer
Dual evaporators are excellent, since they each give their respective sections of the refrigerator the cooling it needs to keep your food and beverages fresh.
This feature is great especially when you're rummaging for food at night and you don't want to switch on the lights in the house.
This is a tiny door located just beyond the main door of the fridge and usually acts as a compartmentalization to a different section of the fridge, such as the freezer.
These are a great technology that ensure fresh air is flowing inside your fridge. They prevent the build-up of odours inside your fridge.
State-of-the-art refrigeration units come built with a touchscreen display where you can type messages or lists for other users to see. There is also Wi-Fi connectivity available, where you can connect your smart fridge to your phone/tablet to check the temperature of the fridge/freezer and control it remotely.
When we talk about the design and features of your refrigerator, we also have to address refrigerator dependability.
Your fridge may have all these amazing things. But what's the point if these features don't hold up? What if your paint scratches within weeks or your cabinets come loose or your touchscreen display starts to malfunction? This is why you need to also consider if the brand you are purchasing from is truly one of the most reliable brands.
Read more: 7 Most Reliable Side By Side Refrigerators of 2021
The best money can buy
Not everyone can afford to pay hefty sums to get a new fridge. For example, did you know that a smart fridge that comes with all the works, can cost you anywhere between $2,000 & $4,000? Even a simple, full-size top freezer fridge starts at around $400 and can go up to $1,000.
Your expenses won't stop when you purchase your fridge. If you choose a columned refrigerator, your custom cabinets can cost up to $8000, depending on their size, material and design. Water line and electrical line installation can also cost you around $150-$200 each.
Today, you can find mini-fridge models that start at as less as $50 and go up to $200. If you purchase your fridge online, you might get further discounts.
If you don't want a mini-fridge, you have brands like Haier, which have full-size fridges that have adequate features and which can fit into your budget.
Payment process
Once you have chosen your ideal fridge model, it's time to pay for it and complete the purchase. The best way to do this is to use your Credit card, so you can gain points for this purchase. You can later use these points to buy another appliance or an accessory for your fridge.
But before you swipe your card, consider this.
Some brands charge way higher than they're supposed to. That's the way they recoup their manufacturing expenses, while making a profit. You need to ensure that you get a good deal out of your refrigerator purchase.
So, ask the following questions before you make the payment:
Do you offer free delivery to my location?
Will you offer installation services? Do you charge for installation?
What are the terms of the maintenance service? Is the service free and if yes, for how long?
Will you give me a free guarantee on the parts of the refrigerator for [X] years?
Be firm, in particular, on receiving your free guarantee, as it protects you from having to pay extra to repair your new fridge, especially when you're not at fault.
Exceptions: The fridge has to be fresh, not a floor-model, or refurbished.
Warranty
Most brands offer warranties on all the models they sell. There are typically three types of warranties that most brands offer:
This is the warranty offered to you by the manufacturer of the refrigerator, such as by Whirlpool or Samsung or Haier. This warranty covers any manufacturing defects that might affect the functioning of your fridge.
This warranty is usually offered for 1-2 years and it will be used to replace any parts that are found to be defective.
Seller's warranty is usually offered by the person/store selling the refrigerator. Typically, this warranty is used to drive more sales at the store. The warranty is offered for about 6 months. While this warranty does cover both manufacturing and finishing defects, the terms and conditions of eligibility are pretty restrictive.
Many big-ticket purchases like TV's laptops, refrigerators etc. come with an offer of extended warranty that you can purchase. This warranty is paid for by you in the form of a one-time fee at the time of purchase. It typically covers any manufacturing or performance defect for 2-5 years (depends on the brand).
These warranties are essential. You may be one of the few who's unlucky to get a defective model. In such an instance, a warranty is a god send, as it can protect you from being bogged down by fridge repair expenses.
In 2021, the refrigerator brands to offer you the best warranties are:
GE Café™ Series – Limited 5-year sealed refrigerating system.
Samsung ENERGY STAR® – Limited 10-year on parts and 5-year on labour for digital inverter compressor.
Bosch – 1 year limited, 1 year for non-electronic parts, 4 years on electronic parts.
Read more: Top Best Refrigerators Temperature 2021
Care
The most reliable refrigerator models don't require a lot of care and maintenance. They're built to work efficiently for ages and last years. Yet, it pays to pay extra attention to your new fridge. It will help you squeeze more life out of it later.
So, a few things you can do to care for your new refrigerator are:
Clean the insides regularly with a cloth
Over time, food and beverages can spill inside your fridge, coating it in sticky grime. This can ruin the aesthetics of your fridge. By cleaning the interiors of your fridge with a damp washcloth, you can prevent your fridge from looking terrible.
Keep an eye on the door seal
The door seal keeps your fridge's door tightly shut when it's not in use. If the seal is loose or torn, the freezing from inside the fridge/freezer can flow out, causing your refrigerator to heat up. This can increase the burden on your fridge to maintain the right temperature, increasing your power usage.
Set your fridge at the correct temperature
Most reliable refrigerators run efficiently only when they're at a temperature of 37°F-40°F. Your freezer should be set at 0°F. To help keep the temperature balanced at all times, make sure you fill the fridge properly. The items in your fridge will absorb the warm air whenever you open the door, ensuring your fridge doesn't heat up.
You should also clean your refrigerator coils thoroughly at least once a year, as it helps release pent-up heat from your fridge's parts and regulate temperature.
Conclusion
Buying a refrigerator shouldn't be such a difficult task. Once you know how to vet the most reliable refrigerator brands on various grounds, you'll find it easy to make a mindful choice.
So, go ahead and find your new refrigerator. Remember to ask for free guarantee and warranties with good coverage. Take care of your new fridge properly, since this will ensure your refrigerator will remain the most reliable refrigerator for years to come.
Video: Side by Side Refrigerator – Top 4 Best Models
Last update on 2023-01-13 / Affiliate links / Images from Amazon Product Advertising API